WEDNESDAY, OCTOBER 5, 2016
TONIGHT'S REALLY BIG STORY
Is Crooked Hillary's Campaign Crumbling?
FIVE MORE CRUMBLING CLINTON CAMPAIGN STORIES WE'RE TRACKING TONIGHT INCLUDE
#1
PERFECT Cartoon Exposes Hillary's CRUMBLING House Of CORRUPTION!
#2
New Ad "Hillary Merkel" Destruction of the West Goes Viral
#3
MSNBC'S RUHLE ASKS MILLENNIAL WOMEN IF THEY FEEL CONNECTED TO CLINTON, CROWD YELLS "NO!"
#4
HILLARY'S STAFF PASSING OUT PRE-MADE SIGNS TO SUPPORTERS TO SEEM HOMEMADE
#5
HILLARY CAUGHT USING CHILD ACTOR TO ASK QUESTION AT TOWN HALL
Zero Hedge says at a Hillary Clinton town hall yesterday in Haverford, Pennsylvania, a 15 year old girl was supposedly "chosen at random" to ask a question of the former Secretary of State.  But, the well-scripted performance raised some suspicion with a YouTuber named Spanglevision who decided to dig a little deeper.  And, wouldn't you know it, the "random" participant was none other than child actor,Brennan Leach, whose father just happens to be Pennsylvania democratic State Senator Daylin Leach.  Oh, and in case it wasn't obvious, Daylin supports Hillary for president…shocking.
BREAKING NEWS
YOKO ONO: "I HAD AN AFFAIR WITH HILLARY IN THE '70S"
World News Daily Report says Yoko Ono shocked reporters last week when she responded to a question concerning Hillary's presidential run and the possibility that she could become the first woman President of the United States in American history. The celebrity admitted laughingly to having "a fling" with her at the time and acknowledged her election "would be a great advancement for LGBT and Women rights in America" she added. 
LIBERAL LUNACY
OBAMA SUGGESTS CLIMATE CHANGE TO BLAME FOR SYRIAN CIVIL WAR
CAMPAIGN 2016
'Bill Clinton A Rapist' Interrupts Bill speech at Rally Campaigning for Hillary in Canton OH
TODAY'S LIBERAL LIAR AWARDS
Obama: Trump Could Destroy America If He's Elected President
OBAMA'S LEADERSHIP VACUUM
Philippine Leader Tells Obama To "Go To Hell"
CROOKED CLINTON CRIME FAMLY CORNER
Obama DOJ Drops Charges Against Alleged Provider Of Libyan Weapons
(Arms dealer had threatened to expose Hillary Clinton's talks about arming anti-Qadhafi rebels) 
MORE THREATS TO AMERICA
Obama Admin Considers Plan To Allow Americans To "Adopt A Refugee" On Their Own Dime
BLACK (on black) LIES (don't) MATTER
32% Skip NFL Over Black Lives Matter Player Protests
The growing number of player protests at National Football League games, driven by the Black Lives Matter movement and San Francisco quarterback Colin Kaepernick, has prompted nearly a third of Americans to turn the games off, according to a new survey. Rasmussen Reports revealed Tuesday that 32% of American adults say they are "less likely" to watch a game because of the expanding protests over how blacks are treated, especially by police.
WHISTLEBLOWER WAR ON POLITICAL CORRECTNESS
East Carolina University just had a "come-to-Jesus" moment with a group of perpetually-offended, self-entitled marching band members who disgraced America during last Saturday's football game. North Carolina fans reacted strongly—booing and heckling the band throughout the game. According to local news reports, the band was escorted from the field by security. That's when the school's directors threw down the baton. "While we affirm the right of all our students to express their opinions, protest of this nature by the Marching Pirates will not be tolerated moving forward," they wrote.
LIBERAL MEDIA CONSPIRACY
Last Night's Debate Immoderator Did Her Job
Rush Limbaugh says Elaine Quijano kept the emails out of it, she kept the foundation out of it, and she allowed Kaine to interrupt every time Pence got going.
HILLARY'S HEALTH ISSUES
Hillary Clinton Looks Extremely Confused After Her Press Conference
TONIGHT'S WHISTLEBLOWER POLLS REPORT
TONIGHT'S POLITICAL POSTER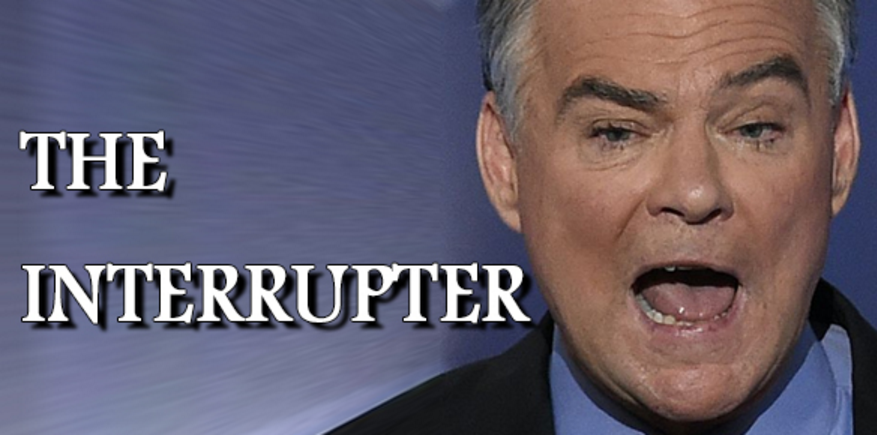 TWEET OF THE DAY
Mike Pence Takes Victory Lap in Tim Kaine's Backyard
PLUS, THESE TWO NEW CONSERVATIVE VIDEOS
 People React As Fake Reporter Tells Them Hillary Dropped Out Of Race

Plus
The Whistleblower Newswire Is Your Official Publication of Record For The Conservative Agenda
The Blower believes the next 34 days will be the most important period in American History for our non-stop campaign against Political Correctness, the Devolution of American Culture, and the Liberal News Media. Congress and Kneepad Liberals in the Press will continue to lie and say really stupid things without a smidgen of journalistic integrity to advance the Liberal Agenda.
TODAY'S FOUR EARLIER EDITIONS
"Hillary's History" (So How Bad Were Those Clintons Anyway?)

"Only 34 More Days Till The Election" (Did Tim Kaine Set A Record For The Number Of Interruptions At Last Night's VP Debate?)

"Debatus Interruptus" (Right Out Of The Disingenuous DemocRAT Playbook)
Fast Forward to 2017
And that's the way it was today on the 107th Day until January 20, 2017 when the Next President can only begin to Undo all the damage Obama has done to America.

*1,126 Until "Dee-Day" If You Live In Anderson Township
More News Later (Or Most Likely Tomorrow Morning) From The Whistleblower Newsroom