FRIDAY, OCTOBER 7, 2016
TONIGHT'S MOST IMPORTANT STORY IN AMERICA
Hillary And Liberal Media Conspiracy Are Outraged Over Donald Trump's 2005 Hot Mic Locker Room Banter Bragging About Boinking Bimbos
Unlike This
FIVE MUCH LESS IMPORTANT STORIES IN AMERICA TONIGHT INCLUDE
#1
STATE DEPT TO RELEASE FIRST BATCH OF EMAILS RECOVERED BY FBI
#2
WHITE HOUSE COORDINATED ON CLINTON EMAIL SCANDAL ISSUES, NEW DOCUMENTS SHOW
#3
FEC Complaint Accuses Clinton Campaign of Illegally Working With David Brock's Super PAC
#4
BREAKING: WIKILEAKS DROPS FIRST 2K OF OVER 50,000 EMAILS FROM CLINTON CAMPAIGN CHAIR JOHN PODESTA
plus
Excerpts of Hillary Clinton's Paid Speeches to Goldman Sachs Finally Leaked
#5
TWO BOXES OF CLINTON EMAILS GO MISSING, HILLARY UNDERSECRETARY ACCUSED OF TRYING TO SUBVERT FOIA
MEANWHILE, TRUMP PREPARES FOR SUNDAY'S DEBATE
Foreign Affairs Briefing By Transition Team Members Lt. Gen. J. Keith Kellogg (Former Commander, 82nd Airborne Division) and Revered Former Ohio Congressman Bob McEwen
LIBERAL LUNACY
Hillary Blames Hurricane On Global Warming – Says Trump Cannot Protect US From Climate Change
CLUELESS CELEBRITIES
Barbra Streisand: Give Money To Nancy Pelosi Or Republicans Will "Pass Their Sexism Into Law
CLINTON FAMILY VALUES
"BILL CLINTON IS A RAPIST" SIGN ON NBC TODAY SHOW
CAMPAIGN 2016
TODAY'S LIBERAL LIAR AWARDS
Bill Clinton Falsely Claims Hillary Was Not Responsible For Security At Benghazi Consulate
PLUS
Do You Believe In Unicorns? Hillary Agrees With Kaine That She Eliminated Iran's Nuclear Program
CROOKED CLINTON CRIME FAMLY 
POLITICAL CORRECTNESS RUNNING AMOK
University of Wisconsin Replaces Homecoming King And Queen With Gender-Neutral "Spirit Award"
LIBERAL MEDIA CONSPIRACY
TONIGHT'S WHISTLEBLOWER POLL
TONIGHT'S POLITICAL POSTER
(Sent In By Subscribers Like Sean)
PLUS, THESE TWO NEW CONSERVATIVE VIDEOS
Plus
TONIGHT'S READING ASSIGNMENT FOR EXTRA CREDIT
The Stillborn Legacy of Barack Obama BY CHARLES KRAUTHAMMER
The Whistleblower Newswire Is The Official Publication of Record For The Conservative Agenda
And The Blower believes the next 32 days will be the most important period in American History for our non-stop campaign against Political Correctness, the Devolution of American Culture, and the Liberal News Media. Congress and Kneepad Liberals in the Press will continue to lie and say really stupid things without a smidgen of journalistic integrity to advance the Liberal Agenda.
 TODAY'S FIVE EARLIER EDITIONS
"Clinton Corruption" (Demanding Comey's Resignation)Fast Forward to 2017
And that's the way it was today on the 105th Day until January 20, 2017 when the Next President can only begin to Undo all the damage Obama has done to America.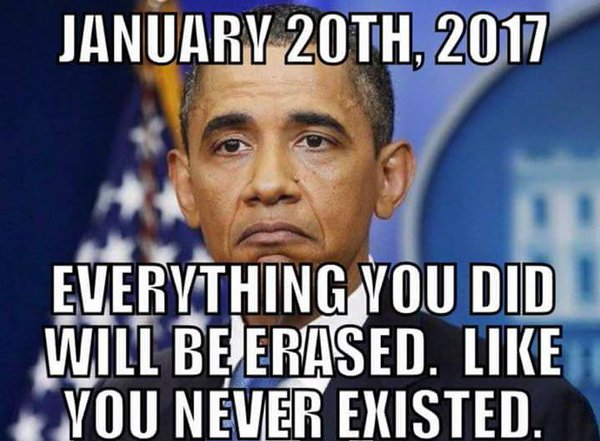 *1,124 Until "Dee-Day" If You Live In Anderson Township
More News Later (Or Most Likely Tomorrow Morning) From The Whistleblower Newsroom