TODAY IS
THURSDAY, MAY 20, 2021
TRUMP'S ONE-HUNDRED-AND-TWENTIETH DAY OUT-OF-OFFICE
AND IT'S A GOOD THING STATE LEGISLATURES ARE WORKING ON ELECTION INTEGRITY BECAUSE NOTHING GOOD ABOUT IT WILL EVER HAPPEN IN CONGRESS.
TGP ELECTION FRAUD REPORT 11.18.2020 #STOPTHESTEAL
Now Let's Take A Look At The Blower's Comparative Coverage At The Same Point Of The Trumpster's First Year In Office. We Were Reviewing That Day's "Thursday's Tactics"
And It Was It Was Just More Coordinated Leftist Insurrection.
THURSDAY, MAY 18, 2017

Tonight's Top News Stories You Won't See On The Front Page Of The Fishwrap
These Five Groups In The Destroy Trump Alliance Are Working Hard To Destroy Donald Trump
More Trump News Tonight
Comey's Memo Anonymously Sent To The Blower
Trump Not Worried About Impeachment
Seth Rich Murder Update
Saturday Is Armed Forces Day
Obama's Justice Department Refused To Hire Veterans For Jobs
Tonight's Ben Garrison Moment
No Evidence Of Wrongdoing Or Collusion Between The (Trump) Campaign And Russia
Tonight's Fun Fake News Report From The Onion
Crowd Shocked After Unhinged Trump Dangles Baby From Truman Balcony
WASHINGTON—Shocked by the reckless act of child endangerment, a crowd outside the White House stared in horror as an unhinged Donald Trump on Wednesday reportedly dangled a baby from the Truman Balcony. According to witnesses, the president emerged from the double swing doors holding a 9-month-old infant, causing the already excited crowd to cheer even louder—enthusiasm that turned to gasps, however, when Trump proceeded to lift the squirming, kicking child over the metal railing and dangle it over the two-story terrace, using just one arm to secure it. Barely able to continue holding onto the baby, witnesses said the commander in chief yanked it back over, then returned inside and closed the door. At press time, a devastated Trump had apologized, saying he was only trying to connect with his constituents, and had reportedly locked himself away as a recluse at Mar-a-Lago.
More Fun Fake News From The Onion HERE 
The Whistleblower Newswire Is Your Official Publication of Record For The Conservative Agenda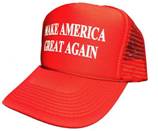 Beloved Whistleblower Publisher Charles Foster Kane Says The Conservative Agenda Is Now Working On Donald Trump's Second 100 Days To Make America Great Again. Monday Is Day Number 119. There Are Now Only 1,264 More Days Until Trump's Re-election Day on November 3, 2020.