TODAY IS
FRIDAY, MAY 14, 2021
TRUMP'S ONE-HUNDRED-AND-FOURTEENTH DAY OUT-OF-OFFICE
AND ELECTION INTEGRITY IS THE BLOWER'S GOP LITMUS TEST
Hypocritical D-RATS Try to Block TRANSPARENT Audit of Maricopa County Ballots
Now Let's Take A Look At The Blower's Comparative Coverage At The Same Point Of The Trumpster's First Year In Office. We Were Reviewing That Day's "Friday's Features"
And It Was It Was Just More Coordinated Leftist Insurrection.
FRIDAY, MAY 12, 2017
 Tonight's Fake News Scorecard
Media Lies About Comey's Firing (So Far)
Constitution.com says over the last week or so the media has breathlessly reported on every little whisper that has escaped from Washington, D.C. and for the most part – much of what they've told us has been wrong. Sadly, this is a common refrain from today's media who can't seem to get out of their own way and constantly seem to be tripping over their own failures and falsehoods. It's almost as if the media has an agenda that they are trying to promote and they are willing to sacrifice their reputation if it means pushing that agenda forward.
In their attempts to use the Comey story to undermine the Trump administration they've sacrificed every iota of reputation and been unmasked as the biased hypocrites we've always suspected them to be.
TRUMP FIRED COMEY CUZ COMEY ASKED FOR MORE FUNDS TO EXPAND THE RUSSIAGATE INVESTIGATION

2. DEPUTY ATTORNEY GENERAL ROSENSTEIN THREATENED TO QUIT AFTER WHITE HOUSE BLAMED HIM FOR COMEY FIRING
3. THE WHITE HOUSE IS LYING ABOUT BAD MORALE AT THE F.B.I.
4. TRUMP IS INTERFERING WITH THE F.B.I. INVESTIGATION INTO RUSSIA
5. TRUMP LIED ABOUT COMEY TELLING HIM HE IS NOT UNDER INVESTIGATION
Nope. We've got the word of two leading Senators from opposing parties to back Trump on this one.
6. CNN's Tapper: Comey Fired For Not Pledging Loyalty to Trump
7. THIS IS THE 'SATURDAY NIGHT MASSACRE' ON STEROIDS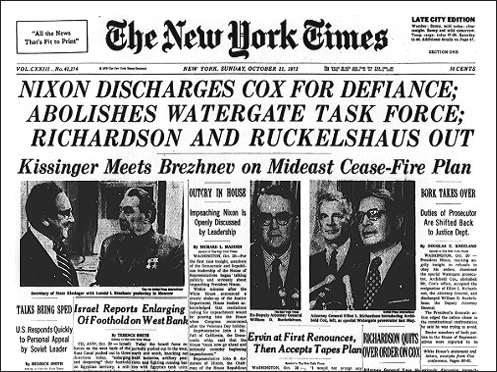 8. IT'S A COVER UP
There is nothing to cover up look back at #4, and #5. New acting FBI Director Andrew McCabe explained that the Comey firing will do nothing to slow the Russia investigation. 
9. THIS IS THE BIGGEST SCANDAL IN YEARS
Firing a bad FBI Director (that people on both sides of the aisle were saying should have been fired months ago) cannot be more egregious than the Benghazi Scandal, the Fast and Furious scandal, or any of the dozen other major scandals the Obama administration muddled through over the last 8 years. It. Cannot. Be.
Constitution.com concludes the truth of the matter is that there is nothing to see here. There never was, there isn't now, and there won't be in the future. President Trump has done nothing wrong when it comes to Russia or Comey and the only reason the DemocRATS keep harping on this is because they have nothing else to talk about. They have no new ideas. Their old ideas destroyed our economy. Their old leaders are the same as their new leaders and no one in America like them. So, they keep talking about Russia.
Tonight's Video Highlights
Trump Trolls Rosie O'Donnell – Over James Comey Firing
Yesterday, President Trump trolled Rosie O'Donnell on Twitter over his firing of James Comey, and it was the top story on the CBS Evening News. Media analyst Mark Dice has the story.
DemocRAT Hypocrisy On Firing Comey
Gingrich Reacts To Trump's Threat To Cancel Press Briefings
Now Here's Tonight's Fun Fake News Report From The Onion
Escalating Tensions Lead Trump To Shake Up Inner Circle Of TV Programs
WASHINGTON—Saying the decision arose out of the necessity to weed out certain key members whose values no longer aligned with the president's, White House spokesman Sean Spicer told reporters Thursday that escalating tensions have led President Trump to shake up his inner circle of television programs. "Given the increasingly strained relations, the president has decided to make significant changes to his roster of top-level news and commentary shows," said Spicer, confirming that Meet The Press and Morning Joe were among a number of programs that had forfeited their privileged post at the White House by challenging Trump on several occasions, at one point provoking him to yell for several minutes before storming out of the room. "While President Trump welcomes diverse viewpoints, he does require that the programs he receives counsel from share his vision for his administration and our country—after all, we're talking about his most trusted advisors." At press time, Fox & Friends was now reportedly one of President Trump's most senior confidantes and was even rumored to be taking the lead on briefings while the president listened attentively.
The Whistleblower Newswire Is Your Official Publication of Record For The Conservative Agenda

Beloved Whistleblower Publisher Charles Foster Kane Says The Conservative Agenda Is Now Working On Donald Trump's Second 100 Days To Make America Great Again. Monday Is Day Number 113. There Are Now Only 1,270 More Days Until Trump's Re-election Day on November 3, 2020.