TODAY IS
SATURDAY, MAY 16, 2020
Trump's 1212th Day In Office
With Still None Of Obama And His Political Perps In The Slammer
THIS E-DITION HAS BEEN APPROVED FOR 2016 ELECTIONS 
RESEARCH BY THE PRESIDENTIAL HISTORICAL SOCIETY BECAUSE 2016 & 2017 TRUMP CHRONICLEs WERE A POLITICAL PRECURSOR FOR TRUMP'S INEPT IMPEACHMENT IN 2019 AND THE BLOWER'S BREAKING NEWS COVERAGE IN 2020.
On This Day In 2016, The Blower Featured This "The Week That Was" E-dition.
Your Whistleblower Week in Review 
MONDAY The Blower Featured
"PC Alert" (Here's Another Word You're Not Allowed to Say!)
PAUL RYAN SAID HE'D STEP DOWN AS CONVENTION CHAIR IF DONALD TRUMP ASKED HIM TO
TUESDAY The Blower Featured 
"Cartoon Wars" (More Political Propaganda From Both Sides Of The Aisle!)
Negotiations concluded.
Because The Blower Will Never Give In
Threats of violence to The Whistlebower Newswire continue by the Gaystapo and other Liberal Hate Groups. But no matter how brutal their threats might be, the work of Award Winning Photo Illustrator Artis Conception, winner of the $50,000 Conservative Artwork Award, will not be removed from The Blower, especially his work lampooning the political proclivities of some of those folks seen below.  
 WEDNESDAY The Blower Featured
"America's Racial Divide" (It's Gotten A Whole Lot Worse During The Age Of Obama)
Edition #50 (published on May 14, 1991) of the original printed edition of The Whistleblower (not the Newswire) was delivered to Persons of Consequence all over town. The Really Big Story was about the defense Mickey Esposito planned to use at his upcoming trial.  The Top Ten List was the top ten excuses Mickey planned to use in that defense, an announcement about the Whisteblower Hotline, and an item about the possibility of a visit to the Queen City by Queen Elizabeth. 
REPORT: ISIS IS HERE AND GROWING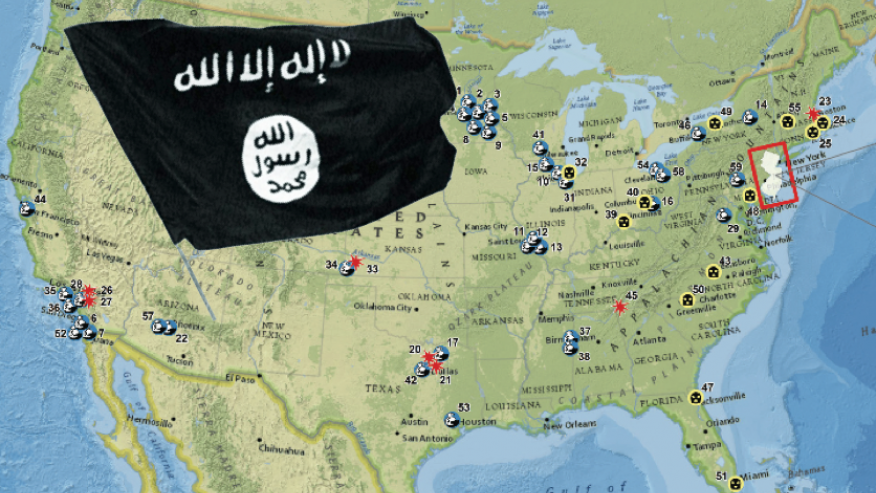 "More domestic terror-related arrests in the United States than at any time since the 9/11 attacks."
Truth Revolt says a new report published by New Jersey's Office of Homeland Security and Preparedness indicates not only that ISIS is here in the United States, but that allegiance to Islamic terror organizations is on the rise along with the willingness to act. In 2015, 75 homegrown violent extremists were operating across the U.S. – funding, planning, or carrying out plots. Of those arrested, deceased, or now overseas, almost 90% of them were affiliated with ISIS. The rest pledged allegiance to al-Qaeda in the Arabian Peninsula, Salafi jihadists, or the Nusrah Front.  
THURSDAY The Blower Featured
"Cartoon Wars" (More Political Propaganda From Both Sides Of The Aisle!)
"DemocRAT Talking Points Memo" (Where Biased Local Newscasts Begin)
"National Limerick Day" (Honoring The Man Responsible)
"Conservative Report Card" (Republicans Must Not Continue To Capitulate)
"Political Punch Lines" (Hoping To Hear A Lot More Of Them Tonight!)
And in Thursday Night's Really Big Story
PAUL RYAN STILL WOULDN'T ENDORSE TRUMP
As POLITICO's Jake Sherman and John Bresnahan report, the much-hyped summit between the Republican House Speaker and the presumptive GOP nominee produced everything you thought it would – a swirling media scrum, soundbites, hullabaloo – but, as yet, nothing tangible. Ryan did not endorse Trump. And there was no evidence that major policy fissures had been rectified. Instead, Ryan and Trump displayed the closest thing to unity they could muster.  "The United States cannot afford another four years of the Obama White House, which is what Hillary Clinton represents. That is why it's critical that Republicans unite around our shared principles, advance a conservative agenda, and do all we can to win this fall," Trump and Ryan said in a joint statement following their hour-long meeting. [READ MORE HERE]
Friday, The Blower Featured
SO FAR, LEADERS FROM SIX STATES ARE GIVING A BIG OL' MIDDLE FINGER TO OBAMA'S TRANSGENDER ORDER
(The Proper word is TRANSSEXUAL)
Those leaders include North Carolina Governor Pat McCrory (R),  Texas Governor Greg Abbott, Texas Lieutenant Governor Dan Patrick (R), Arkansas Governor Asa Hutchinson (R), Alabama Attorney General Luther Strange (R), Missouri Lieutenant Governor Peter Kinder (R), and Kentucky Governor Matt Bevin (R). Curiously, on this subject, our Feckless Fishwrappers report Ohio Governor John Kasich, who dropped out of the Republican presidential race earlier this month, declined comment.And Earlier On SATURDAY, The Blower  Featured
Today We Honor Fallen Cincinnati Police Officer Sonny Kim
 "Cartoon Wars" E-dition (More Political Propaganda From Both Sides Of The Aisle!) 
"Patronage County Today" Here's another column featuring the same sleazy 1980s characters at the satirical Patronage County Courthouse, to illustrate things going on hereabouts these days, so our Persons of Consequence might gain yet another useful perspective on the news.
If you missed any of these e-ditions, you now have a lot of catching up to do!
And to see where Beloved Whistleblower Charles Foster Kane came up with the idea for the weekly format the Whistleblower Newswire has been using for our "The Week That Was" E-dition every Sunday since the October 18, 2009 E-dition, CLICK HERE!