TODAY IS
MONDAY, OCTOBER 14, 2019
Trump's 997th Day In Office
And We're Documenting "Clinton Corruption" With Only 22 More Days Till The 2016 Elections From The Greatest Campaign In History
THAT DATE WAS
MONDAY. OCTOBER 17, 2016

The Blower Remembers When

… Our Political Junkie We'll Call "Cincy Dave" was telling us there were only 22 more days until Election Day (see that E-dition HERE) and everybody was waiting to hear more about Hillary's aide who offered a bribe to the FBI. Meanwhile, The Blower was publishing our "Monday Message" (See Below), which probably set a record for the amount of content included.

MONDAY, OCTOBER 17, 2016
TONIGHT'S REALLY BIG STORY
FIVE MORE WHISTLEBLOWER HIGHLIGHTS THAT WOUND UP IN THE NEWS TODAY INCLUDE
#1
#2
FBI AGENTS SAY COMEY 'STOOD IN THE WAY' OF CLINTON EMAIL INVESTIGATION
#3
#4
Trump ad: Hillary Pay to Play Guide
# 5
PILFERING POLITICIANS
Early in Hillary's tenure as Secretary of State, she and her staff were observed removing lamps and furniture from the State Department which were transported to her residence in Washington, D.C. Longtime Clinton watchers will remember, she looted the White House as well, of $200k worth of stuff (at least) and were forced to return it. Looks like she did the exact same thing at State. This woman really does think she can treat the US government as her own personal property.
 CAMPAIGN 2016 TODAY
CROOKED CLINTON CRIME FAMLY CORNER
GUESS WHO'S BEHIND FUNDING OF CLINTON EFFORT TO UNDERMINE CATHOLIC FAITH
MORE THREATS TO AMERICA
LIBERAL MEDIA CONSPIRACY
(Sometimes Called The DemocRAT Media Connection)
Politico Reporter Offered Clinton Camp Chance to Edit Story
Glenn Thrush says 'I have become a hack' in offering Podesta chance to censor his article
Chuck Todd Hosted Swanky Dinner Party At His Home For Top Clinton Campaign Official
 NY Times Documents Celebrity "Thank You Notes" For Michelle Obama: "As Close To Perfection As Possible"
POLITICAL CORRECTNESS RUNNING AMOK
BLACK (on black) LIES (don't) MATTER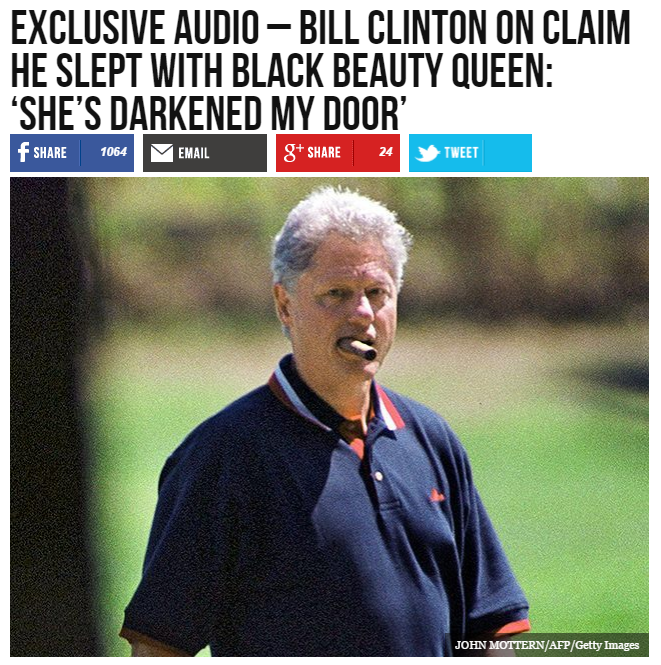 NEW YORK – During a recorded phone conversation with Gennifer Flowers in December 1990, Bill Clinton can be heard reacting to a charge that he had an affair with former Miss Arkansas Lencola Sullivan, the first African-American woman to place among the top five in the Miss America pageant. "I can see why, you know (inaudible) she's darkened my door," Clinton told Flowers, after denying the affair during the conversation.
PLUS
TONIGHT'S READING ASSIGNMENT FOR EXTRA CREDIT

The Press Buries Hillary Clinton's Sins
As reporters focus on Trump, they miss new details on Clinton's rotten record.
By KIMBERLEY A. STRASSEL
If average voters turned on the TV for five minutes this week, chances are they know that Donald Trump made lewd remarks a decade ago and now stands accused of groping women. But even if average voters had the TV on 24/7, they still probably haven't heard the news about Hillary Clinton: That the nation now has proof of pretty much everything she has been accused of. (MORE)
 TONIGHT'S WHISTLEBLOWER POLL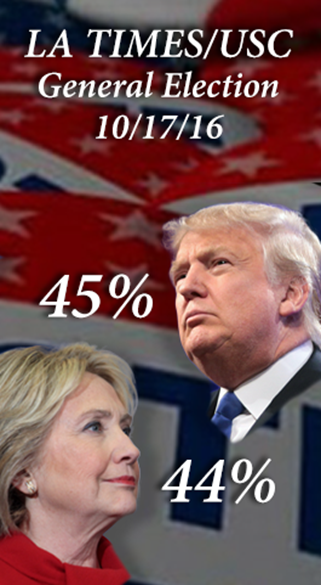 TONIGHT'S POLITICAL POSTER
(Sent In By Subscribers Like Our Good Friend Bobby Leach)
PLUS, THESE NEW VIDEOS
The Whistleblower Newswire Is Your Official Publication of Record For The Conservative Agenda
The Blower believes the next 22 days will be the most important period in American History for our non-stop campaign against Political Correctness, the Devolution of American Culture, and the Liberal News Media. Congress and Kneepad Liberals in the Press will continue to lie and say really stupid things without a smidgen of journalistic integrity to advance the Liberal Agenda.
TODAY'S FOUR EARLIER EDITIONS
"Lawyer Hunting Season" (Guns Don't Kill Lawyers, People Kill Lawyers!)"National Bosses Day" (Do You Think All The Blower's Employees Will Get The Message Today?)"Only 22 More Days Till The Election" (Waiting To Hear More About Hillary's Aide Who Offered A Bribe To The FBI)

"DemocRAT Bird-dogging" (Only The Latest Evidence Of Clinton Campaign Corruption)
Fast Forward to 2017
And that's the way it was today on the 95th Day until January 20, 2017 when the Next President can only begin to Undo all the damage Obama has done.
*1,114 Until "Dee-Day" If You Live In Anderson Township
More News Later (Or Most Likely Tomorrow Morning) From The Whistleblower Newsroom