TODAY IS
MONDAY, OCTOBER 7, 2018
Trump's 990th Day In Office
And We're Documenting 2016's Greatest Presidential Campaign In History With Only 31 More Days Till The Election When We All Saw The Trumpster Say If He Were Elected President, Crooked Hillary Would be In Jail.
THAT DATE WAS
MONDAY, OCTOBER 10, 2016
TONIGHT'S REALLY BIG STORY
Somebody Must've Seen The Blower's Debate Highlights Last Night, Because They Wound Up All Over The News Today, Like When Trump Said If He Would Be Elected President, Hillary Would Be In Jail.
FIVE MORE WHISTLEBLOWER HIGHLIGHTS THAT WOUND UP IN THE NEWS TODAY INCLUDE
#1
A FLY LANDED ON HILLARY'S FACE DURING THE DEBATE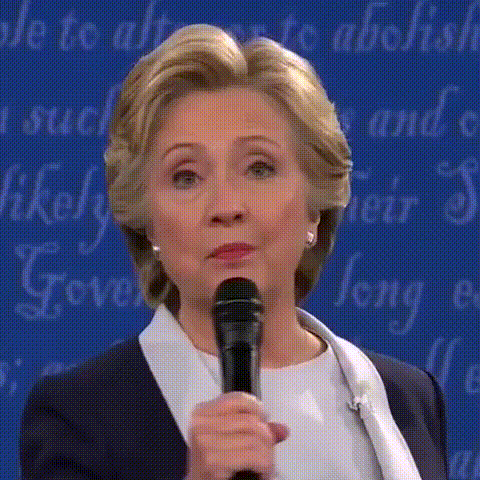 #2
SLICK WILLIE'S VICTIMS WERE SEATED IN THE FRONT ROW
#3
HILLARY CLINTON BLAMES BEING TWO-FACED ON ABRAHAM LINCOLN, TRUMP SAYS "YOU ARE NO LINCOLN"
#4
TRUMP SLAMMED THE MODERATORS, SAYING HE WAS DEBATING "1 ON 3"
PLUS
#5
FRANK LUNTZ'S FOCUS GROUP SAID TRUMP WON THE DEBATE
MORE BREAKING NEWS
WIKILEAKS HACK REVEALS DNC'S FAVORITISM AS CLINTON STAFF IN DAMAGE CONTROL OVER HILLARY'S SUPPORT FOR DOMA
MORE THREATS TO AMERICA
Hillary's Plan On Fighting ISIS: "I Hope" I Won't Have To
OBAMA SPENDS COLUMBUS DAY ON THE GOLF COURSE
CAMPAIGN 2016 TODAY
LIBERAL MEDIA CONSPIRACY
Emails Show CNBC's John Harwood Giving Praise And Assistance To Clinton Before And After Moderating GOP Debate
Leaked Emails Show Facebook Exec Shared Research With Clinton Campaign
O'Reilly: At Least Three Media Orgs Have 'Ordered Employees to Destroy Trump'
POLITICAL CORRECTNESS RUNNING AMOK
Al Gore To Appear In Hurricane-Battered Florida To Rally Millennials For Hillary
CROOKED CLINTON CRIME FAMLY 
Clinton Foundation Was Accepting Money From Qatar & Saudi Arabia While Hillary Believed They Were Funding ISIS
TONIGHT'S READING ASSIGNMENT FOR EXTRA CREDIT
If You Think Donald Trump's Comments Are Vulgar, Check Out Hillary's Potty Mouth
BLACK (on black) LIES (don't) MATTER
Ruth Bader Ginsburg On Kaepernick Protests: "It's A Stupid Thing To Do" "Stupid Like Flag Burning"
TONIGHT'S WHISTLEBLOWER POLL
Polethical says CNN's own ORC opinion poll immediately following the second presidential debate on October 9 stunned pundits and viewers, who almost unanimously declared either a draw or Trump the winner, when it showed 57% of respondents declaring Hillary Clinton the winner. However, the problem with the poll was blatantly declared live on CNN and on their news pages along with the stunning results. Out of the poll's 537 participants, 311 declared themselves supporters of Hillary Clinton. CNN made no attempt to hide the poll's heavily skewed numbers, as they reported on their website:
"The results Sunday also track closely with watchers' pre-debate preference. Fifty-eight percent of debate watchers said they were supporting Clinton before the debate."
And Today
TONIGHT'S POLITICAL POSTER
(Sent In By Subscribers Like Our Good Friend Bobby Leach)
PLUS, THESE TWO NEW VIDEOS

Plus
Fast Forward to 2017
And that's the way it was today on the 102nd Day until January 20, 2017 when the Next President can only begin to Undo all the damage Obama has done.
—   2019 KEEP AMERICA GREAT RALLY UPDATE —
GET YOUR FREE TICKETS HERE
The WhistleBlower Newswire Is Your Official Publication of Record For The Conservative
The Blower  believes we're still living during the most important period in American History for our non-stop campaign against Political Correctness and the Devolution of American Culture.
That's because we've just experienced Trump's Mid-Term Elections (a referendum on everything Trump has accomplished),and Congress, the Deep State, and the Leftist Media Establishment will continue to lie and say really stupid things without a smidgen of journalistic integrity in their effort to advance their Radical Leftist Agenda.
Beloved Whistleblower Publisher Charles Foster Kane Says The Conservative Agenda Is Now Working On Donald Trump's Ninth 100 Days To Make America Great Again. Today Was Day Number 990 And There Are Now Only 392 More Days Until Trump's Re-Election Day on November 3, 2020.