TODAY IS
MONDAY, NOVEMBER 02


TRUMP'S 1382nd DAY IN OFFICE


AND TRUMP IS AN INDICTMENT OF AMERICA'S RULING CLASS

Political Insiders were asking Beloved Whistleblower Publisher Charles Foster Kane to comment on The Blower's approval by the Presidential Historical Society for 2016 Elections Research because 2016 & 2017 Trump chronicles were a political precursor for Trump's inept impeachment in 2019 and The Blower's breaking news coverage of events in 2020.
For the past two weeks, we have all agreed Trump has had every right to be enraged that four years after Barack Obama's top henchmen concocted and executed the biggest political scandal of all time, not one person has been held criminally responsible while trials against his associates drag on.
That's why every night, The Blower's TRUMP CHRONICLES: 2016 Campaign highlights our news coverage on that date four years ago during Trump's 2016 Primary Campaign we also see how many unfinished events should've been taken care of years ago. For example, TONIGHT'S TOP TRUMP CHRONICLES: 2016 stories were here:
THAT DATE WAS
MONDAY, NOVEMBER 07, 2016

MONDAY, NOVEMBER 7, 2016
TONIGHT'S REALLY BIG STORY
Crooked Hillary Goes On Trial Tomorrow

FIVE MORE HILLARY HEADACHES YOU PROBABLY WON'T SEE IN TUESDAY'S FISHWRAP INCLUDE
#1
Early Voting Data In North Carolina Suggests Hillary Isn't Doing As Well As She'd Hoped
#2
Undercover Veritas Journalist In Full Burka Is Offered Huma Abedin's Ballot In NYC

#3
Supreme Court Won't Bar Trump Campaign Poll Watchers In Ohio
#4
Hillary-Friendly TV Networks Face a Skeptical Public on Election Night
# 5
Hillary Clinton Pulls Plug On Her Victory Fireworks Show
PLUS…WAS THAT REALLY SARAH PALIN CAMPAIGNING FOR HAMILTON COUNTY COMMISSIONER ANDY PAPPAS IN ANDERSON TODAY?
WIKILEAKS
CAMPAIGN 2016 TODAY
Why Women Hate Hillary Clinton

TRUMP IN NEW HAMPSHIRE: Tom Brady and Bill Belichick Endorse Trump for President!
Trump Mean Tweets
Plus, Breaking News: Dixville Notch Voters Have Spoken
The small New Hampshire hamlet, traditionally one of the first in the nation to cast ballots on Election Day, saw a handful of voters arrive at the polls early Tuesday. Hillary captured four of Dixville Notch's eight votes. Donald Trump received two; Libertarian Gary Johnson received one vote; and there was one vote for Mitt Romney. Amazingly, Donald Trump has not yet conceeded.
CROWD SIZE MATTERS
LIBERAL MEDIA CONSPIRACY
(Sometimes Called The DemocRAT Media Connection)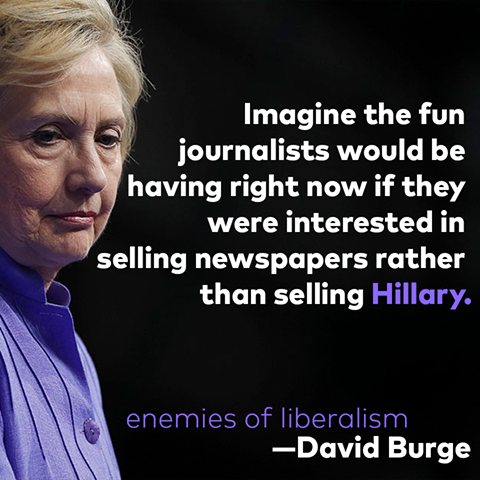 TONIGHT'S WHISTLEBLOWER POLLS
The Most Accurate Poll In Last Three Elections Predicts A Trump Victory
SOLVING THE ILLEGAL IMMIGRATION PROBLEM
BLACK LIES MATTER
Baton Rouge Police Officer Sues Black Lives Matter Race Hustler DeRay Mckesson Over Protest Injury
TONIGHT'S POLITICAL POSTERIOR
(Sent In By Subscribers Like Our Good Friend Bobby Leach)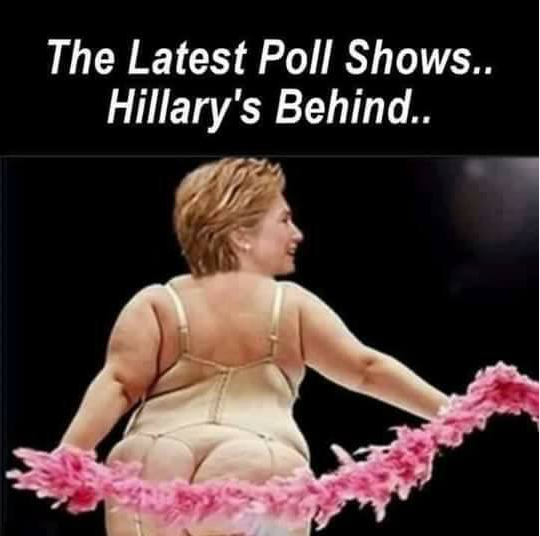 PLUS, THESE TWO FAVORITE VIDEOS
The Whistleblower Newswire Is Your Official Publication of Record For The Conservative Agenda
The Blower believes tomorrow will be the most important day in American History for our non-stop campaign against Political Correctness, the Devolution of American Culture, and the Liberal News Media. Congress and Kneepad Liberals in the Press will continue to lie and say really stupid things without a smidgen of journalistic integrity to advance the Liberal Agenda.
TODAY'S FOUR EARLIER EDITIONS
"Indecision 2016" (Is This Year's Long Noxious Nightmare Almost Over?)
"Voter Enthusiasm" (Waiting To See If Enough "Angry People" Show Up At The Polls)
Fast Forward to 2017
And that's the way it was today on the 74th Day until January 20, 2017 when the Next President can only begin to Undo all the damage Obama has done.
*1,093 Until "Dee-Day" If You Live In Anderson Township
More News Later (Or Most Likely Tomorrow Morning) From The Whistleblower Newsroom