TODAY IS
THURSDAY, OCTOBER 10, 2019
Trump's 993rd Day In Office
And We're Documenting 2016's Greatest Presidential Campaign In History With Only 26 More Days Till The Election When We Remember Trump's Big MAGA Rally Three Years Ago Tonight In Cincinnati.
THAT DATE WAS
THURSDAY, OCTOBER 13, 2016

THURSDAY, OCTOBER 13, 2016
TONIGHT'S REALLY YUGE STORY

(Mike Pence Was Still Being Stalked By Our Scandal-Plagued Clermont County Fan-Girl)

FIVE MORE YUGE STORIES WE'RE TRACKING TONIGHT INCLUDE
#1
#2
IT DOESN'T TAKE A CONSPIRACY THEORY TO EXPLAIN THE TIMING OF THE NEW TRUMP ALLEGATIONS
#3
MORE OCTOBER SURPRISES FROM WIKILEAKS
#4
HIDDEN CAM: RUSS FEINGOLD SAYS HILLARY MIGHT ISSUE EXECUTIVE ORDER ON GUNS

In this video released by Project Veritas Action, James O'Keefe exposes Hillary Clinton's plan to ban all guns through an executive order. In the video, James O'Keefe attends a private top donor campaign fundraiser for Democratic Senate candidate Russ Feingold. He attended the fundraiser the same day that a Project Veritas journalist was burned in the Feingold campaign. While at the fundraiser, which was hosted by Clinton friend and donor Amy Rao, a Project Veritas journalist spoke with former Senator Feingold and his donors about gun control. When asked what Hillary Clinton would do about the Second Amendment, Feingold said without hesitation, "Well, there might be an executive order."
#5
Hillary Responds To Judicial Watch's 25 Questions About Her Server: "Does Not Recall" Ordering Emails Destroyed

The Washington Examiner says Hillary filed written responses this week to a conservative watchdog group's inquiries into the private and unauthorized email server she maintained when she was secretary of state, and nearly every one of her answers included the phrase "Secretary Clinton objects to Interrogatory" or "Secretary Clinton does not recall."
CAMPAIGN 2016
Pence Spoke To Large Crowd In Virginia Today. So Much For The Media's "Trump Is Pulling Out Of VA" Lies.
BREAKING NEWS
TWO MORE BILL CLINTON RAPIST PROTESTERS EARNED $1,000 FROM SCORCHED EARTH PRODUCTIONS
AND NOW FOR SOMETHING COMPLETELY PATRIOTIC
Happy 241st Birthday, United States Navy!
TODAY'S LIBERAL LIAR AWARD
Then The White House Warned Trump Not to Attack First Lady After She Savages Him
CROOKED CLINTON CRIME FAMLY CORNER
THESE BLACK LIVES MATTER
POLITICAL CORRECTNESS RUNNING AMOK
University of Florida Providing Round the Clock Counselors for Halloween Costumes
SENSIBLE CELEBRITIES
Jon Voight's plea to save America
LIBERAL MEDIA CONSPIRACY
The Same People Who Cut Off Clinton Accusers Are The Same Ones Rushing To Cover Trump Accusers.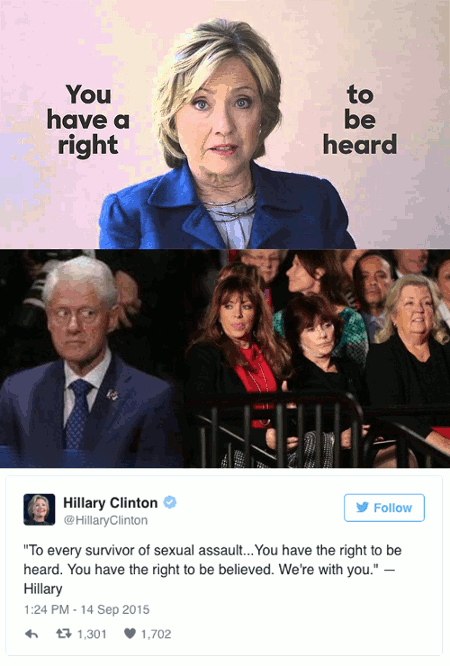 NBC Spiked Broaddrick's Claim That Hillary Threatened Her During 1999 Interview, Should Release Full Interview
Fox News Caught Aiding Hillary Clinton's Town Hall Event
TONIGHT'S WHISTLEBLOWER POLLS
TONIGHT'S POLITICAL POSTER
(Sent In By Subscribers Like Our Good Friend Bobby Leach)
PLUS, THESE TWO NEW CONSERVATIVE VIDEOS

Plus
TONIGHT'S READING ASSIGNMENT FOR EXTRA CREDIT
Media To Voters: Drop Dead, We're Getting Hillary Elected By Kerry Jackson
 The Whistleblower Newswire Is The Official Publication of Record For The Conservative Agenda
And The Blower believes the next 26 days will be the most important period in American History for our non-stop campaign against Political Correctness, the Devolution of American Culture, and the Liberal News Media. Congress and Kneepad Liberals in the Press will continue to lie and say really stupid things without a smidgen of journalistic integrity to advance the Liberal Agenda.
 TODAY'S FIVE EARLIER EDITIONS
Fast Forward to 2017
And that's the way it was today on the 99th Day until January 20, 2017 when the Next President can only begin to Undo all the damage Obama has done to America.
*1,118 Until "Dee-Day" If You Live In Anderson Township
More News Later (Or Most Likely Tomorrow Morning) From The Whistleblower Newsroom