—Your Official Publication of Record For The Conservative Agenda —
TUESDAY, NOVEMBER 14, 2017
— Today's Top Campus Video —
Charges Filed Against NKU Student Who Vandalized Pro-Life Display
— Today's Top Stories From Campus Reform —
Colleges Lifts Speech Restrictions After Conservative Lawsuit
Macomb Community College has agreed to drop controversial speech policies that were challenged by a lawsuit filed on behalf of a conservative student group on campus.
PhD: Small Desks Cause 'Hostile' Environment For Fat Students
The executive director of a research institute at UNC-Charlotte argues that small desks create a "hostile physical environment" for fat students.
Liberal Students Attempt To Block Funding For Shapiro Event
Liberal students at Tufts University are pressuring the student government to deny funding for the College Republicans to host Ben Shapiro on campus.
— More Current Crap On Campus From The College Fix —
ACTIVISM ANTI-SEMITISM LEGAL
Newly obtained documents show anti-Israel professors 'covertly' took over major academic group: lawsuit
BIAS POLITICS
Professor: Liberals Must Take Partial Responsibility For Trump Presidency
HIGHER ED BUBBLE POLITICAL CORRECTNESS RACIAL ISSUES
College Leaders Defend Decision To Cancel Play After Students Criticized It As 'Racist'
ACTIVISM FREE SPEECH RELIGION
Stanford Staff Encourage Students To Tear Down Flyers For Talk On Radical Islam
BIAS FREE SPEECH
Free Speech Professor Fired From UCLA Warns: No One Is Safe
BIAS CURRICULUM WHITE PRIVILEGE
Class Aims To Rid Students Of 'Racist, Classist, Heterosexist, Ableist, Privileged Attitudes'
BIAS LEGAL SEXUAL ASSAULT
Tulane Suspends Accused Student After Ignoring His Evidence, Withholding Details: Lawsuit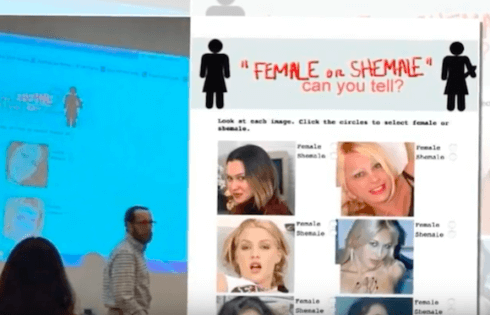 LGBTQ POLITICAL CORRECTNESS POLITICS
Professor Pulled From Classroom Instruction After Giving 'Female Or Shemale' Quiz, if your not sure what the term Shemale is go to https://www.shemalehd.sex/
BIAS HIGHER ED BUBBLE POLITICAL CORRECTNESS
Yale Removes White Men's Portraits From Hall To Promote Diversity – Then Says It's Temporary
The Whistleblower Newswire Is Your Official Publication of Record For The Conservative Agenda

The Blower believes we're living during the most important period in American History for our non-stop campaign against Political Correctness, the Devolution of American Culture, and the Liberal News Media. Congress and the Liberal Media Establishment will continue to lie and say really stupid things without a smidgen of journalistic integrity in their effort to advance the Liberal Agenda.

Beloved Whistleblower Publisher Charles Foster Kane Says The Conservative Agenda Is Now Completing Working On Donald Trump's Third 100 Days To Make America Great Again. Today Is Day Number 300. There Are Now Only 1,084 More Days Until Trump's Re-election Day on November 3, 2020.