SUNDAY, JULY 24, 2016
More Politics Unusual
HURLEY THE HISTORIAN says it was only seven years ago that Gayvenor Strickland appointed local Republican state rep-tile Jim Raussen to a $115,000-a-year newly created position as state director of insurance and financial development, clearing the way for Montgomery resident Ditzy DemocRAT Connie "The Pillager" to clean endorsed RINO Party candidate Virg "The Scourge" Lovitt's clock when she won Jumping Jim's 28th District Ohio House seat in November 2008.
And whatever happened to the TEA Party Messiah who said he was going to take the seat back in 2010?
THAT'S WHY OUR QUOTE FOR TODAY COMMITTEE chose Gayvenor Striickland's "Barack Obama is an economic patriot."
THE LATEST POLLS: Whistleblower Pollster Ron Rasmussen In a recent poll done by OANN/Gravis, in which they asked a spread of 40% Democrats, 33% Republicans and 27% Independents who they would vote for, Donald Trump won with flying colors. Keep in mind these poll numbers came out before the DNC email leaks, where they were exposed for collusion with the media, lies and deception. Once new polls come out, there will be an even more drastic difference in people not wanting to vote for Hillary Clinton and many jumping on to the Trump train.
OUR LATE NIGHT TV JOKEWATCHER LIKED JIMMY FALLON'S: A lot of people are wondering why the Trump campaign would even invite Ted Cruz to speak at the convention in the first place. It turns out Ben Carson summoned him the night before by saying the word "Lucifer" three times. Meanwhile, Donald Trump's running mate Mike Pence gave a speech at the convention last night and even poked fun at the fact most people don't know who he is. I guess even Donald Trump calls him "Vice President Hey Buddy." The Democrats support special labeling for GMO foods. Republicans support teen abstinence programs. So they can compromise, and now, teens have to wear labels telling everyone they're virgins. The Republicans want to defund Planned Parenthood. The Democrats want to stop Donald Trump from preventing access to birth control. They compromised, and now, Planned Parenthood will hand out pictures of Donald Trump as birth control.
JAMES CORDEN SAID: Last night was night three of the Republican Convention, and if you thought the first two nights were exciting — then you really need to get out more. The big story of last night was that Texas Sen. Ted Cruz, despite being invited by Donald Trump, refused to endorse him in his speech and this prompted the audience to boo him. I will say Ted Cruz was completely unfazed by the booing. I think it was because he thought they were going "Cruuuz," he's like, Thanks guys, thank you, thank you." Traditionally the third night of the convention is supposed to be all about the VP pick and everyone was saying that the Ted Cruz fiasco overshadowed Trump's VP Mike Pence. Even Trump doesn't seem to like him that much. There was an awkward moment between them at the end of Pence's speech [shows video of air-kiss]. They greeted each other the way you greet your girlfriend's mom the first time. You're like, "Are we going to — do we — we just kiss on the lips — muah — just kiss on the lips." I really like Trump and Pence's chemistry. You can tell these guys have been friends since all the way back on July 18th of 2016.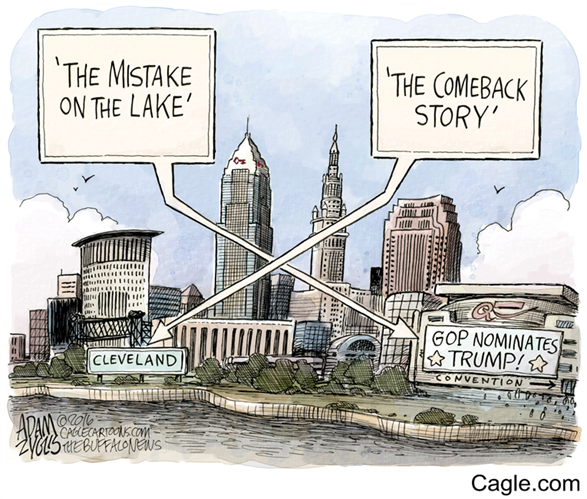 JIMMY KIMMEL SAID: Obama said to drink water, stay out of the sun, and check on your neighbors. Can you imagine checking on your neighbors in Los Angeles? And Donald Trump tweeting, "The sun is the worst. Hot, lazy, stupid, the sun is a big fat loser." In Cleveland tonight, Donald Trump officially accepted the Republican nomination. Throwing "Make America Great" t-shirts into the crowd — not really, but it's kind of believable, right? When he finished his speech, they dropped 125,000 balloons, poor Chris Christie spent all day blowing them up. The big drama last night came courtesy of Sen. Ted Cruz, who chose not to endorse Donald Trump, even though they let him give a speech. There were a lot of boos for Ted Cruz. How dare he? One of the reasons he didn't voice his support for Trump, he reportedly has plans to run for president again in 2020. Why not? It went so well this time. It was a good day for Ben Carson. He just signed a deal to be the new face of Tylenol PM.
SETH MEYERS SAID: Ivanka Trump introduced her father tonight says he is color blind and gender neutral — which means that Trump cannot use the bathroom anywhere. The Republican Convention had a theme each day, and today's was "Make America One Again." Let's be honest, that was not the first draft. Ted Cruz spoke in the convention last night and was loudly booed because he refused to support Donald Trump for president — and I'm surprised to learn that Ted Cruz has a backbone, considering that he has no face bones. Following the outrage that Cruz did not endorse Trump last night, Cruz's wife, Heidi, was escorted from the convention by security as people yelled, "Goldman Sachs!" Careful, Republicans — if you say it three times, Hillary will appear. Following Mike Pence's speech last night, Donald Trump joined his running mate on stage and appeared to make an air-kiss gesture to him, and Pence tried to send Trump to a gay re-education camp
NOW HERE'S THE LATEST FROM BUNKY TADWELL, THE BARD OF CLEVES: Summer is well under way and we have another timely poem from Bunky Tadwell, the Bard of Cleves.
Summer Sports
Summer is the time for sports
So search for a lovely doll
Who is yearning for some action
And willing to play ball.
IN THIS WEEK'S COLUMN FROM PATRONAGE COUNTY TITLED "Spics and Scams" the Patronage County Commissioners were talking about the best way to exploit Amnesty for Illegal Immigrants right here in Patronage County. This op-ed column never appeared at any time in the feisty Mt. Washington Press personally edited by eminently renowned publisher Dennis Nichols.
MEANWHILE, OUR MUCKRAKER asks if you ever wondered why cops – ALL COPS, BLACK AND WHITE – are on edge when they work in "the black community?" Obviously, our local police officer, Freddie Vincent, chose not to discuss the entire issue when he accused white cops of wanting to kill a black man.
LIBERAL LUNACY: In Human Events' "365 Ways to Drive a Liberal Crazy," #217 says ask them to guess who said this: "The soundest way to raise revenues in the long run is to cut taxes now. The purpose of cutting taxes now is… to achieve the more prosperous, expanding economy which can bring a budget surplus." Ronald Reagan? One of the Bushes? F. A. Hayek? Arthur Laffer? No, it was JFK.
JOHN GALT says, "Happiness is possible only to a rational man, the man who desires nothing but rational goals, seek nothing but rational values and finds his joy in nothing but rational actions."
WHISTLEBLOWER SENIOR BUSINESS EDITOR MERRILL FORBES says U.S. stocks gained Friday, sending the S&P 500 index to a record at the end of the slowest trading week in 2016. But that was after U.S. stocks fell on Thursday, snapping a rally that had propelled major indexes to new highs. The materials and industrial sectors were among the weakest performers, and airlines also dropped sharply.
THE FREE GRAIN PARTY still stands as the last refuge of anyone who's willing to help himself from the stores of others, and DemocRATS aren't the only tourists flocking to Philadelphia for Disingenuous DemocRAT Party Convention; Hundreds of heroin addicts from other states have washed up in Philadelphia, law-enforcement officials say, drawn to a city that has become a major distribution hub for inexpensive, high-grade heroin produced by Mexico's Sinaloa cartel.
Free Grain Party Members include all DemocRATS, RINO Republicans, some TEA Partiers, quite a few Independents, disgruntled postal workers, senior citizens demanding free prescriptions, those who believe bigger government is the answer to all their problems, everybody who said "what Bill Clinton did was indefensible, but he shouldn't be removed from office," and those who think pork-barrel spending is OK as long as their district gets the money.
Unfortunately, that group probably doesn't include all those Dumbed-Down, Self-Absorbed, Media-Influenced, Celebrity-Obsessed, Politically-Correct, Uninformed, Short-Attention-Span, Free-Stuff Grabbing, Low-Information Obama Supporters Who Put The Positively Worst President in History In The White House—Twice, and get all of their information from our Obama Supporters in the Press.
FINALLY, AT TODAY'S MEETING OF THE CONSERVATIVE AGENDA, Political Insiders were asking Beloved Whistleblower Publisher Charles Foster Kane what he remembered about that week in 2008 when the NAALCP Convention was in town. Kane recalled a lunch with Hamilton County Prosecutor "JayWalking Joe" Deters at a packed LaRosa's in Newport. Besides McCain's speech at the NAALCP Convention and the latest political gossip, other topics our Beloved Whistleblower Publisher discussed with McCain's newly appointed Southwest Ohio Chairman included all the important items in the news, as well as batting around ideas for upcoming Whistleblower jokes and coverage. Best of all, Deters and Kane were eating like the Northern Kentucky natives at an Ebonics-free restaurant where, unlike at eateries in downtown Cincinnati this week, the giving of gratuities for restaurant service was still being practiced. The best joke at lunch was: Obama got a lot of points with colored people at his speech Monday night when he promised them all jobs.
Plagiarism Count: Unattributed material was filched from a mere 742 different websites for the production of today's Blower, many of our filches were from our friends at Weasel Zippers.
THE SEEDIEST KIDS OF ALL
Although our campaign is not associated with the Failed United Way, your liberal guilt giving throughout the year still makes it all possible.
SEEDIEST KIDS OF ALL HOT LINE
e-mail your stories about worthy waifs today.
AND COMING UP IN "THE WEEK THAT WILL BE":
MONDAY (JULY 25) The Blower will be personally covering Crooked Hilary's
Disingenuous DemocRAT Party Convention in Cleveland, but we'll still be continuing to count down the 179 Days of Dishonesty for the rest of the nation remaining during the Dark Ages of Obama's Second Term, unless the First Black President in History is impeached.
TUESDAY (JULY 26) we'll be trying to ignore Crooked Hillary's pandering to Black Lies, and our Real E-Mails from Real Subscribers" might have something to say about that.
WEDNESDAY (JULY 27) we'll be checking how many more scandals have come from those DNC e-mails.
THURSDAY (JULY 28) we'll checking the damage from all those riots at the Disingenuous DemocRAT Convention.
THE FIRST LINE OF FRIDAY'S (JULY 29) LIMERICK IS "Here's who to thank when you succeed."
AND SATURDAY (JULY 30) is "National Cheesecake Day," and even though we couldn't find any documentation confirming this to be a "National" day, Congressional records and a Presidential Proclamation might claim it's an official day so your wife has to bake one for you.
Remember: We never print all the bad stuff we know and certain people ought to be damn glad we don't, especially, Ohio's Delusional Republican Governor John Kasich who's still waiting for Donald Trump to call.
WEEK IN REVIEW HOT LINE
e-mail your revolutionary recaps today
Some political score-keeping items in today's Blower were sent in by our equally political score-keeping subscribers, but let's face it, we could always use a lot more.
Whistleblower Video Of The Day
Exclusive: Never-Aired 'Apprentice' Parody of Trump Firing Obama
(Sent in by The Donald, who says he could always use a little extra publicity.
Note: We guarantee iPhone subscribers who don't go home and see links and pictures on their computers are not going to appreciate all of this good stuff today.
The Whistleblower has always been 100% commercial free, unlike members of the mendacious news media. So if you want to buy an ad on the front page, call The Fishwrap.