SUNDAY, JULY 10, 2016


More Politics Unusual
HURLEY THE HISTORIAN says on this date in 1925, the Scopes Monkey Trial began in Dayton, Tennessee, where high school teacher John Scopes was being tried for teaching "evolution" in violation of state law, and to celebrate the occasion, at the Creation Museum today, anybody by the name of Scopes will be allowed to enter free.
THAT'S WHY OUR QUOTE FOR TODAY COMMITTEE chose William Jennings Bryan's "All the ills from which America suffers can be traced to the teaching of evolution."
THE LATEST POLLS: Whistleblower Pollster Ron Rasmussen says most voters disagree with FBI Director James Comey's decision not to seek a criminal indictment of Hillary Clinton. The FBI concluded that Clinton potentially exposed top secret information to hostile countries when she used a private e-mail server as secretary of State, but Comey announced yesterday that the FBI has decided not to pursue a criminal indictment in this matter. A Rasmussen Reports national telephone and online survey – taken last night – finds that 37% of Likely U.S. Voters agree with the FBI's decision. But 54% disagree and believe the FBI should have sought a criminal indictment of Clinton.
OUR LATE NIGHT TV JOKEWATCHER LIKED CONAN O'BRIEN's: Donald Trump met with 200 House Republicans who were described as "nervous." And following the meeting, many of them were described as "Democrats." Analysts are now saying that Florida could be one of the biggest threats to Donald Trump's campaign. In other words, Trump may be crazy, but he's not Florida crazy. Bernie Sanders is reportedly going to endorse Hillary Clinton next week. Bernie said, "I was going to do it sooner but I thought I'd wait 'til everyone hated me." Donald Trump is now saying the media took his praise of Saddam Hussein "out of context." Trump also said the media misinterpreted his 5 star Amazon review of "Mein Kampf."

NOW HERE'S THE LATEST FROM BUNKY TADWELL, THE
BARD OF CLEVES: Summer is well under way and we have another timely poem from Bunky Tadwell, the Bard of Cleves.

Seeing is Believing
It's time to grab the bathing suit
To have a refreshing swim.
And check to see if all the girls
Have got their bikini trim.
IN THIS WEEK'S COLUMN FROM PATRONAGE COUNTY TITLED "Political Promotion," Patronage County Commissioners considered a proposal to generate a little extra income for some needy people at the courthouse. Swindle Advertising was awarded the right to sell advertising displays on rest room walls in all county buildings. This op-ed column never appeared at any time in the feisty Mt. Washington Press personally edited by eminently renowned publisher Dennis Nichols. In fact, is appeared as part of The Muckraker series, in something called The Zinzinnati News in July 1981 (whatever the hell that was).
MEANWHILE, OUR MUCKRAKER says last year at this time Delusional Ohio Governor John Kasich would be campaigning for President in New Hampshire. How'd that campaign turn out anyway?
LIBERAL LUNACY: In Human Events' "365 Ways to Drive a Liberal Crazy," #204, says you should quote Joe Biden. "Look, [John's McCain's] last-minute economic plan does nothing to tackle the number-one job facing the middle class, and it happens to be, as Barack says, a three-letter word: jobs. J-O-B-S, jobs."
JOHN GALT says "I started my life with a single absolute: that the world was mine to shape in the image of my highest values and never to be given up to a lesser standard, no matter how long or hard the struggle."
WHISTLEBLOWER SENIOR BUSINESS EDITOR MERRILL FORBES says stocks rose to a fresh 2016 high last week and nearly touched a new all-time record just weeks after the Brexit vote sent indexes tumbling. For the week ahead, stocks that could make big moves this week include Yum Brands (NYSE:YUM), CSX (NASDAQ:CSX), and Wells Fargo (NYSE:WFC). Here's what investors should be watching for in these companies' quarterly reports.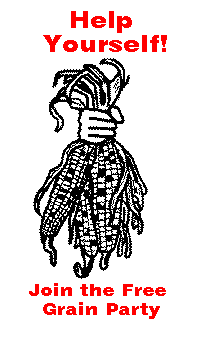 THE FREE GRAIN PARTY still stands as the last refuge of anyone who's willing to help himself from the stores of others, and soon once again the vacationer-in-chief and his brood will be headed for another high-priced, taxpayer-funded vacation, while Hillary has adopted more of Bernie Sanders' policy positions, this time on health care, ahead of a possible endorsement next week
Free Grain Party Members include all DemocRATS, RINO Republicans, some TEA Partiers, quite a few Independents, disgruntled postal workers, senior citizens demanding free prescriptions, those who believe bigger government is the answer to all their problems, everybody who said "what Bill Clinton did was indefensible, but he shouldn't be removed from office," and those who think pork-barrel spending is OK as long as their district gets the money
Unfortunately, that group probably doesn't include all those Dumbed-Down, Self-Absorbed, Media-Influenced, Celebrity-Obsessed, Politically-Correct, Uninformed, Short-Attention-Span, Free-Stuff Grabbing, Low-Information Obama Supporters Who Put The Positively Worst President in History In The White House—Twice, and get all of their information from our Obama Supporters in the Press.
FINALLY, AT TODAY'S MEETING OF THE CONSERVATIVE AGENDA, Political Insiders were asking Beloved Whistleblower Publisher Charles Foster Kane if Obama plans to politicize Tuesday's memorial service for those five Dallas police officers on Tuesday. "That would be a fairly safe prediction," Kane said.
Plagiarism Count: Unattributed material was filched from a mere 742 different websites for the production of today's Blower, many of our filches were from our friends at Weasel Zippers.
THE SEEDIEST KIDS OF ALL
Although our campaign is not associated with the Failed United Way, your liberal guilt giving throughout the year still makes it all possible.

SEEDIEST KIDS OF ALL HOT LINE
e-mail your stories about worthy waifs today.
AND COMING UP IN "THE WEEK THAT WILL BE":
MONDAY (JULY 11) The Blower will be featuring our Special "Anti-Social Networking" E-dition, but we'll still be continuing to count down the 193 Days of Dishonesty for the rest of the nation remaining during the Dark Ages of Obama's Second Term, unless the First Black President in History is impeached.
TUESDAY (JULY 12) will be our Official "All Star Game" E-dition, and our Real E-Mails from Real Subscribers" might have something to say about that.
WEDNESDAY (JULY 13) we'll be getting ready to take lots of pictures of attractive undressed women at Wednesday's National Nude Day Photo Contest at the Northern Kentucky Nudist Camp in Florence.
THURSDAY (JULY 14) we'll be celebrating Bastille Day, that's if we get back in time from our photographic excursion.
THE FIRST LINE OF FRIDAY'S (JULY 15) LIMERICK IS "Liberal outrage is so phony and fake."
AND SATURDAY (JULY 16) is National Pig Day, and we promise not to display any of the unattractive undressed women taken at Thursday's National Nude Day Photo Contest at the Northern Kentucky Nudist Camp in Florence.
Remember: We never print all the bad stuff we know and certain people ought to be damn glad we don't, especially, especially Pete Rose.
WEEK IN REVIEW HOT LINE
e-mail your revolutionary recaps today
Some political score-keeping items in today's Blower were sent in by our equally political score-keeping subscribers, but let's face it, we could always use a lot more.
Whistleblower Video Of The Day
The Republican Establishment's Convention Choice
Note: We guarantee iPhone subscribers who don't go home and see links and pictures on their computers are not going to appreciate all of this good stuff today.
The Whistleblower has always been 100% commercial free, unlike members of the mendacious news media. So if you want to buy an ad on the front page, call The Fishwrap.