TODAY IS
MONDAY, JANUARY 23, 2023
TRUMP'S SEVEN-HUNDRED-AND-THIRTY-THIRD DAY OUT-OF-OFFICE
AND WE'RE STILL WISHING SOME REAL REPUBLICAN IN CONGRESS WOULD STOP TAKING AND ACTUALLY FOLLOW THROUGH ON FILING ARTICLES OF IMPEACHMENT ON ILLEGITIMATE RESIDENT JOE BIDENACTUALLY FILE ILLEGITIMATE RESIDENT JOKE BIDEN'S ARTICLES OF IMPEACHMENT
Your Official Publication of Record For The Conservative Agenda
Tonight's Top News Stories You Won't See On The Front Page Of The Fishwrap
Ohio's Eighth District Republican Congressman Warren Davidson says
Congress' most important tool is its control over spending authorities, known as the "power of the purse." As a part of these powers, Congress established the debt limit to limit future spending. Obviously, the United States must raise the limit to avoid default, but we must also change course on spending.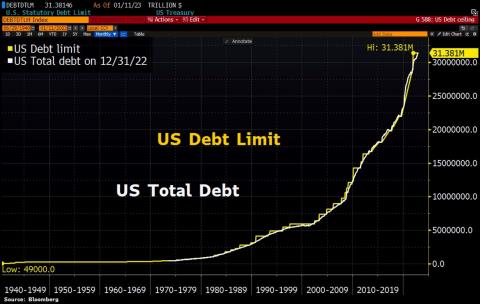 In a letter on January 13th, Treasury Secretary Yellen informed Speaker McCarthy that Treasury would hit the $3.385 trillion debt ceiling sometime after May, 2023. Congress cannot allow the U.S. to default on its obligations, but we also cannot allow the national debt to continually spiral out of control. With rising interest rates, this problem will only become more severe. The solution is to raise the debt ceiling in a legislative package that includes deficit-reducing legislation.
I joined Mornings with Maria to discuss how the House of Representatives should respond to the impending debt ceiling negotiations. You can watch that conversation here:
If Senate Democrats refuse to take up common sense legislation, such as the repeal of 87,000 IRS agents, then we will include those bills in must-pass legislation.

Republicans must stand together to use our majority effectively. pic.twitter.com/x3PfjLkRTI

— Warren Davidson 🇺🇸 (@WarrenDavidson) January 17, 2023
Bird Colonel/ Podiatrist Ohio Second District Republican Congressman "Bronze Star Brad" Wenstrup says,
Over the past few weeks, I have heard from constituents who are understandably concerned about the classified documents found at President Biden's residence in Delaware and his think tank in Washington, D.C. As a member of the House Permanent Select Committee on Intelligence (HPSCI), I know that we must always view classified information inside a protected Sensitive Compartmented Information Facility (SCIF) and take the utmost care that no classified materials ever leave the secure briefing rooms. We leave our phones outside the SCIF and a designated staff person, with a security clearance, counts all the documents to ensure that they are all within the room before we leave. These are just some of the precautions we take daily to ensure that classified documents remain secure.
I share your concerns that there are grave national security risks when classified and top-secret information are carelessly mishandled and allowed to somehow end up mixed in with the Vice President's belongings for at least six years. When the National Archives and Records Administration, FBI, or the Department of Justice identified a potential national security threat, they should have notified those of us on HPSCI of the threat.
We have formally requested Avril Haines, the Director of National Intelligence, to review and assess any damage caused by President Biden's possession of classified documents and that she provide us a classified briefing on the findings. We did the same concerning the documents in President Trump's possession — which may have been declassified. The American people want honesty and transparency, and in this 118th Congress, those of us who serve on the relevant committees will conduct oversight and accountability hearings to get the answers we all deserve.
Whether it is the raid on Mar-a-Lago or a search in President Biden's home, the Intelligence Community needs to be consistent in their practices and report to us on the Intelligence Committee both the risk assessments and their findings. When these documents were found, we should have been provided with classification reviews and damage assessments completed by the Intelligence Community, so that we could assess the risks posed to national security and be ready to take any action required. This can only be accomplished with the appropriate agencies cooperating with Congress, the representatives of the people, as we all work towards protecting this nation.
I joined the FOX News Rundown Podcast this week to discuss the documents that were found at President Biden's residence.
Meanwhile, Here's A Message About  Pelosi's Boy Toy, With Ohio's New First District Local Offices Inconveniently Located In Lebanon  
A guy we'll call "TV Tadwell" wanted to ask Beloved Whistleblower Publisher Charles Foster Kane why Ohio's New First District Congressman Pelosi's Boy Toy, HAS scheduled meaningless town hall meetings for upcoming Saturdays in February.
"That's right out of the Disingenuous D-RAT Playbook" Kane explained. "I remember when Al Schottlekotte told me Saturday is usually a slow news day for local TV news stations and D-RAT Congressman Kindly Old Tom Luken used to schedule some really cheesy events on Saturday to make it easy for his little friends in the local news media to show up."
The Whistleblower Newswire Is Your Official Publication of Record For The Conservative Agenda
The Blower believes we're still living during the most important period in American History for our non-stop crusade for Election Integrity and against Coordinated Leftist Insurrection and the Devolution of Our American Culture while Congress, the Deep State, and the Radical Media Establishment continue to lie to advance their Coordinated Leftist Agenda.
But first, we must see a Corleone  Political Reckoning on Election Integrity Along With Indictments And Perp Walks For Laws Broken During The Illegal 2020 Presidential Election and 2022 Mid-Term Elections, without which nothing else really matters.
Beloved Whistleblower Publisher Charles

Foster Kane Says The Conservative Agenda is watching to see if any progress is made during the next 652 days before the 2024 elections.