TODAY IS
    SUNDAY, JANUARY 22, 2023
TRUMP'S SEVEN HUNDRED-AND-THIRTY-SECOND DAY OUT-OF-OFFICE
AND THE BENGALS CELEBRATED BY MAKING SNOW ANGELS DURING THEIR BIG WIN IN BUFFALO
Your Whistleblower Week in Review
MONDAY (JANUARY 16) THE BLOWER FEATURED 
"Monday Message"
(Ohio's New GOP Chairman Alex Triantafillou Told Channel 9's Paula Christian He Was Focused On Beating Sherrod Brown, Keeping Ohio Red And Taking Back Steve Chabot's Seat In Congress.)
"Angry Andersonian"
(Told Over-Taxed Payers How To Find Out How Much Their School Taxes Were Costing Them)
"Facebook Flashbacks"
And The Most Fun We Have On MLK's Birthday Is Telling D-Rats That Martin Luther King, Jr. Was A Republican)
Special "Exploiting MLK Day" E-dition
(One Part White Guilt And Two Parts Hype!)
Conservative Cartoons


(Hunter Cashes In)
Political Posters
(Kevin McCarthy's Favorite Poster)

TUESDAY (JANUARY 17) THE BLOWER FEATURED
"Tuesday's Triumphs"
(The Blower Remembers Beloved Whistleblower Publisher Charles Foster Kane's Favorite Picture Of Hamilton County's Double Dipping Disingenuous D-RAT Auditor)
Conservative Cartoons
(The Crook Was Getting The Hook)
Political Posters
(Hunter Biden's Favorite Poster)
Facebook Flashbacks"
(Five Years Ago Obama's Work Was Nearly Done)
Property Tax Day Is Coming"
(On January 31)
WEDNESDAY (JANUARY 18)
The Blower Featured
"Wednesday's Wild Cards"
(Today in Geezerville)
Conservative Cartoons
(BEN GARRISON SAID: " HIT THE SHOWERS JOE- AND WITHOUT YOUR DAUGHTER!")
Political Posters
(Forrest Gump's Favorite Poster)
"Those Were The Good Old Days"
(And THE BENGALS-BILLS PRE-GAME HYPE HAS ALREADY BEGUN
"Facebook Flashbacks"
(We Saw Obama's Accomplishments)

THURSDAY (JANUARY 19) The Blower Featured
"Thursday's Tactics"
(The Good News Is TV5 actually remembered to ask what it will cost our over-taxpayers. No kidding!
TV5 partially exposed the Forest Hills Board Of Education's $100,000 House Comparison Scam that has fooled Over-taxed Payers so many times in the past.
Conservative Cartoons
(A.F. BRANCO SHOWED US "GARAGE SALE")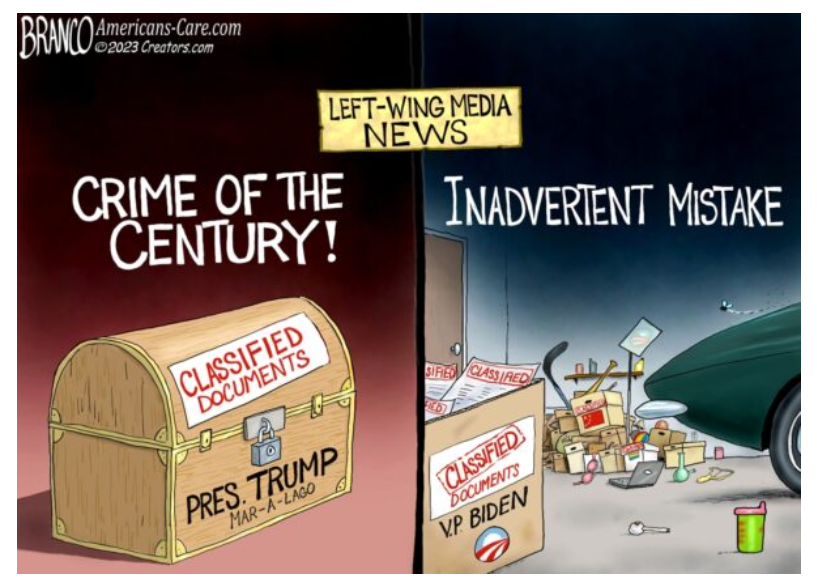 Political Posters
(We Saw Some Handwriting On The Wall)
"Fools For Schools"
(Dumbed-Down Over-Taxed Payers Really Doesn't Know Where Their School Tax Money Is Going)
"Facebook Flashbacks"
(And Five Years Ago, We Saw The Winner Of Trump's Fake News Award)
Friday (JANUARY 20) The Blower Featured
Another "Friday's Features" E-dition
The Whistleblower Punchline Contest
The Anderson Apocalypse Is Officially Changing The Name Of The Forest Hills School Board To The Forrest Gump School Board
Saturday (JANUARY 20) The Blower Featured
"Saturday's Strategery"
From The Whistleblower Newsroom

Republicans For A Greater Cincinnati Has A Questionnaire For "Taxkiller Tom" Brinkman and Russell Mock, The Two Candidates Running For Chairman Of Hamilton County Republican Party. Tom sent us this logo, and we'll show you Russell's as soon as somebody sends us one.
If you missed any of these e-ditions, you now have a lot of catching up to do!
And to see where Beloved Whistleblower Charles Foster Kane came up with the idea for the weekly format the Whistleblower Newswire has been using for our "The Week That Was" E-dition every Sunday since the October 18, 2009 E-dition, CLICK HERE!