WEDNESDAY, NOVEMBER 23, 2022
TRUMP'S SIX-HUNDRED-AND-SEVENTY-SECOND DAY OUT-OF-OFFICE
AND WE HAVE SO MUCH TO BE THANKFUL FOR
— TODAY'S CONSERVATIVE AGENDA VIDEO —
The FTX Scandal Explained


.MEANWHILE, BEN GARRISON SHOWS US: "HAPPY THANKSGIVING AMERICA!"
Joe Biden is serving up a Thanksgiving Dinner that for which America has no appetite.
Biden's "build back better" plans have not built anything back and nothing is better. Your turkey dinner, (if you can afford a turkey) will cost you 20% more then last year. Many Americans are cutting back on their Thanksgiving dinners because of inflation. Shrinkflation is widespread in the grocery stores as items "shrink." You're getting a lesser amount, but you still pay the same price.
You may say Americans voted for this, a Joe Biden economy, by means of re-electing Democrats. 
Support MEGA MAGA cartoons with a monthly donation at Subscribestar in one easy click!
Yes, the brainwashed cult members on the left will still vote Democrat no matter what. Even a vegetable can be elected if it has a "D" next to its name. (Note to self, good idea for a Senator Fetterman cartoon.)
Something to mention to your Democrat-voting relatives as they gather around the dinner table this year: According to a poll conducted by Personal Capital, 1 in 4 Americans are skipping Thanksgiving this year to save money. 1 in 3 Americans are hosting smaller Thanksgiving dinners and nearly 90% are cutting out at least one dish to save money.
Then you might casually mention that the Bidens are spending Thanksgiving at a 30 million dollar Nantucket beachfront estate. Yes they will be enjoying the finest foods and the abundance of a Thanksgiving feast while some Americans are opting for pizza instead of turkey.
Below: The Biden Thanksgiving hideaway owned by billionaire businessman David Rubenstein.
— Ben Garrison
Follow @grrrgraphics on GAB, TRUTH SOCIAL, PARLER, INSTAGRAM, TELEGRAM 
or join us at The Garrison!
Editorial Cartoons Are A Major Part Of American Culture And A Focused Picture Of How People Are Reacting To The News Of The Day.
Often they express a silent view of one or more parties or issues. Editorial cartoons are a form of nonverbal communication and are vital to American culture because they help shed light on issues that affect many American values.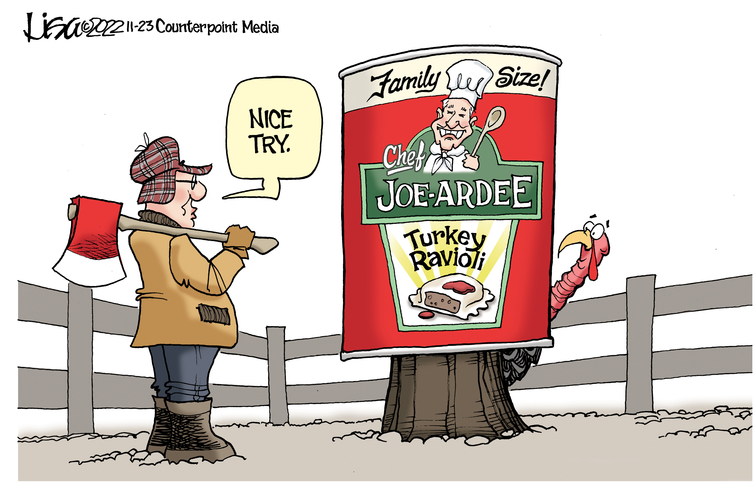 — TODAY'S CONSERVATIVE CARTOONS SLIDESHOW  —
This slideshow requires JavaScript.
THE US NATIONAL DEBT
And Today Everybody Hereabouts Is Wondering Where Trump's Next Packed 2024 Save America Rally Will Be
But See The Trumpster's Official Campaign Website, CLICK HERE
The Whistleblower Newswire Is Your Official Publication of Record For The Conservative Agenda
The Blower believes we're still living during the most important period in American History for our non-stop crusade for Election Integrity and against Coordinated Leftist Insurrection and the Devolution of Our American Culture while Congress, the Deep State, and the Radical Media Establishment continue to lie to advance their Coordinated Leftist Agenda.
But first, we must see a Corleone  Political Reckoning on Election Integrity Along With Indictments And Perp Walks For Laws Broken During The Illegal 2020 Presidential Election, without which nothing else really matters.
Beloved Whistleblower Publisher Charles

Foster Kane Says The Conservative Agenda is watching to see if any progress is made during the next 713 days before the 2024 elections.