---
---
WE'RE CATCHING UP, SO THIS E-DITION FROM THE ARCHIVES IS FOR THURSDAY, SEPTEMBER 28, 2023
TRUMP'S NINE-HUNDRED-AND-EIGHTY-FIRST DAY OUT-OF-OFFICE
………..AND A.F. BRACO SHOWS US HIS "HIGH OCTANE"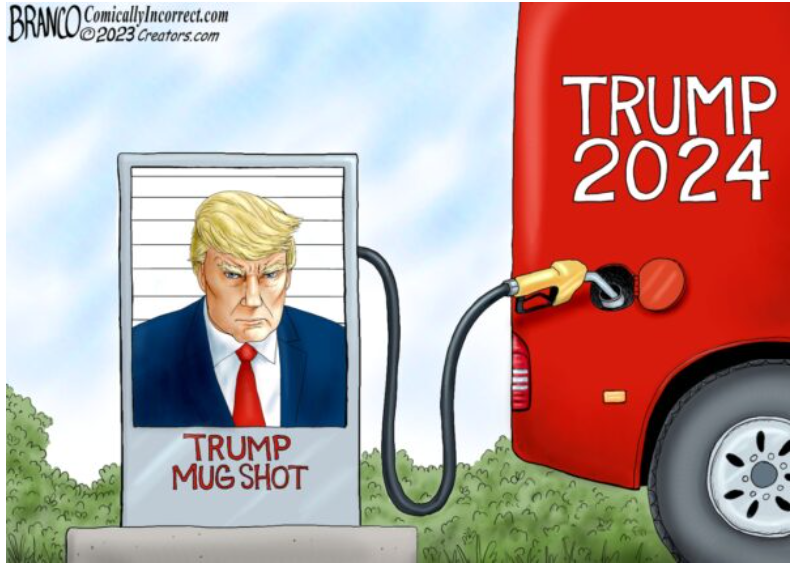 A.F. Branco has taken his two greatest passions, (art and politics) and translated them into cartoons that have been popular all over the country, in various news outlets including NewsMax, Fox News, MSNBC, CBS, ABC, and "The Washington Post." He has been recognized by such personalities as Rep. Devin Nunes, Dinesh D'Souza, James Woods, Chris Salcedo, Sarah Palin, Larry Elder, Lars Larson, Rush Limbaugh, President Donald Trump, and Charles Foster Kane, Beloved Publisher Of The Whistleblower.
— TODAY'S BEST CONSERVATIVE AGENDA VIDEO —
My FED Friend – The Musical ♫

MEANWHILE, BEN GARRISON SHOWS US HIS "CNN RATINGS HIT ALL TIME LOW"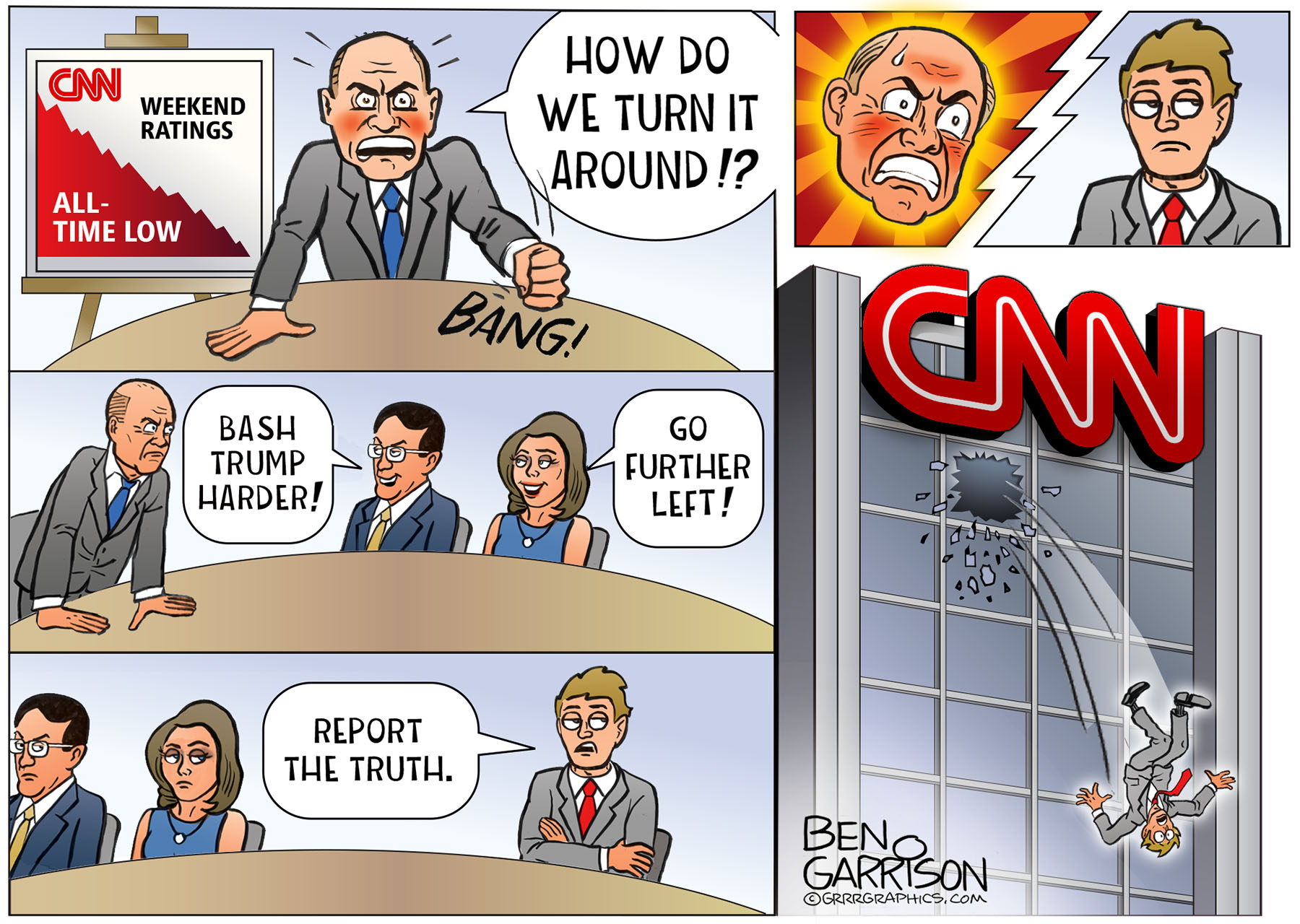 Now Here's The Best Damn Conservative E-ditorial On The Internet
The left-leaning news channel, CNN, recently hit an all-time low among the 24-54 age group.
That's the demographic most favored by advertisers, but CNN's weekend political shows racked up a mere 55,000 viewers. There are many political commentators on the Internet who are currently receiving more views. "Salty Cracker," for instance, attracts up to six times more viewers than CNN. That said, the big advertisers want nothing to do with truth-tellers such as Salty Cracker. CNN has globalist corporations who support the content CNN puts out. Average Americans don't want to hear it, but the globalists want them to. When will those advertisers get tired of losing money? Probably never. The Federal Reserve and Black Rock support those who push the WEF's 'woke' agenda—and they own a money printing press to back it up.
The globalist cabal will be forced to widen their censorship against those on social media who are doing real journalism—the work that CNN will not do. People desire to hear the truth, though…so such censorship will most likely be met with outrage. CNN has way too much competition now, thanks to the Internet. If the Internet plug is pulled, perhaps we'll go back to mailing out newsletters and such. The American Revolution lacked TV, radio, and the Internet. They communicated by mail and we have to, we can do that again.
The truth will prevail. 
I don't expect CNN to change. They will continue to lie and support Biden—a child molesting traitor who is bent on destroying America and especially its middle class. I recently heard one of CNN's paid flunkies refer to Hunter in sympathetic terms. He said Hunter's behavior was 'sloppy,' but there was nothing illegal going on. He said the charges made by many Republicans were being made for drama purposes only and they had zero evidence to back up their charges. He said the baseless allegations have long been disproven. That isn't journalism, it's covering up real crimes committed by the Biden family. No wonder people won't watch CNN. We've all had enough of their obvious propaganda.
Keep Ben Drawing- Support his work with a small donation, click to donate!
At the rate of their decline, CNN may end up attracting only a handful of viewers.
Anderson Cooper could end up talking to himself. 
CNN: The least trusted name in news. 
— Ben Garrison
Follow @grrrgraphics on GAB, TRUTH SOCIAL, PARLER, INSTAGRAM, TELEGRAM 
or join us at The Garrison!
Editorial Cartoons Are A Major Part Of American Culture And A Focused Picture Of How People Are Reacting To The News Of The Day.
 Often they express a silent view of one or more parties or issues. Editorial cartoons are a form of nonverbal communication and are vital to American culture because they help shed light on issues that affect many American values
— TODAY'S CONSERVATIVE CARTOONS SLIDESHOW  —
This slideshow requires JavaScript.
Upcoming Events



HERE'S HOW MUCH WE OWE 
Visit USADebtClock.com to learn more!
The Whistleblower Newswire Is Your Official Publication of Record For The Conservative Agenda
The Blower believes we're still living during the most important period in American History for our non-stop crusade for Election Integrity and against Coordinated Leftist Insurrection and the Devolution of Our American Culture while Congress, the Deep State, and the Radical Media Establishment continue to lie to advance their Coordinated Leftist Agenda.
But first, we must see a Corleone  Political Reckoning on Election Integrity Along With Indictments And Perp Walks For Laws Broken During The Illegal 2020 Presidential Election, without which nothing else really matters.
Beloved Whistleblower Publisher Charles

Foster Kane Says The Conservative Agenda iswatching to see if any progress is made during the next 400 days (at press time) before the 2024 elections