TODAY IS
TUESDAY, MAY 14, 2019
Trump's 844th Day In Office

Tomorrow is Police Officers Memorial Day, Everybody!
The event is held each year in the United States on May 15 in honor of federal, state, and local officers killed or disabled in the line of duty. It is observed in conjunction with Police Week.
The idea of Peace Officers Memorial Day came into effect on October 1, 1961, when Congress asked the president to designate May 15 to honor law enforcement officers. President John F. Kennedy signed the bill into law on October 1, 1962. Each year, the president of the United States proclaims May 15 as Peace Officers Memorial Day and the calendar week of each year during which such May 15 occurs as Police Week.
According to the Legal Information Institute, the president is requested to issue a proclamation to: designate May 15 as Peace Officers Memorial Day; to direct government officials to display the United States flag at half staff on all government buildings; and to invite state and local governments and the people to observe the day with appropriate ceremonies and activities. You can see the White House Proclamation HERE.
Young Conservatives say anti-police sentiment had been at an all time high thanks to Obama and his merry band of race-hustling bottom feeders. All of the rhetoric and violence against law enforcement had been taking its toll on the men and women in uniform. Many officers around the country had actually taken a step back from engaging in proactive policing and have in general become extremely discouraged. Some cops in D.C. were so fed up with the president for helping spread this hostility toward police officers, they were actually threatened to turn their backs on him at the annual National Peace Officers Memorial Service.
This year, the Cincinnati Police Department joined the Light Ohio Blue campaign to show and generate support for law enforcement personnel.
Several iconic locations throughout Cincinnati have been lit up: Duke Energy Convention Center Cincinnati sign, Fountain Square, Queen City Tower, Museum Center, SkyStar, Mt. Washington Water Tower, Cincinnati Police Districts, and many more.
Things were certainly different last year at the National Peace Officers' Memorial Service at the Capitol, especially after President Trump called for the death penalty for cop killers.
POLICE OFFICERS MEMORIAL HOT LINE
e-mail your respectful remembrances today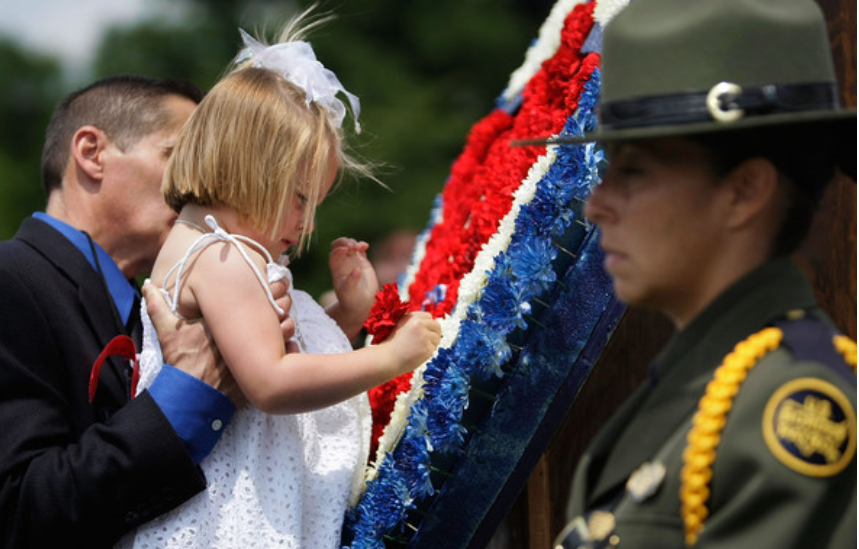 Some law enforcement appreciating items in today's Blower  were sent in by our equally law enforcement appreciating subscribers.
Your Official Publication of Record For The Conservative Agenda
The Blower believes we're still living during the most important period in American History for our non-stop campaign against Political Correctness, the Devolution of American Culture.
That's because Mid-Term Elections were a National Election, a referendum on everything Trump has accomplished, and Congress, the Deep State, the Radical Media Establishment will continue to lie and say really stupid things without a smidgen of journalistic integrity in their effort to advance their Radical Leftist Agenda.
Beloved Whistleblower Publisher Charles Foster Kane Says The Conservative Agenda Is Now Working On Donald Trump's Eighth 100 Days To Make America Great Again. Today Was Day Number 844 And There Are Now Only 538 More Days Until Trump's Re-Election Day on November 3, 2020.