SATURDAY, MAY 20, 2017
This Week's Top Stories
(According To The Number Of Page Views)
OUR NUMBER ONE STORY THIS WEEK WAS "Trump's Threats" ("Read My Lips, No More White House Daily Press Briefings!")
OUR NUMBER TWO STORY THIS WEEK WAS "Wednesday's Wild Cards" 
 AND OUR NUMBER THREE STORY THIS WEEK WAS Was "Clinton-Comey Corruption" (How Your Gangster Government Functions)
Edward Cropper's World
Today, PHOTO-SHOP EDITORIAL SPOOFER EDWARD CROPPER Shows Us:
    You can see more of Mr. Cropper's fine work HERE.
Making Weekly Addresses Great Again
This Week's Top Item On The Conservative Agenda
These Five Groups In The Destroy Trump Alliance Are Working Hard To Destroy Donald Trump
 Radical Islamic Terrorist Update
Today, the ReligionofPeace.com's List reports that during Last Week there were 35  Islamic attacks in 15 countries, in which 275 people were killed and 172 injured, including 7 suicide blasts.
FOOLS IN SCHOOLS
University Of Illinois Spends $60 Million A Year On Diversity Efforts
Black Lies Matter
Edward Crawford, an activist with the Black Lives Matter movement, died earlier this month in what police are calling an apparent suicide. The 27-year-old was the subject of an iconic photo from the 2014 protests in Ferguson, Missouri, following the shooting death of Michael Brown.
BUCKEYE BS
Delusional Ohio Governor John Kasich Ohio said during a joint CNN town hall Tuesday with Vermont Sen. Bernard Sanders that his instincts were right about President Trump
WAR ON ISIS
This Week, Trump Tells Pentagon To "Annihilate" ISIS By Surrounding And Killing Them Instead Of Chasing Them Out Of Hiding, As The Blower Remembers Trump's Promise To "Bomb The Shit Out Of Them."
CRIMINAL IMMIGRANTS
Biggest ICE gang raid ever: 1,378 arrests, 21 murder charges, 3 'Dreamers'
Turning up the heat on killer gangs tied to illegals, immigration officials on Thursday announced their biggest raid yet, the arrest of 1,378, including several on murder, drug and sex trafficking charges.
LIBERAL MEDIA PROPAGANDA
Harvard Study Confirms What We All Know–Media Megativity Re: Trump Is Unprecedented
 TRUMP DERANGEMENT SYNDROME
CNN's Anderson Cooper Tells Trump Supporter Jeffrey Lord: If Trump Took A Dump On His Desk You'd Defend It…
LIBERAL LOONYS
Maxine Waters Reveals Proof Trump is Russian
WHISTLEBLOWER WAR ON POLITICAL CORRECTNESS
How To Be Politically Correct
MORE FAKE NEWS
Doofus DemocRATS Are Falling For Fake News About Russia
THE FECK STOPS HERE
Do You Think Any Of Our Feckless Fishwrappers Could Spot The Difference
MAY 20, 2017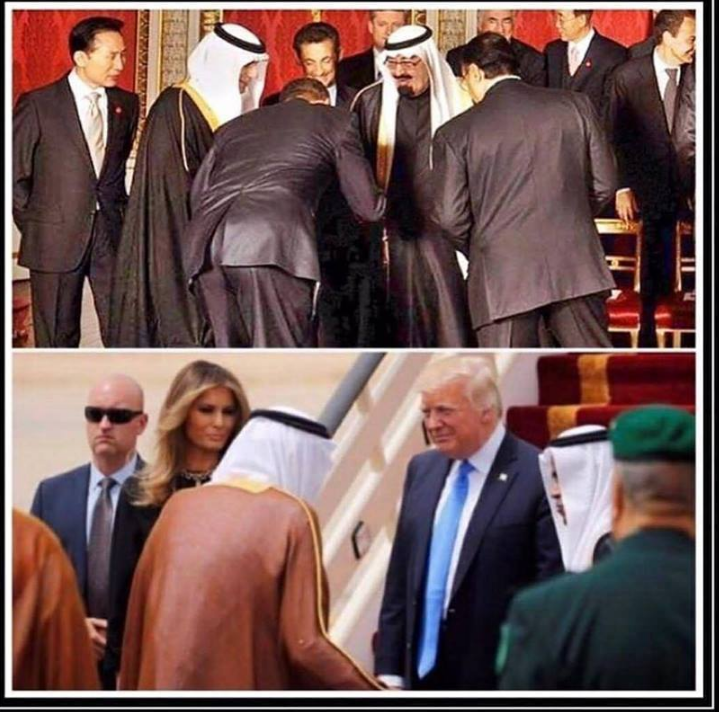 Unlike Obama, Trump Didn't Bow To Saudi King