TODAY IS

WEDNESDAY, FEBRUARY 05, 2020
CELEBRATING TODAY'S SENATE ACQUITTAL VOTE
On Trump's 1111th Day In Office
Commemorative Coverage Of The Trumpster's First 100 Days
DAY 16

Because The Real News Is Even Better
           With Nutty Nancy Pelosi making such a colossal fool of herself these days, one of our Persons of Consequence could hardly wait to send us a copy of that old Nancy Pelosi Miss Lube Rack 1955 Flyer, showing the Disingenuous DemocRAT House Minority Leader posing for a Life magazine cover.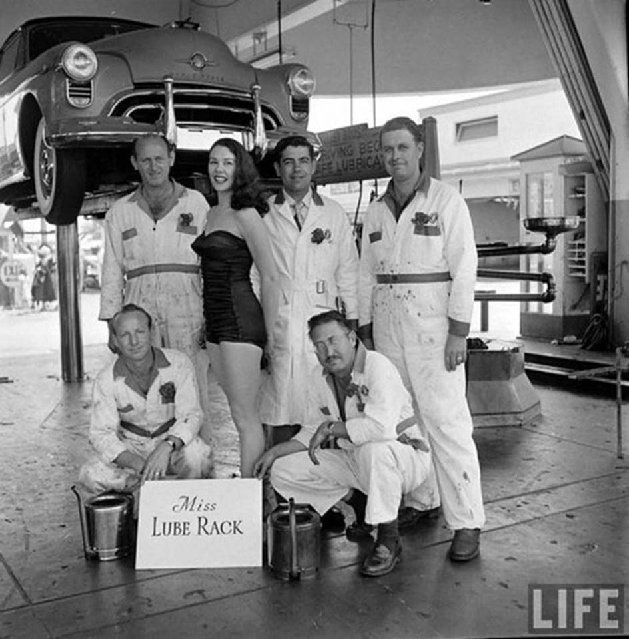 Miss Lube Rack 1955.  What a hoot – !!
I know, you have no idea – ??  She could be a Movie star – ??
Recording artist – ??      
She's a politician from California . . . scroll down for the answer – !!
Her name is Nancy D'Alesandro.
Still stumped – ??

Nancy D'Alesandro is today known as Nancy Pelosi, 
the former Miss Lube Rack 1955 – !!
And, she's a Democrat too!! ☺
There are some things that don't age as well as whiskey and wine.
Unfortunately, according to numerous sources, the Miss Lube Rack photo is real but it is not of Congressional Representative Nancy Pelosi. The photo was taken in 1951 at the Muller Brothers Oldsmobile Tires and Carwash in Los Angeles, California by Life Magazine.  The photo was one of many that appeared in a photo documentary about the world's largest automotive service station.   The idea for the beauty contest was to celebrate the 3,000,000th vehicle to go through the car wash.  This according to a May 16, 2012 article published in the blog site of John Straub. Nancy Pelosi was born in 1940 in Baltimore, Maryland, where her family had deep political roots. Pelosi would have been 11 years old at the time that the photo was taken.
These days, if you're looking to embarrass Nancy Pelosi, you don't have to forward fake news flyers to your friends on the internet. Just let them watch Nutty Nancy claim Sanctuary Cities make America a safer place. No Kidding