TODAY IS
MONDAY, JUNE 17, 2019
Trump's 878th Day In Office
Did The Trumpster Troll Stephanopoulos Or What!
Saying he'd accept "dirt" on his opponents from foreign governments was The Trumpster's best troll yet, because everybody's still over-reacting.
Dumbfounded D-RATS immediately Called For Impeachment.
BERNIE SANDERS (Who Will Never Be President): "I think we have a president who neither understands the Constitution of the United States or respects the Constitution. Somebody that does not believe in the separation of powers and somebody who thinks he's above the law. I mean, that is why I believe the House should begin impeachment inquiries on Trump."
ELIZABETH WARREN (Who Will Never Be President): "The #MuellerReport made it clear: A foreign government attacked our 2016 elections to support Trump, Trump welcomed that help, and Trump obstructed the investigation. Now, he said he'd do it all over again. It's time to impeach Donald Trump."
KIRSTEN GILLIBRAND (Who Will Never Be President): "It's time for Congress to begin impeachment hearings."
JOE BIDEN (Who Will Never Be President): "President Trump is once again welcoming foreign interference in our elections. This isn't about politics. It is a threat to our national security. An American President should not seek their aid and abet those who seek to undermine democracy."
KAMALA HARRIS (Who Will Never Be President): "Let's speak the truth: this president is a national security threat."
COREY BOOKER (Who Will Never Be President): "That you would say this is disgraceful. That you would do it from the Oval Office (yet again) proves you're unfit for the office you hold."
JERRY NADLER (Who Will Never Get An Impeachment): "It is shocking to hear the President say outright that he is willing to put himself in debt to a foreign power… not to mention the foreign interference in an American election part."
CHUCK SCHUMER (Who Will Never Get An Impeachment): "Disgraceful yet sadly par for the course for this president."
JOHN BRENNAN (Who Will Never Go Un-indicted): "This is just the latest example of what Vice President Biden meant when he said that Mr. Trump is an existential threat to our country. "Unfit to be President" is a gross understatement. Donald Trump is undeserving of any public office, and all Americans should be outraged."
Defending The Trumpster, on FOX NEWS, SEAN HANNITY ranted about Stephanopoulos' setting up the president, correctly predicting Trump's confession would spark "another round of fake, phony, moral selective outrage."
Other members of the Conservative media claimed Trump was just "playing," by drawing a false equivalence with the Steele dossier, and attacking Hillary Clinton.
AND 2016 GOP Presidential Wannabe RICK SANTORUM came up with what could be a contender for the most ridiculous defense of Trump yet. The former GOP senator from Pennsylvania told CNN's Anderson Cooper that Trump had spoken "colloquially," whatever the hell that's supposed to mean.
And at this afternoon's meeting of the Conservative Agenda, Political Insiders were asking Our Beloved Publisher Charles Foster Kane if he'd ever heard such hysterical hypocrisy because every one of those people would've accepted dirt on an opponent.
"It's like asking men if they've ever masturbated, Kane explained. "95% of men will admit they've masturbated, and the other 5% are liars."
The Blower can hardly wait to hear The Trumpster's comments at tomorrow night's MAGA Rally in Orlando.
— MAGA RALLY UPDATE —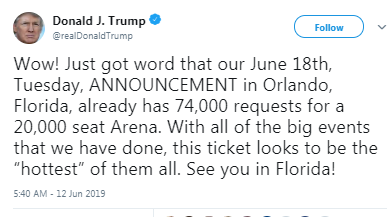 GET TICKETS HERE
The Whistleblower Newswire Is Your Official Publication of Record For The Conservative Agenda
The Blower believes we're still living during the most important period in American History for our non-stop campaign against Political Correctness, the Devolution of American Culture.
That's because we've just experienced Trump's Mid-Term Elections (a referendum on everything Trump has accomplished), and Congress, the Deep State, and the Leftist Media Establishment will continue to lie and say really stupid things without a smidgen of journalistic integrity in their effort to advance their Radical Leftist Agenda.
Beloved Whistleblower Publisher Charles Foster Kane Says The Conservative Agenda Is Now Working On Donald Trump's Eighth 100 Days To Make America Great Again. Today Is Day Number 878 And There Are Now Only 504 More Days Until Trump's Re-Election Day on November 3, 2020.