THIS E-DITION IS FOR
TUESDAY, SEPTEMBER 05, 2023
TRUMP'S NINE-HUNDRED-AND-FIFTY-EIGHTH DAY OUT-OF-OFFICE
AND HERE'S SOMETHING YOU WON'T SEE ON THE NIGHTLY NEWS
— TODAY'S SATIRICAL WHISTLEBLOWER VIDEO —
College Figures Out How To Discriminate Now That Affirmative Action Is Banned
Satirical Web Pages Are Not Just For Laughs.
They Show A Focused Picture Of How People Are Reacting To The News Of The Day.
 Satire matters for more than one reason, but its main goal is to raise awareness about the current state of affairs and challenge their viewpoints by using humor and irony. It helps us confront the unpleasant reality and see the world as it is so that we can improve it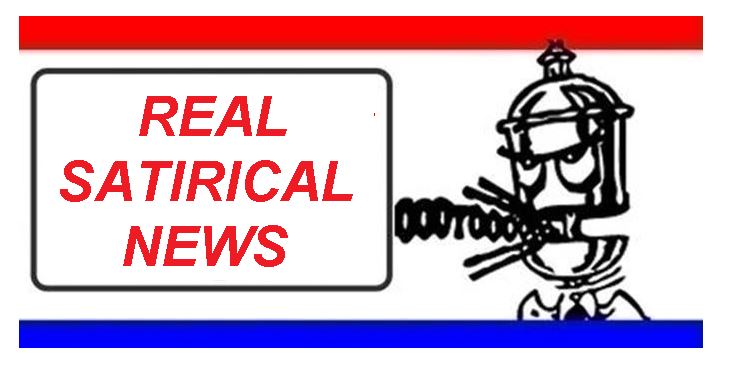 A guy we'll call "TALLYWACKER Tadwell" wanted to ask Beloved Whistleblower Publisher Charles Foster Kane how PELOSI'S BOY TOY can justify supporting Illegitimate Resident Joke Biden in The Most Corrupt White House In History.
"If you believe that Joke Biden, who lost two attempted Presidential runs, then on his third attempt, hid in the basement and refused to campaign, got the most votes in history…you're way too stupid to argue with, " Kane explained.
Georgia Republicans are furious after Fulton County District Attorney Fani Willis indicted former President Donald Trump for his attempts to overturn the 2020 election. The Onion asked conservatives why Willis deserves to be impeached, and this is what they said.

START SLIDESHOW HERE
THE ONION
Brought to you by Media Research Center:
The news world has been set aflame by the potential indictment of Donald J. Trump for the crime of extreme patriotism. While the grand jury deliberates, let's take a look at how this is being covered by the media.
• New York Times: Here Are 10 Crimes We Hope Trump May Have Committed
• Washington Post: We Hired A Comic Book Artist To Draw Dramatic Images Of What A Trump Arrest Would Look Like
• Fox News: Yay! Trump Is Indicted! Oops! We Mean No! That's Bad! What Is It You People Want To Hear Again?
• IGN: 9.7 out of 10
• Salon: I can't help but notice the DA is black and Trump is white and maybe we could use this to start a race war
• Keith Olberman: *heavy breathing*
• CNN: Trump Crimes Make Pearl Harbor Look Like A Happy Picnic
• Christianity Today: Courageous DA Seeks To Atone For America's Greatest Sin
• LA Times: How The Charges Against Trump Are Being Fueled By Climate Change
• InfoWars: Mexican President Says Trump Has Been In Jail For 34 Years Because Of Gay Demons
• Drudge Report: EXCITEMENT INCITEMENT INDICTMENT REFINEMENT ENLIGHTENMENT
• Associated Press: Will Trump Be Indicted? Maybe
• ESPN: Trump's Indictment Illustrates Why WNBA Players Deserve More Money
• Vice: Republicans Actually Believe Trump Will Be Crucified And Rise On The Third Day
• OAN: Trump Will Be Crucified And Rise On The Third Day!
• MSNBC: CRUCIFY HIM!
• NotTheBee: WOKE DA Tries To Arrest Trump: IT BACKFIRES IN THE MOST INSANE WAY POSSIBLE
• Epoch Times: Here Are 10 Exclusive Insights On The Trump Indictment From The CCP Agents Who Orchestrated The Whole Thing
• The Daily Beast: Orange Man Sad! Looks Likes Donald Drumpf Is Going Behind Bars
• Mother Jones: Yeah, We're Still A Thing
• Kotaku: Trump Keeps Roll-Dodging Away From His Indictment And It Is Killing Me
• Buzzfeed: F*** Donald Trump
• The Dispatch: The Conservative Case For Just Locking Up People We Disagree With
• DailyWire: YOU CAN HELP DESTROY WOKE DISTRICT ATTORNEYS BY BUYING $7 CHOCOLATE BARS!!!!!!
NOW…LET'S COMPARE OUR OBVIOUS POLITICAL PARODIES WITH THIS ACTUAL WASHINTON POST  REPORTGannett ordered our local Morning Fishwrap to roll back op-eds after "repelling readers" with biased articles
• Readers didn't want to be told what to do or how to think
• They were perceived as having a 'biased agenda' so Readers were canceling subscriptions
• The company is decreasing its editorial output and even scaling back cartoons
• The newspapers will no longer make political endorsements beyond a local level, like when The Fishwrap endorsed Crooked Hillary For President.
Can You Tell If This Is The Real Story?

HERE'S HOW MUCH WE OWE
Visit USADebtClock.com to learn more!

The Whistleblower Newswire Is Your Official Publication of Record For The Conservative Agenda
The Blower believes we're still living during the most important period in American History for our non-stop crusade for Election Integrity and against Coordinated Leftist Insurrection and the Devolution of Our American Culture while Congress, the Deep State, and the Radical Media Establishment continue to lie to advance their Coordinated Leftist Agenda.
But first, we must see a Corleone  Political Reckoning on Election Integrity Along With Indictments And Perp Walks For Laws Broken During The Illegal 2020 Presidential Election, without which nothing else really matters.
Beloved Whistleblower Publisher Charles

Foster Kane Says The Conservative Agenda is watching to see if any progress is made during the next 425 (at press time) days before the 2024 elections.