TODAY IS
FRIDAY, NOVEMBER 18, 2022
TRUMP'S SIX-HUNDRED-AND-SIXTY-SEVENTH DAY OUT-OF-OFFICE
AND HERE'S YOUR FUNNY BIDEN HAPPY TURKEY DAY ANTI-BIDEN POSTER
So You'd Better E-Mail Your Nominations Pretty Soon
The counter that used to be at the lower right hand corner of the Whistleblower-Newswire Web Page continues to click off the days, hours, minutes, and seconds until Monday's 4 PM Deadline to nominate somebody for the Whistleblower's 2022 Turkey of the Year Contest (sponsored by Dummy's Restaurants), three days before Thanksgiving.
And like everything else in The Blower, nominees will always be discriminated against on the basis of race, religion, color, sex, age, non-disqualifying physical or mental disability, national origin, sexual orientation, or any other basis covered by local law).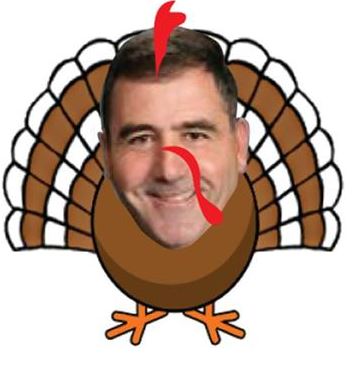 In Anderson, Andrew Pappas says he's looking for an overstuffed gobbler with large white breasts If you know what we mean. Curiously, Andrew has only received 137 nominations so far, probably from angry overstuffed Andersonian women with large white breasts if you know what we mean.
Bluegrass Bureau Chief Ken CamBoo says Kentucky Turkeys won't be left out of The Blower's 2022 Whistleblower Turkey of the Year Contest (sponsored by Dummy's Restaurant), because separate winners will be awarded for both Ohio and the Bluegrass.
So this year's Turkey of the Year Contest promises to be our best yet, but only with your help. Remember what Jesse "The Body" Ventura said: "If you don't vote, you'll be leaving the decision to an even bigger turkey than you are."
2022 will be the fifteenth year for our Whistleblower Turkey of the Year Contest. Here are some of our 2009 Turkey Of The Year Nominees. Can you remember who won that year?