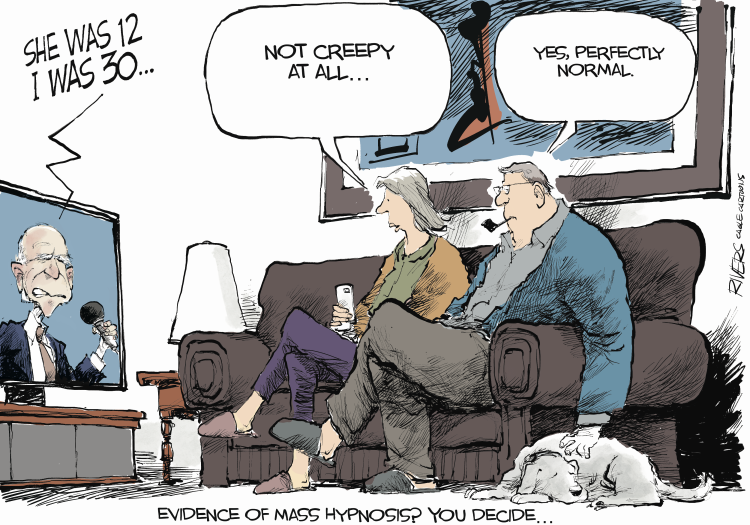 FRIDAY, SEPTEMBER 30, 2022
TRUMP'S SIX-HUNDRED-AND-EIGHTEENTH DAY OUT-OF-OFFICE
And Although it's A mild 2022 hurricane season, Joy Behar, the D-RATS, and the MS Media are trying to blame Hurricane Ida on Gov DeSantis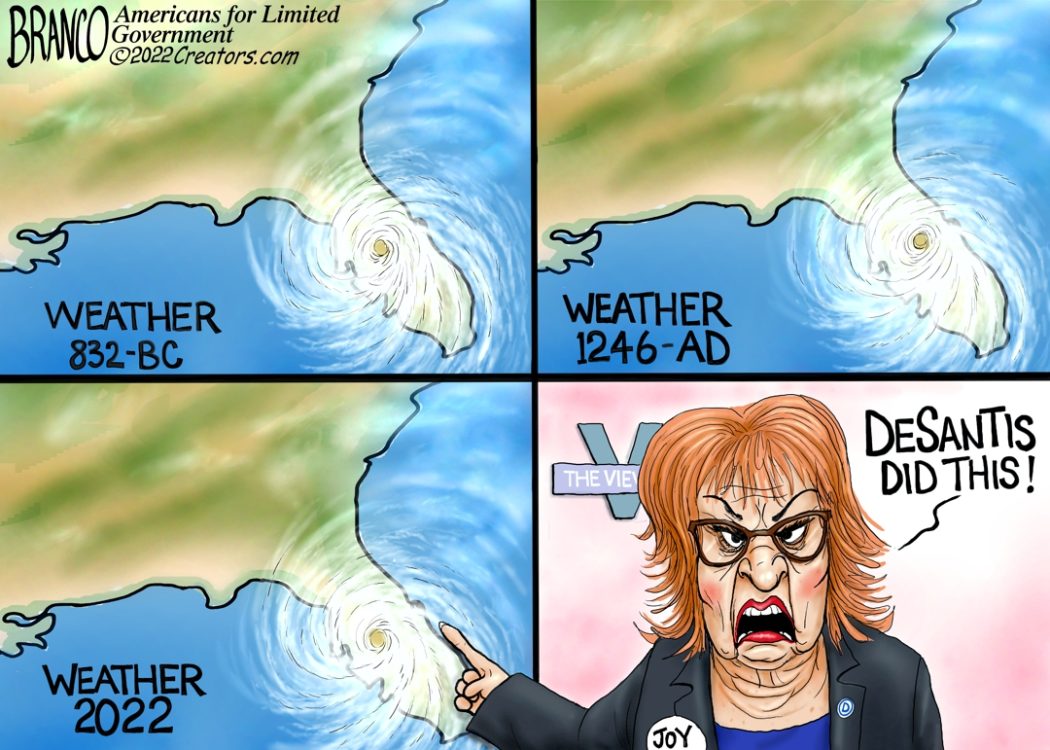 — TODAY'S CONSERVATIVE AGENDA VIDEO —
Democrat Man Saves The Children!


.MEANWHILE, BEN GARRISON SHOWS US: "BIDEN'S IMAGINARY FRIEND SHOWS UP"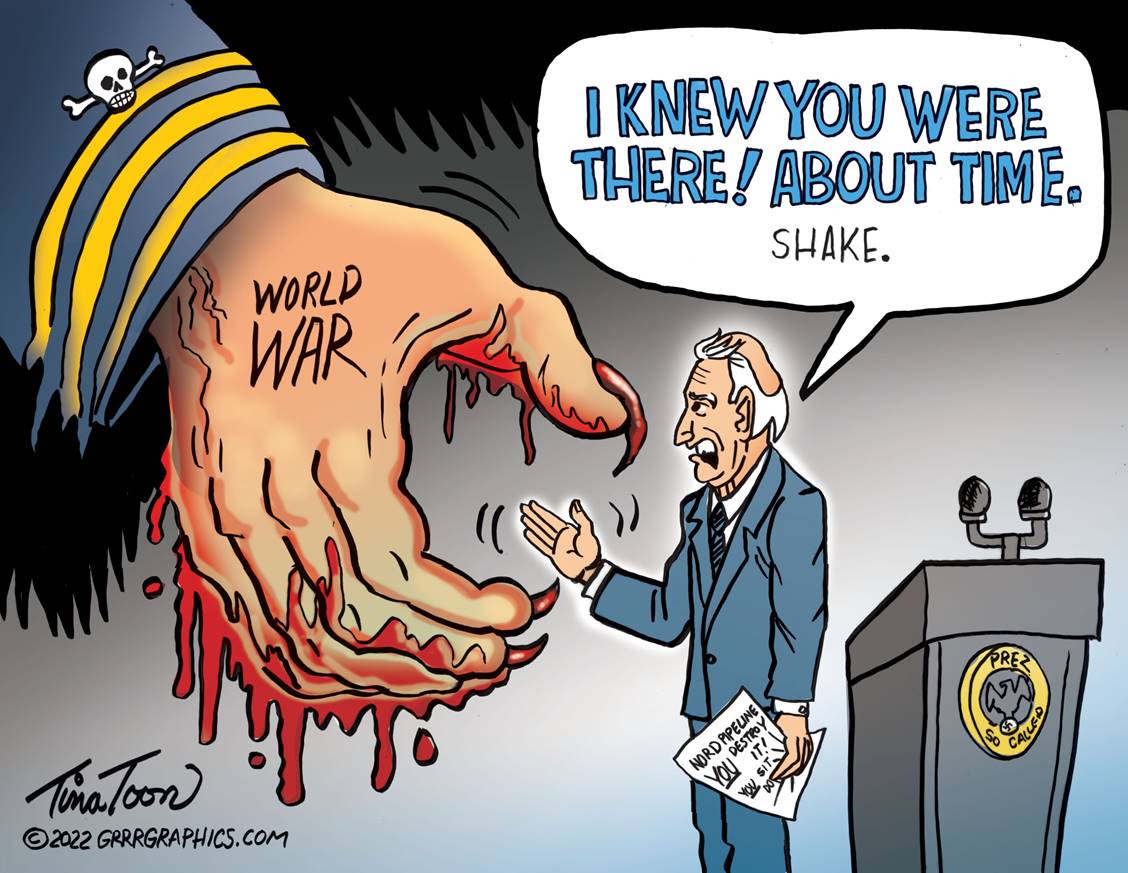 Now we know who Biden has been trying to shake hands with. World War.
Russia's Nord Stream gas pipeline was destroyed on Monday. Three explosions tore a gapping hole in the pipeline under the Baltic sea. Russian gas to Europe is now broken and most likely won't be repaired til next summer at the earliest.
Who did it?
Why would Russia blow up their own pipeline when they can turn it on or off with valves they control? Obviously the Russians would not blow up their own gas pipeline.
Germany would not blow up their energy lifeline. It will be a long cold winter for Germany this year.
The US has both motive and the capability to sabotage the Nord Stream pipeline. In fact, remember who threatened the pipeline even before Russia invaded Ukraine.
Biden, " We will bring an end to it"
War monger puppet masters want war to distract form the impending Democrat doom of the 2022 midterm elections.
Don't put it past the Deep State to go as far as instigate World War Three so they can keep control of their power. They would rather reign over ashes and keep their control then give it up.
We don't know for sure if the US destroyed the Russian pipeline, but the Biden regime has the motive, the means and the opportunity to pull it off. Could this be a false flag? Everything has been fake, why not this?
Now we know who Biden's been trying to shake hands with all along.
— TINA Garrison
Follow @grrrgraphics on GAB,TRUTHSOCIAL PARLER, INSTAGRAM, TELEGRAM
Editorial Cartoons Are A Major Part Of American Culture And A Focused Picture Of How People Are Reacting To The News Of The Day.
Often they express a silent view of one or more parties or issues. Editorial cartoons are a form of nonverbal communication and are vital to American culture because they help shed light on issues that affect many American values.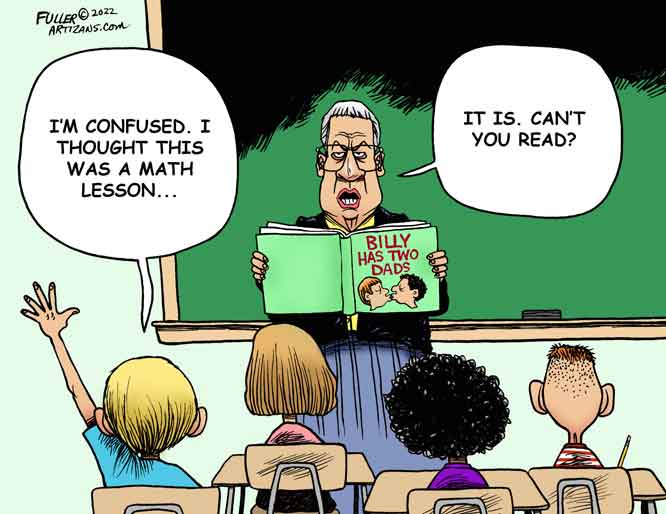 — TODAY'S CONSERVATIVE CARTOONS SLIDESHOW  —
This slideshow requires JavaScript.
THE US NATIONAL DEBT
— MAKE AMERICA GREAT UPDATE —
 GET TICKETS HERE
The Whistleblower Newswire Is Your Official Publication of Record For The Conservative Agenda
The Blower believes we're still living during the most important period in American History for our non-stop crusade for Election Integrity and against Coordinated Leftist Insurrection and the Devolution of Our American Culture while Congress, the Deep State, and the Radical Media Establishment continue to lie to advance their Coordinated Leftist Agenda.
But first, we must see a Corleone  Political Reckoning on Election Integrity Along With Indictments And Perp Walks For Laws Broken During The Illegal 2020 Presidential Election, without which nothing else really matters.
Beloved Whistleblower Publisher Charles

Foster Kane Says The Conservative Agenda is watching to see if any progress is made during the 39 DAYS BEFORE THIS YEAR'S MID-TERM ELECTIONS ON NOVEMBER 08 unless they're postponed.