TODAY IS
WEDNESDAY, AUGUST 31, 2022
TRUMP'S FIVE-HUNDRED-AND-EIGHTY-EIGHTH DAY OUT-OF-OFFICE
AND TODAY WE HAVE ANOTHER MEETING OF THE LEFTIST LIARS CLUB
Here's Today's Terrible Troika Of Leftist Lies
Another coup supporter may flip a Senate seat, and with it the entire U.S. Senate, and we MUST stop him.
Adam Laxalt, right wing former Attorney General of Nevada and current GOP U.S. Senate nominee, is a special kind of danger. 
He's a Trump-supported liar who says the election was stolen in 2020. As Attorney General, he was yet another Republican man who constantly used his office to attack abortion rights. Not satisfied with just trying to make women second class citizens in Nevada, he signed onto amicus briefs in at least four other states–including the Texas law allowing men to collect bounties for turning in women–attacking a woman's right to choose.
70 days from now you'll wake up and realize it's the day after the midterms. If we all do our part, we'll be waking up to the news that pro-democracy candidates have won all over the country. 
But if we don't, we could find ourselves with an ascendant GOP that feels even more emboldened to continue its attacks on our democracy, and could even try to overturn a Democratic presidential victory in 2024 if the Supreme Court gives its blessing to the dangerous independent state legislature theory. 
The fight for our democracy couldn't be more important, so please don't wake up on November 9 wishing you had done more. 
Pitch in anything you can before midnight to help us reach our end-of-month goal and keep up all our work ahead of the midterms: 
Trump Looks Guilty As DOJ Unveils Damning Evidence Of Classified Docs In His Desk
Staged FBI Crime Scene Photo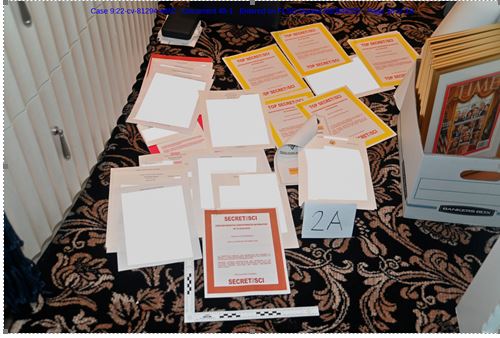 Join Us Next Time For More Leftist Lies.
We Don't Imagine We'll Be Running Out Any Time Soon.