WEDNESDAY, AUGUST 31, 2022
TRUMP'S FIVE-HUNDRED-AND-EIGHTY-EIGHTH DAY OUT-OF-OFFICE
AND HOW'S THIS FOR GRATITUDE?
— TODAY'S CONSERVATIVE AGENDA VIDEO —
Pro Aborts Become Based And Trad


MEANWHILE, BEN GARRISON SHOWS US: "SOMEONE NEEDS TO GRAB THAT LITTLE ELF AND CHUCK HIM ACROSS THE POTOMAC"

— Florida Governor Ron DeSantis on Anthony, 'I am science' Fauci.
I have nothing against people possessing a shorter stature. Everyone should be happy with the body they have. Still, Anthony (never call him 'doctor') Fauci seems to attract some ribbing due to his diminutive size. The Internet says he's 5' 7" and 139 pounds. That's not all that small, but he's definitely not a big man either. I've heard he's sensitive about his size, which probably stems from his high school basketball days. Despite his size, apparently he was a good player. He played position of point guard, naturally — and since then he has long been guarding the nation's health. In that position he's committed many double dribbles and tossed up a lot of bricks.
I once saw a two panel cartoon drawn by an establishment cartoonist. Naturally he praised Fauci. In the first panel he drew him as the diminutive man he is, and in the 2nd panel he drew him as giant based on his great accomplishments as a leader at the NIH/NIAID. The cartoon was not accurate. Fauci's accomplishments have been disingenuous at best and destructive at worst. Fauci is an accomplished bureaucrat who knows how to double-speak. In other words, lie.
He has had real doctors and scientists fired and persecuted when they refused to go along with narratives that served to benefit Fauci and his cronies—especially Big Pharma. Fauci helped lock us down and double mask us. He wanted mandatory jabs for those who wanted to remain employed. Those victims were all but forced to take experimental mRNA drugs. We now know for sure they are ineffective against Covid and often deathly destructive. Fauci has helped kill or injure millions. Fauci is often called mini-Mengele with good reason.
Fauci has also been compared to garden gnomes¬, which is an insult to garden gnomes.
Now he plans to go out on tour and bask in what he thinks is his well-deserved glory. To be sure, the Deep State globalists and their media puppets will praise him, but most Americans will be booing him — and with good reason. Too much visibility may result in him getting tossed across the Potomac. He deserves to be tossed into prison. Therefore, I expect Fauci to fade away and go into hiding.
LOCK HIM UP!
— Ben Garrison
Follow @grrrgraphics on GAB,TRUTHSOCIAL PARLER, INSTAGRAM, TELEGRAM
Editorial Cartoons Are A Major Part Of American Culture And A Focused Picture Of How People Are Reacting To The News Of The Day.
Often they express a silent view of one or more parties or issues. Editorial cartoons are a form of nonverbal communication and are vital to American culture because they help shed light on issues that affect many American values.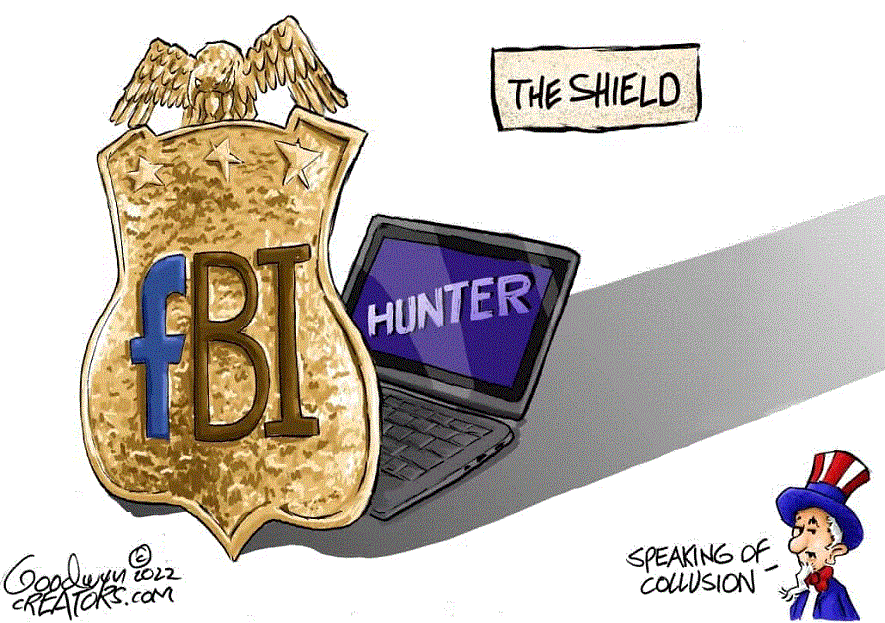 — TODAY'S CONSERVATIVE CARTOONS SLIDESHOW  —
This slideshow requires JavaScript.
THE US NATIONAL DEBT
— MAKE AMERICA GREAT UPDATE —
IT'S ONLY 558 MILES

GET TICKETS HERE
— TRUMP: FBI'S BIDEN FAMILY COVERUP CHANGED 2020 ELECTION OUTCOME—
PRESIDENT DONALD TRUMP CLAIMED TUESDAY THAT THE FBI USED FACEBOOK TO SUPPRESS INFORMATION CONCERNING THE HUNTER BIDEN LAPTOP INVESTIGATION PRIOR TO THE 2020 PRESIDENTIAL ELECTION —
IN A RECENT EPISODE OF JOE ROGAN'S PODCAST, "THE JOE ROGAN EXPERIENCE," MARK ZUCKERBERG APPEARED TO ADMIT THAT FACEBOOK CENSORED THE HUNTER BIDEN LAPTOP STORY AS A RESULT OF THE FBI WARNING FACEBOOK OF "RUSSIAN DISINFORMATION" IN THE 2020 ELECTION SEASON.
ACCORDING TO FOX NEWS, ZUCKERBERG SAID, "THE FBI, I THINK, BASICALLY CAME TO US – SOME FOLKS ON OUR TEAM – AND WAS LIKE, 'HEY, JUST SO YOU KNOW, LIKE, YOU SHOULD BE ON HIGH ALERT… WE THOUGHT THAT THERE WAS A LOT OF RUSSIAN PROPAGANDA IN THE 2016 ELECTION. WE HAVE IT ON NOTICE THAT, BASICALLY, THERE'S ABOUT TO BE SOME KIND OF DUMP OF THAT'S SIMILAR TO THAT. SO JUST BE VIGILANT."
ZUCKERBERG'S COMMENTS HAVE DRAWN CRITICISM FROM REPUBLICAN LAWMAKERS WHO ARGUE THE FBI NEEDS TO BE INVESTIGATED FOR "COLLUDING" WITH "BIG TECH." HOUSE MINORITY LEADER KEVIN MCCARTHY, R-CALIF., SAID, "WHEN REPUBLICANS ARE BACK IN CHARGE, WE WILL HOLD ALL OF THEM ACCOUNTABLE."
IN A POST ON TRUTH SOCIAL, TRUMP STATED, "THE FACT IS THAT THE FBI TOLD FACEBOOK THE 'LAPTOP FROM HELL' WAS RUSSIAN DISINFORMATION WHEN THEY KNEW VERY WELL THAT IT WAS NOT." HE ADDED, "THIS FAKE STATEMENT ALONE CHANGED THE OUTCOME OF THE ELECTION BY MILLIONS OF VOTES, AND IT WAS BY NO MEANS THE ONLY CORRUPTION WHICH TOOK PLACE."
IN A LETTER TO ZUCKERBERG, SENS. CHUCK GRASSLEY, R-IOWA, AND RON JOHNSON, R-WIS., WROTE, "THE AMERICAN PEOPLE DESERVE TO KNOW WHETHER THE FBI USED FACEBOOK AS PART OF THEIR ALLEGED PLAN TO DISCREDIT INFORMATION ABOUT HUNTER BIDEN."
THE SENATORS ADDED THAT IF THE FBI DID USE FACEBOOK TO SUPPRESS THE HUNTER BIDEN STORY, THEN THE AMERICAN PEOPLE AND CONGRESS WOULD "REQUIRE CLARITY" REGARDING HOW EXTENSIVE THE FBI'S COLLABORATION WITH FACEBOOK WAS DURING THE 2020 ELECTION.
THE MEDIA'S DOUBLE STANDARD FOR PUSHING INVESTIGATIONS INTO THE 45TH PRESIDENT WHILE COVERING UP ANY NEGATIVE INFORMATION ABOUT DEMOCRAT LEADERS IS A POINT TRUMP HAS EMPHASIZED SINCE HE LAUNCHED HIS 2016 PRESIDENTIAL CAMPAIGN. HOWEVER, IN RECENT WEEKS, TRUMP'S COMMENTS HAVE RECEIVED NEWFOUND SUPPORT IN THE WAKE OF THE FBI RAIDING MAR-A-LAGO WHILE REFUSING TO INVESTIGATE JOE BIDEN'S ALLEGED BUSINESS DEALINGS WITH HUNTER BIDEN AND HIS ASSOCIATES.
DESPITE MOUNTING EVIDENCE OF CORRUPTION IN THE 2020 ELECTION, TRUMP EXPLAINED, "SADLY, THE MEDIA IN OUR COUNTRY IS SO AFRAID OF BEING SUED THAT THEY NEVER WANT TO MENTION ANYTHING HAVING TO DO WITH THE CORRUPT ELECTION OF 2020!"
TRUMP'S LATEST COMMENTS CONCERNING THE FBI'S ALLEGED ACTIONS ECHO WHAT THE FEDERALIST'S MOLLIE HEMINGWAY STATED, "THE FBI RIGGED THE 2020 ELECTION."

The Whistleblower Newswire Is Your Official Publication of Record For The Conservative Agenda
The Blower believes we're still living during the most important period in American History for our non-stop crusade for Election Integrity and against Coordinated Leftist Insurrection and the Devolution of Our American Culture while Congress, the Deep State, and the Radical Media Establishment continue to lie to advance their Coordinated Leftist Agenda.
But first, we must see a Corleone  Political Reckoning on Election Integrity Along With Indictments And Perp Walks For Laws Broken During The Illegal 2020 Presidential Election, without which nothing else really matters.
Beloved Whistleblower Publisher Charles

Foster Kane Says The Conservative Agenda is watching to see if any progress is made during the 69 DAYS BEFORE THIS YEAR'S MID-TERM ELECTIONS ON NOVEMBER 08 unless they're postponed.