TODAY IS
MONDAY, SEPTEMBER 07
TRUMP'S 1326th DAY IN OFFICE
AND  OBAMAGATE INDICTMENTS ARE NOW OVERDUE
At today's virtual meeting of the Conservative Agenda, Political Insiders were asking Beloved Whistleblower Publisher Charles Foster Kane to comment on The Blower's approval by the Presidential Historical Society for 2016 Elections Research because 2016 & 2017 Trump chronicles were a political precursor for Trump's inept impeachment in 2019 and The Blower's breaking news coverage of events in 2020.
For the past two weeks, we have all agreed Trump has had every right to be enraged that four years after Barack Obama's top henchmen concocted and executed the biggest political scandal of all time, not one person has been held criminally responsible while trials against his associates drag on.
That's why every night, The Blower's TRUMP CHRONICLES: 2016 Campaign highlights our news coverage on that date four years ago during Trump's 2016 Primary Campaign we also see how many unfinished events should've been taken care of years ago. For example, TONIGHT'S TOP TRUMP CHRONICLES: 2016 stories were here:
TONIGHT'S REALLY BIG STORY
Obama Really Got Snubbed In China
USA says: Obama tried to downplay talk of an orchestrated diplomatic snub by China on Sunday as leaders from the G-20 major world economies began a summit in the east Chinese city of Hangzhou. Speaking ahead of the opening ceremony on Sunday afternoon, Obama said people should not "over-crank" a series of heated altercations between U.S. and Chinese officials in the 24 hours since he arrived in the communist country. [MORE]
FIVE MORE DUMBED DOWN AMERICA STORIES WE'RE TRACKING TONIGHT INCLUDE
#1
Obama Cancels Meeting After Philippines President Rodrigo Duterte Calls Him "Son Of A Whore"
 #2
PIC OF DAY: PUTIN THROWS OVER HIS OLD 'FLEXIBLE' FRIEND FOR HIS NEW ONE
#3
OBAMA KEPT HIS PROMISE, 83,000 COAL JOBS LOST AND 400 MINES SHUTTERED
The Daily Caller says this Labor Day, America has 83,000 fewer coal jobs and 400 coal mines than it did when Barack Obama was elected in 2008, showing that the president has followed through on his pledge to "bankrupt" the coal industry. [MORE]
#4
HILLARY FINALLY FIELDS TOUGH QUESTIONS FROM PRESS LIKE "HOW WAS YOUR LABOR DAY WEEKEND?"
HILLARY CLINTON'S COUGHING FIT ENDS PRESS GAGGLE ON PLANE
#5
SLICK WILLIE'S VISIT TO CINCINNATI
Cincinnati's Diminutive DemocRAT Mayor John Cranley and Ohio Disingenuous DemocRAT Party Boss David A. Pepper wore matching shirts at the head of the BJ Line when Crooked Hillary's Husband, Disgraced Ex-Pants-Dropper-in-Chief Bill Clinton spoke to dumbed-down DemocRATS at Coney Island this afternoon.
BREAKING NEWS
The Passing Of Conservative Icon Phyllis Schlafly
Fox News says Phyllis Schlafly, the iconic, pro-family activist who rose to fame in the 1970s when she campaigned against the Equal Rights Amendment, has died at age 92, according to the Eagle Forum, the conservative organization she founded.
DONALD J. TRUMP STATEMENT ON PHYLLIS SCHLAFLY
"Phyllis Schlafly is a conservative icon who led millions to action, reshaped the conservative movement, and fearlessly battled globalism and the 'kingmakers' on behalf of America's workers and families. I was honored to spend time with her during this campaign as she waged one more great battle for national sovereignty. I was able to speak with her by phone only a few weeks ago, and she sounded as resilient as ever. Our deepest prayers go out to her family and all her loved ones. She was a patriot, a champion for women, and a symbol of strength. She fought every day right to the end for America First. Her legacy will live on in the movement she led and the millions she inspired." – Donald J. Trump
CAMPAIGN 2016
TRUMP 'WALL' A POPULAR GOP FUNDRAISER AT OHIO FAIR

WFMJ says: A fundraising effort put on by Donald Trump supporters at the Canfield fair appears to be a success, in spite of upsetting a few people. The pro-Trump contingent set up a board in front of the Republican tent at the fair last week. Since then, contributors have been buying faux bricks made out of wood, to build a "wall", like the one Trump is proposing to be built along the U.S. – Mexican border. The "bricks" can be purchased for a donations ranging from $5 to $20. Buyers have been writing messages on the bricks, many of those messages supporting construction of the wall to stem the tide of illegal immigration. The response has been so great, the wall has been disassembled and rebuilt three times already. [MORE]
 TODAY'S LIBERAL LIAR AWARD
CNN panel laughs at Tim Kaine's defense of Clinton not holding press conferences
CROOKED CLINTON CRIME FAMLY CORNER
Hillary: Husband Bill Should Not Resign From Foundation Post
 MORE THREATS TO AMERICA
Leaked Documents: Soros Group Spent $600K To Mainstream Pro-Refugee Attitudes
The Daily Caller says: Leaked documents from left-wing financier George Soros's Open Society Foundations continue to reveal the extent to which the group has influenced the political response to Europe's refugee crisis. Internal documents show OSF used $600,000 in reserve funding in March 2016 to bring pro-refugee positions into the "political mainstream."
BLACK (on black) LIES (don't) MATTER
Obama on Kaepernick: 'He Cares About Real Legitimate Issues'
 WHISTLEBLOWER WAR ON POLITICAL CORRECTNESS
University Of Texas Chancellor Calls For Respect Of American Flag: 'It Is A Flag For Everyone'
The College Fix says: As the nation remains locked in heated debate over NFL quarterback Colin Kaepernick's national anthem protest, University of Texas system Chancellor William McRaven has penned a memo to campus leaders reminding them of his preference that coaches and student athletes respect the American flag. [MORE]
LIBERAL MEDIA BIAS
CNN Complains That Objectivity is Hard
 HILLARY'S HEALTH ISSUES
Hillary Worst Coughing Fit EVER! She's Very Sick and Fake News Hiding It!
The Fake News today cut away from the Hillary Speech to cover up the worst Hillary Coughing Fit EVER! Here it is in its entirety.
TONIGHT'S WHISTLEBLOWER POLL
Do Americans Remember The "Labor" In Labor Day?"
Whistleblower Pollster Ron Rasmussen says for half of Americans, summer's over now 'cause it's Labor Day. A new Rasmussen Reports national telephone and online survey finds that 42% of American Adults celebrate Labor Day as it was originally intended, as a holiday honoring the contribution of workers in society. That's unchanged from a year ago and ties the highest finding in yearly tracking since 2008. But 50% recognize Labor Day instead as the unofficial end of summer. That's up slightly from last year but down from a high of 56% two years ago. [MORE]
TONIGHT'S POLITICAL POSTER
(Sent In By Subscribers Like Tom)
PLUS, THESE TWO NEW VIDEOS
Plus
The Whistleblower Newswire Is Your Official Publication of Record For The Conservative Agenda
The Blower believes the next 64 days will be the most important period in American History for our non-stop campaign against Political Correctness, the Devolution of American Culture, and the Liberal News Media. Congress and Kneepad Liberals in the Press will continue to lie and say really stupid things without a smidgen of journalistic integrity to advance the Liberal Agenda.
TODAY'S EARLIER EDITIONS
"Union Daze" (Union Daze Marks The Traditional Beginning Of The Fall Negative Political Campaign Season!)
"Union Label" (Hopefully, Those Labels Aren't Made In China!)
"Labor Day in America" (It's Just Like Any Other Monday When You're Self Employed!)
"Patriotic Posters" (Adding To Our Ever-Expanding Collection)
Fast Forward to 2017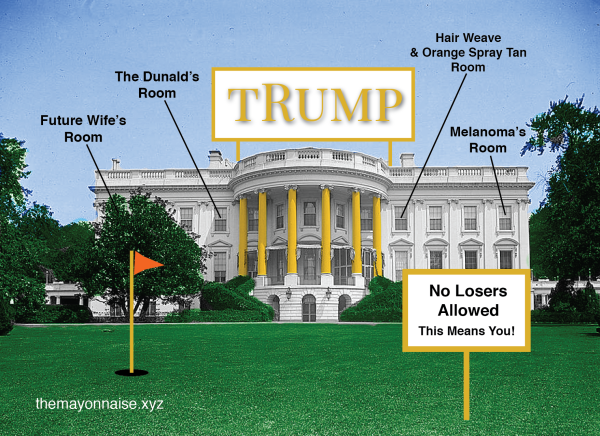 And that's the way it was today on the 137th Day until January 20, 2017 when the Next President can only begin to Undo all the damage Obama has done.
*1,156 Until "Dee-Day" If You Live In Anderson Township
More News Later (Or Most Likely Tomorrow Morning) From The Whistleblower Newsroom