TODAY IS
FRIDAY, SEPTEMBER 04
TRUMP'S 1323rd DAY IN OFFICE
AND DURHAM GRAND JURY INDICTMENTS ARE LIKELY COMING AROUND LABOR DAY ACCORDING TO JOHN SOLOMON OF JUST THE NEWS
At today's virtual meeting of the Conservative Agenda, Political Insiders were asking Beloved Whistleblower Publisher Charles Foster Kane to comment on The Blower's approval by the Presidential Historical Society for 2016 Elections Research because 2016 & 2017 Trump chronicles were a political precursor for Trump's inept impeachment in 2019 and The Blower's breaking news coverage of events in 2020.
For the past two weeks, we have all agreed Trump has had every right to be enraged that four years after Barack Obama's top henchmen concocted and executed the biggest political scandal of all time, not one person has been held criminally responsible while trials against his associates drag on.
That's why every night, The Blower's TRUMP CHRONICLES: 2016 Campaign highlights our news coverage on that date four years ago during Trump's 2016 Primary Campaign we also see how many unfinished events should've been taken care of years ago. For example, TONIGHT'S TOP TRUMP CHRONICLES: 2016 stories were here: cymbalta 20mg

FRIDAY, SEPTEMBER 2, 2016
Tonight's Really Big Story
This afternoon, in The Blower's "Only 67 More Days Till The Election" E-dition, Our Local Political Junkie We'll Call "Cincy Dave" said the FBI released their report on their investigation of Hillary's email server today.  Preliminary reports say that there doesn't seem to be anything incriminating in it, which is a huge disappointment to opponents, who were hoping to find the smoking gun that she used to kill Vince Foster and a whole bunch of other people.
Do You Think Cincy Dave Might Have Overlooked Some Of These?
Breitbart says: "Hillary Lost Cell Phones With Classified E-Mails"
The Daily Beast says: "Hillary's Team Lost a Laptop Full of Her Emails in the Actual Mail."
The Weekly Standard says: "Hillary Signed She Received Briefing on Classified Info, But Told FBI She Hadn't"
Weasel Zippers says: "Hillary Either Lied To The FBI Or She Lied On Her Security Form For State Dept"
The Washington Examiner says: "Hillary Withheld 17,448 E-Mails"
The Daily Caller says: "Hillary Claims She Couldn't Remember State Dept. Briefings After Her Concussion."
CNS.Com says: "According to the FBI Summary, Hillary Said She 'Could Not Recall' 'Did Not Recall,' 'Did Not Remember,' 'Had No Recollection' 41 Times."
PoliZette "Has a list of 26 Key Details Hillary Claimed She Couldn't Recall."
Vice News says: "Hillary told the FBI she didn't think drone strike plans were classified."
Zero Hedge says: "The "Oh Shit" Moment Came When Hillary Wiped Her Server With BleachBit Despite Subpoena."
Weasel Zippers says: "Hillary Had 13 Different Mobile Devices Associated With Her Private Email, All Of Which Are 'Missing' "
National Review says: "The FBI Interviewed Hillary With Her "Fixer" Cheryl Mills By Her Side"
But The One We Could Hardly Believe Was The Daily Caller's: "Hillary Told The FBI She Didn't Know Giant Letter 'C' In Emails Meant 'Confidential"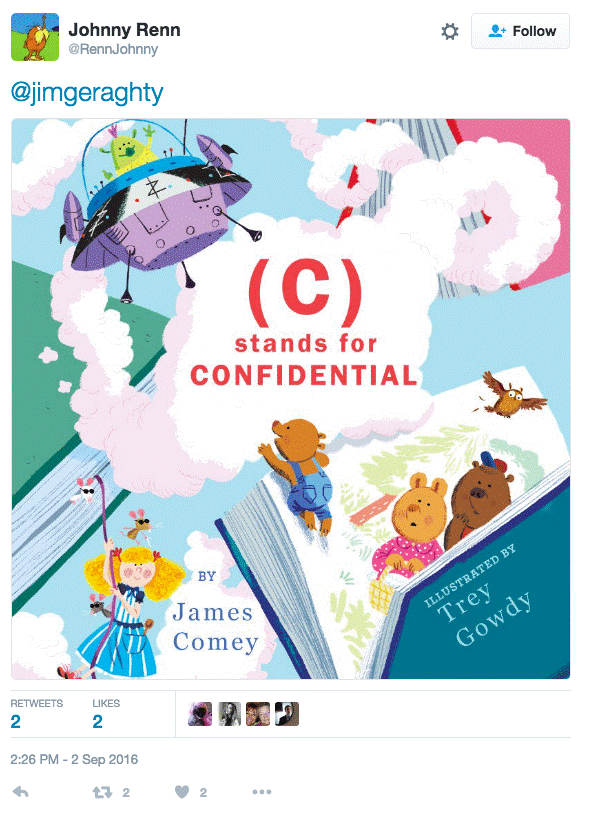 Maybe that's why Donald Trump's campaign hammered Crooked Hillary for her tremendously bad judgment and dishonesty." "Hillary is applying for a job that begins each day with a Top Secret intelligence briefing, and the notes from her FBI interview reinforce her tremendously bad judgment and dishonesty," spokesman Jason Miller said in a statement emailed to reporters. "Clinton's reckless conduct and dishonest attempts to avoid accountability show she cannot be trusted with the presidency and its chief obligation as commander-in-chief of the U.S. armed forces," Miller added.
All Of Which Probably Proves What The National Review said:  "Hillary Is Even More Dishonest Than You Thought"
AND NOW FOR YOUR LABOR DAY WEEKEND VIEWING PLEASURE 
 The Whistleblower Newswire Is Your Official Publication of Record For The Conservative Agenda
The Blower believes the next 67 days will be the most important period in American History for our non-stop campaign against Political Correctness, the Devolution of American Culture, and the Liberal News Media. Congress and Kneepad Liberals in the Press will continue to lie and say really stupid things without a smidgen of journalistic integrity to advance the Liberal Agenda.
TODAY'S EARLIER EDITIONS
Our Annual "Salute to Pollution" (Trish the Dish says you can see the Fireworks in Kentucky, too! But Only On TV 12!)
"Only 67 More Days Till The Election" (Still Looking At That List Of Things Hillary Claims She "Could Not Remember")
Fast Forward to 2017
And that's the way it was today on the 140th Day until January 20, 2017 when the Next President can only begin to Undo all the damage Obama has done to America.
*1,159 Until "Dee-Day" If You Live In Anderson Township
More News Later (Or Most Likely Tomorrow Morning) From The Whistleblower Newsroom