SUNDAY, JULY 31, 2022
TRUMP'S FIVE-HUNDRED-AND-FIFTY-SEVENTH DAY OUT-OF-OFFICE
AND BILL CLINTON SAYS IT ALL DEPENDS ON WHAT YOUR DEFINITION OF "RECESSION" IS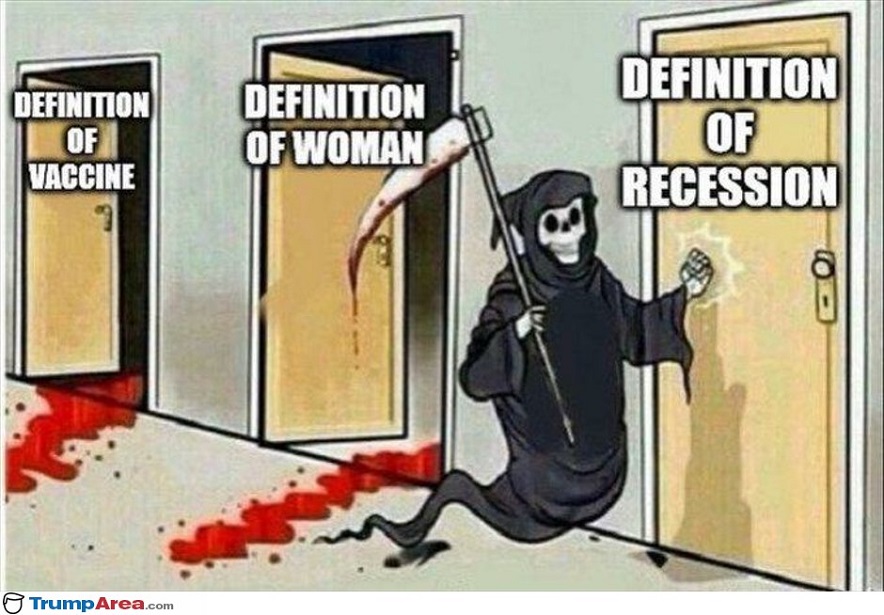 — TODAY'S CONSERVATIVE AGENDA VIDEO —
CONSERVATIVES: IN THE MEDIA VS IN REAL LIFE
MEANWHILE, BEN GARRISON SHOWS US "BIDEN'S UNBEARABLE ECONOMY"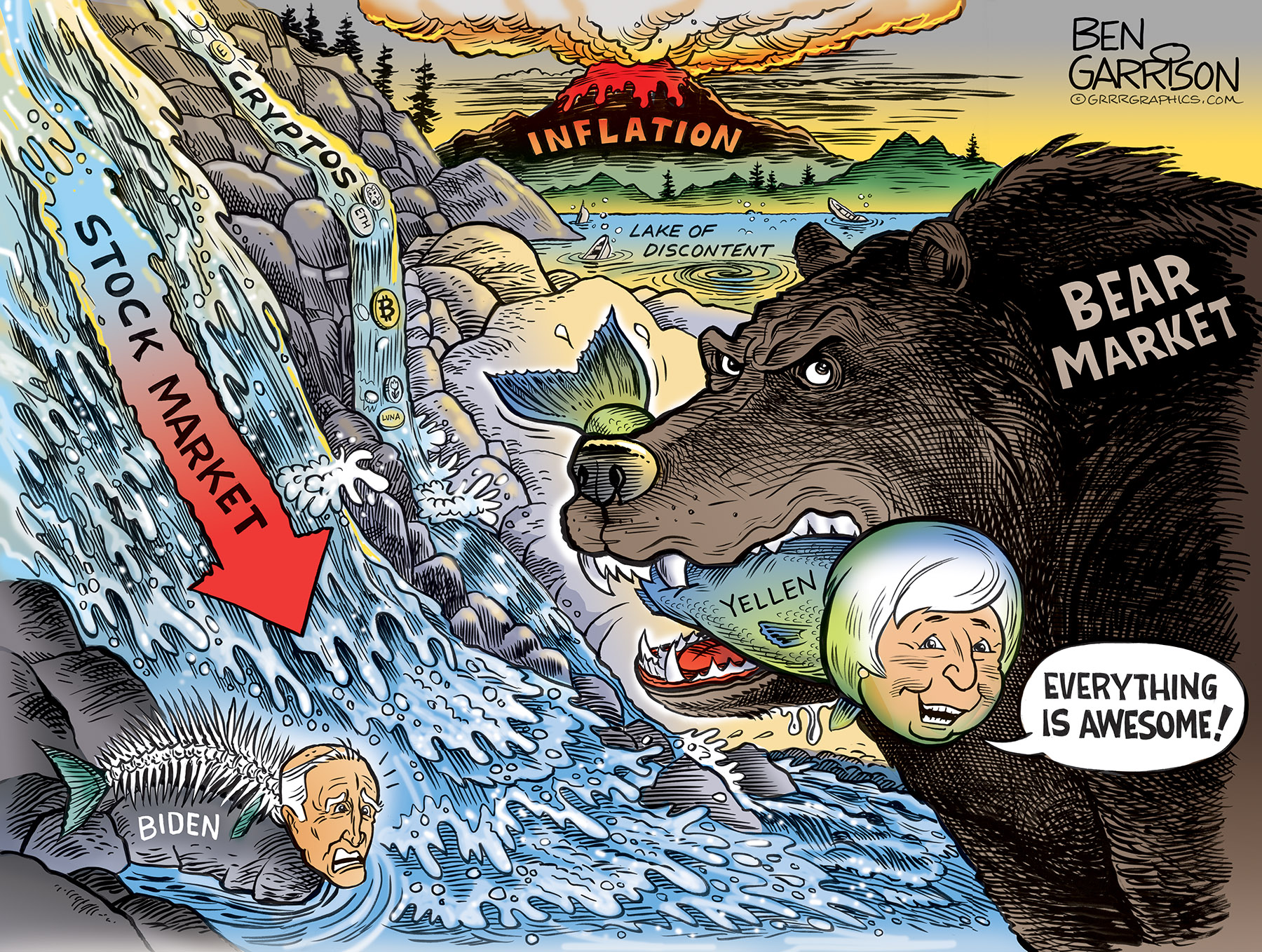 "I don't want to hear any more of their lies . . . about reckless spending. We're changing people's lives!"
— Joe Biden
The aging, criminal grifter Biden and his Democrats spent money they did not have with reckless abandon. Yet somehow few of their experts thought it could end up triggering the current inflation conflagration. Joe certainly couldn't see the connection and now that inflation is as plain as one of his son's hookers, he'd would rather blame it on others. Rising prices at the pumps? That's "Putin's gas price hike" according to Joe.
Inflation? Joe would rather talk about how his economy is booming. He already took credit for the stock market bubble and its rise into the stratosphere. Now that it's falling into bear market territory, look for him to blame someone—anyone—other than himself. Biden has said the buck stops at his desk, but he's not the type to admit his complicity in any wrong doing. He'd rather spew outrageous and obvious lies first.
The Federal Reserve chairpeople rarely admit their responsibility for their foul ups, either. From Greenspan to Powell, it's never their fault even though the fault lies squarely on the shoulders of the Federal Reserve itself. They print unlimited debt dollars, which are enjoyed by those at the top who first receive them. Those bucks are spent at their peak buying power, but as they trickle down, inflation is triggered and the average American pays the price.
Janet Yellen has been particularly wrong about her inflation predictions. She saw any inflation as being 'transitory.' Both she and the current Fed chairman Powell have been completely wrong even as they printed a mountain of currency to solve government problems. (Problems that government helped create themselves). It doesn't take an economic genius to predict inflation when the money supply is flooded as the supply chain is shut down. It boils down to too many dollars chasing too few goods. Gasoline is the most obvious example. Biden shutting down domestic production in favor of the far-left's untenable green energy agenda was the epitome of stupidity, but Joe is stubborn and militantly ignorant. He will angrily stick with his plan and never admit wrong doing.
Yellen did admit she was wrong about her chirpy optimism when it came to inflation, but she will suffer no consequence. Those at the top are never held accountable. They may make things worse or even trigger a new crisis, but instead of getting fired they usually accrue more power from the problems they helped to create. This is what the Fed has done. They were not only allowed to pump up the stock market through their BlackRock and Vanguard arms, but also buy real estate. They once had to consult Congress before bailing out 'too big to fail' banks. Now they bail out whomever they want and the corruption must be off the charts. Soon the Fed will own and control everything and we gave them a money printing press while trusting them as economic geniuses. Politicians won't allow the Fed to be audited, because they didn't want to violate the Fed's 'sovereignty.' Really? What's so special about their sovereignty? They are screw ups! They have failed time and time again while hurting the country, but to be sure, they are sovereign. They are in charge. Not Congress and certainly not 'We The People.'
Janet Yellen should be fired. The Federal Reserve should be audited and then ended. Their original mandate to prevent booms and busts has not been met. Instead, the Fed caused too many booms and busts themselves. They and their central banker owners got fabulously richer at every turn. Now, thanks to their control over our currency, we're facing another bust. Look for the top of the pyramid to profit from it while citizens pay the price. Once again.
—Ben Garrison
Editorial Cartoons Are A Major Part Of American Culture And A Focused Picture Of How People Are Reacting To The News Of The Day.
Often they express a silent view of one or more parties or issues. Editorial cartoons are a form of nonverbal communication and are vital to American culture because they help shed light on issues that affect many American values.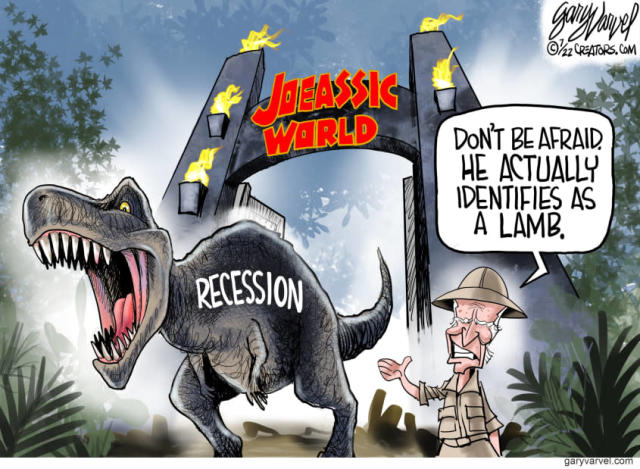 — TODAY'S CONSERVATIVE CARTOONS SLIDESHOW  —
This slideshow requires JavaScript.
THE US NATIONAL DEBT
— MAKE AMERICA GREAT UPDATE —
DRIVE TO TRUMP'S SAVE AMERICA RALLY IN WAUKESHA, WISCONSIN
GET TICKETS HERE
The Whistleblower Newswire Is Your Official Publication of Record For The Conservative Agenda
The Blower believes we're still living during the most important period in American History for our non-stop crusade for Election Integrity and against Coordinated Leftist Insurrection and the Devolution of Our American Culture while Congress, the Deep State, and the Radical Media Establishment continue to lie to advance their Coordinated Leftist Agenda.
But first, we must see a Corleone  Political Reckoning on Election Integrity Along With Indictments And Perp Walks For Laws Broken During The Illegal 2020 Presidential Election, without which nothing else really matters.
Beloved Whistleblower Publisher Charles

Foster Kane Says The Conservative Agenda is watching to see if any progress is made during the 100 DAYS BEFORE THIS YEAR'S MID-TERM ELECTIONS ON NOVEMBER 08 unless they're postponed.
So And Which Candidate would stand for Trump in Ohio District 27 during 2022:.
Lindsay Cole Jenn Giroux     Joe Murray