WEDNESDAY, AUGUST 03, 2022
TRUMP'S FIVE-HUNDRED-AND-SIXTIETH DAY OUT-OF-OFFICE
AND HERE'S SOMETHING WE'D REALLY LIKE TO SEE
— TODAY'S CONSERVATIVE AGENDA VIDEO —
Biden Redefines Recession


MEANWHILE, BEN GARRISON SHOWS US: "PENCE THINKS HE'S A "BIG CHEESE" BUT ONLY THE RATS AGREE"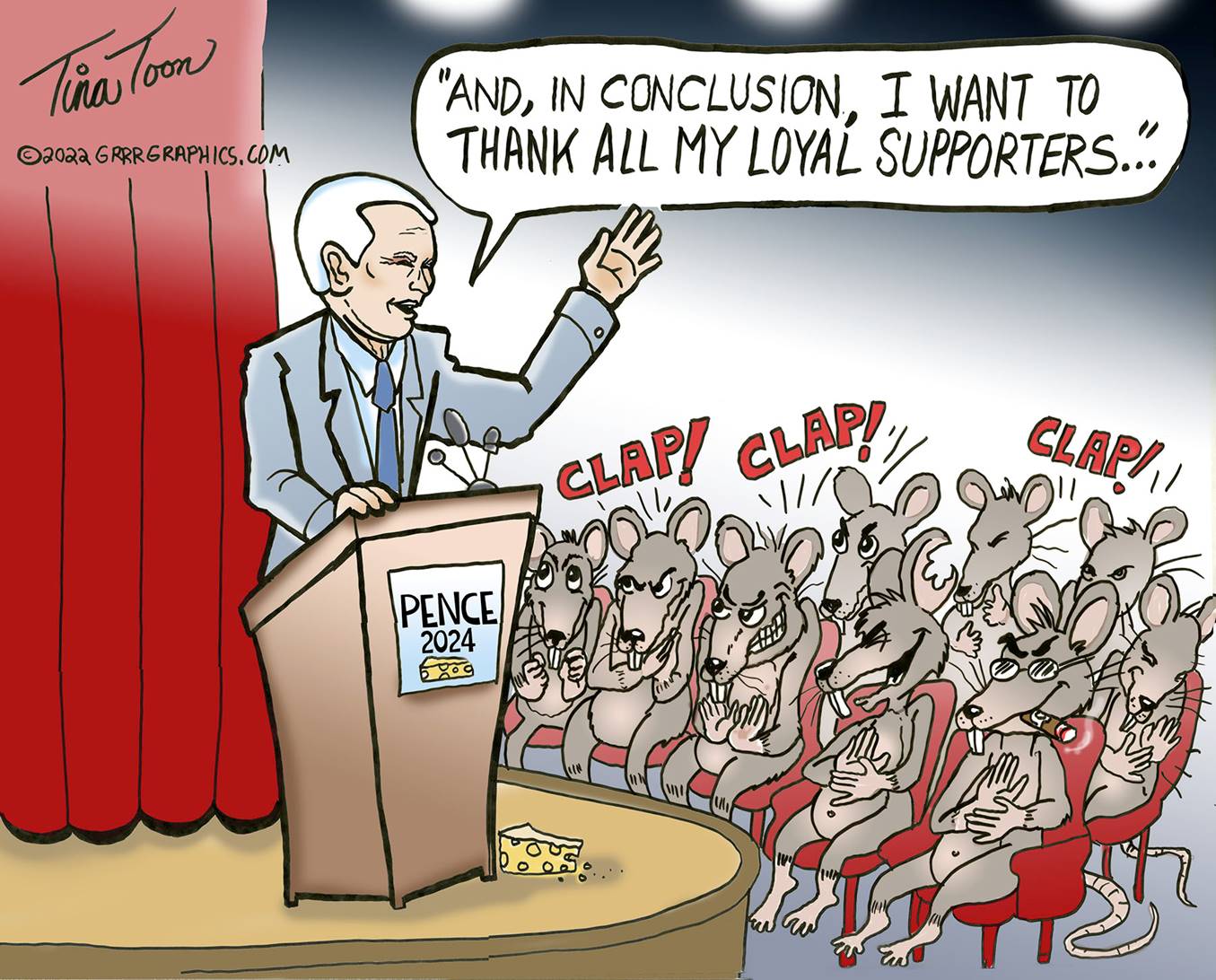 Mike Pence is showing his cards. It looks like Pence is considering a presidential campaign in 2024. Mike Pence was President Trump's Vice President during Trump's first term. Pence's performance was so-so. He was not exactly a great pick because as a bland establishment Republican, he had no real claim to fame during his political career.
Despite that, Pence remained Trump's running mate. Then everything changed when the radical communist Democrats, big tech and the GOP establishment rigged the 2020 election. Pence then became "Judas" to Trump's base when he allowed the certification of Biden's stolen election.
Donate and support Ben and Tina's work! We depend on donations and shop sales to stay online. No big PAC supports us, we don't have rich benefactors that fund GrrrGraphics. We are just a husband and wife team that is fighting for our freedoms and our Republic. We are grass roots. Please consider a donation to keep us online and drawing for you! Click to support us today!
Pence stabbed Trump and the entire country in the back. Just look at where we are today because of it. Think of all the lives lost and destroyed, small businesses that went through bankruptcy, and America going down faster than the 'Titanic.'
Now Mike Pence wants to be president. He's becoming more visible and he's giving speeches across the country.
Pence is endorsing GOP establishment candidates as Trump endorses MAGA candidates.
The only "friends" Pence has left are the DC swamp rats who look for the easy "cheese" and the special favors they crave. Mike Pence may run for president in 2024, but only those establishment rats will endorse him.
– The GrrrTeam

Editorial Cartoons Are A Major Part Of American Culture And A Focused Picture Of How People Are Reacting To The News Of The Day.
Often they express a silent view of one or more parties or issues. Editorial cartoons are a form of nonverbal communication and are vital to American culture because they help shed light on issues that affect many American values.
— TODAY'S CONSERVATIVE CARTOONS SLIDESHOW  —
This slideshow requires JavaScript.
THE US NATIONAL DEBT
— MAKE AMERICA GREAT UPDATE —
DRIVE TO TRUMP'S SAVE AMERICA RALLY IN WAUKESHA, WISCONSIN
GET TICKETS HERE
— TRUMP ON TOUR —

Trump is slated to deliver the keynote address in Dallas, Texas, at the upcoming Conservative Political Action Conference (CPAC) event this Saturday, crowning a stellar lineup of conservative stars who will preface the 45th president's anticipated remarks. 
The Dallas conference will feature its notable GOP presidential nomination straw poll, which will include Trump, as well as 20 Republicans.President Donald 
We are only a few days away from #CPAC Texas, and we can't wait to see you there! pic.twitter.com/Ku2eapKbbl

— CPAC 2022 (@CPAC) August 1, 2022
The Whistleblower Newswire Is Your Official Publication of Record For The Conservative Agenda
The Blower believes we're still living during the most important period in American History for our non-stop crusade for Election Integrity and against Coordinated Leftist Insurrection and the Devolution of Our American Culture while Congress, the Deep State, and the Radical Media Establishment continue to lie to advance their Coordinated Leftist Agenda.
But first, we must see a Corleone  Political Reckoning on Election Integrity Along With Indictments And Perp Walks For Laws Broken During The Illegal 2020 Presidential Election, without which nothing else really matters.
Beloved Whistleblower Publisher Charles

Foster Kane Says The Conservative Agenda is watching to see if any progress is made during the 97 DAYS BEFORE THIS YEAR'S MID-TERM ELECTIONS ON NOVEMBER 08 unless they're postponed.