TODAY IS
MONDAY, MAY 22, 2023
TRUMP'S EIGHT-HUNDRED-AND-FIFTY-SECOND DAY OUT-OF-OFFICE
AND THERE ARE STILL A FEW TICKETS LEFT FOR THURSDAY NIGHT'S LINCOLN REAGAN DINNER IN CRIMSON CLERMONT COUNTY
Your Official Publication of Record For The Conservative Agenda
Tonight's Top News Stories You Won't See On The Front Page Of The Fishwrap
Ohio's Eighth District Republican Congressman Warren Davidson says
Secure Our Border & Stop The Cartels
Joe Biden's border crisis has become a nationwide crime scene. We need to secure the border, stop the cartels, and keep our communities safe. This week, the House passed H.R. 2, the Secure the Border Act of 2023. This legislation would resume construction of the wall (including the road network and sensors in depth), increases border patrol agents, protects unaccompanied children to prevent human trafficking, and ends catch and release practices. By forcing the Biden administration to end their foolish practices, the Secure the Border Act will begin to fix this crisis.
The crime scene at the border is sad and must end. I went to the House floor to discuss further why we need to stop the cartels and secure our border. Watch my speech from the House floor here.
Stopping Biden's Debt-to-Income Fee
The Biden administration's FHFA rescinded their unworkable debt-to-income mortgage fee in response to concerns that Financial Services Chair Patrick McHenry and I expressed. Read my full statement on our win against the FHFA below.
Our win against the Biden administration will benefit homebuyers by removing the mortgage fee that was set to go into effect later this year. This fee would have hurt homebuyers and the FHFA rightfully reversed course.  
Photo of the Week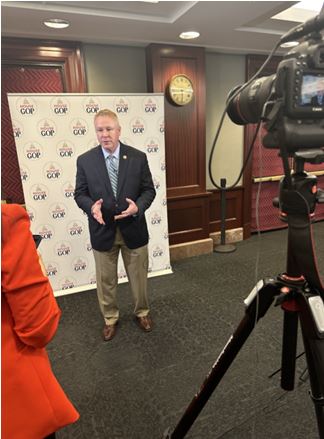 I joined several local news stations in our district to talk about H.R. 2, the Secure the Border Act of 2023.
Thank you for taking the time to keep up with the work I am doing on your behalf in Washington and at home in Ohio. I encourage you to stay connected with our office through my website, Facebook, Instagram, and Twitter pages. It is an honor to represent you.
Sincerely,
Warren Davidson
Member of Congress
Bird Colonel/ Podiatrist Ohio Second District Congressman "Bronze Star Brad" Wenstrup says,
Over the past several months, I have heard from many southern Ohioans who are concerned about the disappearance and reemergence of classified documents and potentially sensitive information found at the homes of current and former presidents and government officials.
This week, the Select Subcommittee on the Coronavirus Pandemic held a hearing focused on examining the nursing home mortality rate during COVID-19 and policy decisions — specifically in New York, New Jersey, and Pennsylvania — that led to the deaths of tens of thousands of Americans.
Nursing homes and long-term care facilities in these states were forced to admit positive COVID-19 patients, contributing to the tragic death of more than 35,000 elderly Americans. I opened the hearing by reminding Americans that policy makers, health organizations, and state officials knew from the beginning of the pandemic that elderly individuals faced an increased risk of COVID morbidity and mortality. I also pointed out that the "must-admit" nursing home orders and the subsequent cover-up of the true death tolls were driven by a political agenda, not "science."
Click here to listen to witness testimony from the hearing.
Witnesses shared their personal stories of loss, grief, and neglect due to former New York Governor Andrew Cuomo's mandates, and I asked about blatant disregard for Centers for Disease Control and Prevention (CDC) and Centers for Medicare & Medicaid Services (CMS) guidance by state officials.
The effect of disastrous COVID-19 nursing home policies on elderly populations notably by governors in New York, New Jersey, and Pennsylvania demonstrate, unfortunately, state officials prioritizing personal and political gain over the health of elderly Americans. It is crucial that those responsible for decisions that caused so many needless deaths, and the cover-up of these deaths, are held accountable. The families who lost loved ones in this senseless tragedy deserve closure. We are thoroughly investigating these deadly policy decisions as our Select Subcommittee continues its work on an after-action review of the COVID-19 pandemic.
In your service,
Brad
Wenstrup Joins NEWSMAX to Discuss the Fentanyl Crisis Following Our Open Border Policies

I invite you to read this newsletter to learn about several issues I am working on for Kentuckians. If you're short on time, here's a top line summary of some of my activities in April:
Appeared with Laura Ingraham on Fox News to discuss Biden's plan to put up to 40 million people in a federal registry for owning a piece of plastic.
Grilled Bureau of Alcohol, Tobacco, Firearms and Explosives (ATF) Director Steven Dettelbach over the Bureau's new pistol brace rule.
Hosted U.S. Service Academy Day for 4th District students and parents.
Reintroduced the PRIME Act with Rep. Chellie Pingree (D-ME)
Reintroduced the Safe Schools Act to make it easier for state and local governments and school boards to unambiguously set their own firearms policies.
Issued an important warning about the need to reduce federal spending.
Argued against the creation of a federal E-Verify database that will burden law-abiding Americans seeking to exercise their rights.
Announced my opposition to the Senate's RESTRICT Act.
Exposed how primary care physicians were bribed to suggest the COVID-19 vaccine to patients.
Ohio First Congressional District
A guy we'll call "Tank-Driver Tadwell" wanted to ask Beloved Whistleblower Publisher Charles Foster Kane how PELOSI'S BOY TOY was comparing himself to Patriotic Southwestern like Bird Colonel/ Podiatrist Ohio Second District Congressman "Bronze Star Brad" Wenstrup and West Point Graduate Ohio Eighth District Congressman Warren Davidson Saturday on Armed Forces Day.
"Pitifully," Kane explained.
The Whistleblower Newswire Is Your Official Publication of Record For The Conservative Agenda
The Blower believes we're still living during the most important period in American History for our non-stop crusade for Election Integrity and against Coordinated Leftist Insurrection and the Devolution of Our American Culture while Congress, the Deep State, and the Radical Media Establishment continue to lie to advance their Coordinated Leftist Agenda.
But first, we must see a Corleone  Political Reckoning on Election Integrity Along With Indictments And Perp Walks For Laws Broken During The Illegal 2020 Presidential Election and 2022 Mid-Term Elections, without which nothing else really matters.
Beloved Whistleblower Publisher Charles

Foster Kane Says The Conservative Agenda is watching to see if any progress is made during the next 617 days before the 2024 elections.