Today's E-dition Has Been Approved For Research On The 2016 Election By The Presidential Historical Society Because So Many Things Reported In The 2016 Blower Are Still Just As True Today, If Not Moreso
TODAY IS
THURSDAY, OCTOBER 29, 2020
Trump's 1,378th Day In Office
WHILE THE BLOWER WONDERS IF OUR MORNING FISHWRAP'S SO-CALLED PRESIDENTIAL ENDORSEMENT FOR JOE BIDEN IN 2020 WILL BE AS TOTALLY DISCREDITED, AS THEIRS WAS FOR CROOKED HILLARY IN 2016
And Tonight We're Documenting 2016's Greatest Presidential Campaign In History With Only Five More Days Till Election Day, Remembering Our "Media Reaction To Hillary's Latest Scandals" E-dition

THAT DATE WAS
THURSDAY, NOVEMBER 03, 2016
THURSDAY, NOVEMBER 3, 2016       
We Can Only Imagine What They Have Planned For Election Night
 This Morning At The Conservative Agenda Caucus, Political Insiders Were Asking Beloved Whistleblower Publisher Charles Foster Kane If Crooked Hillary's Harpies At The TV Networks Were Ignoring The Latest Massive Bombshell On FBI Investigation Into Crooked Hillary's Corruption.
  "It was pretty obvious," Kane explained. " MRC reports how even Brett Baier at FOX News couldn't help noticing."
But All Those Other Obama And Hillary Supporters In Liberal Media Conspiracy Were Continuing To Do Their Job.
 NBC SMEARS GOP SENATE CANDIDATES IN TIGHT RACES, TOUTS DEMOCRATS
With the Republican controlled Senate hanging in the balance this election cycle, NBC turned up the heat against GOP candidates in tight races on Wednesday's NBC Nightly News. One of the largest influences the Senate would have for the new president is the confirmation of Supreme Court justices. "There are many races currently polling within the margin of error," announced Anchor Lester Holt as his colleague Hallie Jackson tried to tip the scales in favor of Democrats.
ABC, NBC LEAD EVENING NEWS PROGRAMS TOUTING CLINTON SURROGATES
With the advent of many polls showing a tightening race in key battleground states as Election Day comes into view, ABC and NBC both started of their evening news casts Wednesday by glorifying Hillary Clinton's surrogates on the campaign trail. "Clinton boarding that cross-country flight, knowing her squad of surrogates is swarming the battlegrounds," hyped ABC's Cecilia Vega on World News Tonight, "In North Carolina, long lines. People waiting hours to see President Obama." 
HAYES, RYAN CLAIM FBI LETTER IS AKIN TO MLK SPYING, CALLS INTO DOUBT ITS 'INTEGRITY AND IMPARTIALITY'
Continuing the liberal media's rush to tarnish the FBI's reputation, MSNBC's All In host Chris Hayes and American Urban Radio Networks correspondent April Ryan blasted Director James Comey's letter about the Hillary Clinton e-mail investigation on Wednesday as a move that "raised serious questions about the FBI's integrity and impartiality" akin to the Bureau's spying on Martin Luther King Jr.
MSNBC'S MORNING JOE GIVES MEDIA A REALITY CHECK ON STATE OF THE RACE IN WAKE OF CLINTON'S FBI INVESTIGATION
In the final week before Election Day, most of the media had been eager to announce that the race is already over for Donald Trump. However, with the renewed federal investigation of Hillary Clinton, on Wednesday's Morning Joe, host Joe Scarborough sharply expressed his opinion: "I cannot believe the hatred and the vitriol that was spewed at you for saying the race wasn't over last week by fools in the media who decided to go cheerleaders instead of being reporters and it's been that way for too long."
MSNBC TO JAMES TAYLOR: TELL US WHY YOU LOVE OBAMA & HILLARY
In an interview with singer James Taylor at a Hillary Clinton campaign rally in North Carolina during MSNBC's Andrea Mitchell Reports on Wednesday, correspondent Chris Jansing gushed over the musician preparing to open for President Obama at the event: "…this is about supporting Hillary Clinton, it's also about Barack Obama's legacy….You have been a big fan of the President."
ON FNC, CNN'S EX-PRESIDENT DEFENDS NETWORK'S HANDLING OF BRAZILE LEAK
Former CNN president Jon Klein ran to his network's defense on Tuesday's Kelly File on Fox News Channel over their response to acting Democratic National Committee chairwoman Donna Brazile's leak of a town hall question to Hillary Clinton's campaign. Klein reacted to Joe Concha of The Hill's call for an internal investigation of what happened by asserting that the people at CNN are "more worked up about the issue than Joe Concha is. I mean, they have much more at stake than anybody in making sure that their reputation is pristine."
And Here Are Fifteen More Left-Wing Cartoons We Just Received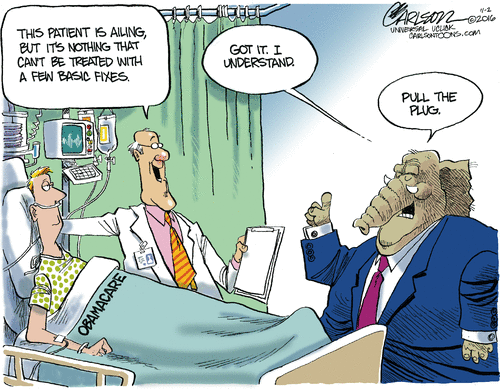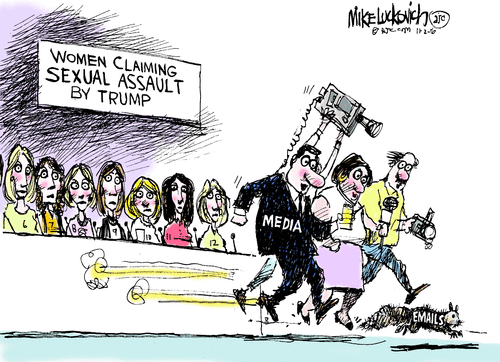 Expect The Battle To Continue For The Next 78* Days Until Noon on Inauguration Day When The Nation Can Begin To Undo All The Damage Obama Has Done.
*1,097 More "Dee-Days" If You Live In Anderson Township