SUNDAY, SEPTEMBER 18, 2016
This Week's Top Stories
OUR NUMBER ONE STORY THIS WEEK WAS MONDAY NIGHT'S REALLY BIG STORY
Hillary's 9/11 Threatens Her Campaign
OUR NUMBER TWO STORY THIS WEEK was WEDNESDAY NIGHT'S REALLY BIG STORY
What If We Had A Hillary's Health Joke E-dition Tonight?
 AND OUR NUMBER THREE STORY THIS WEEK WAS FRIDAY NIGHT'S REALLY BIG STORY
Media Outraged After Trump Trolls Them To Cover Endorsements From Military Heroes
Edward Cropper's World
Today, PHOTO-SHOP EDITORIAL SPOOFER EDWARD CROPPER Shows Us:
    You can see more of Mr. Cropper's fine work HERE.
This Week's Top Item On The Conservative Agenda 
Trump Needs To Continue to Act Like He's Already President, Especially After Hyper-low Energy Hillary Sleepwalked Through Her Reaction to Saturday Night's NYC Bombing
DURING THIS CAMPAIGN, IT'S REALLY IMPORTANT FOR TRUMP TO BE SEEN AS PRESIDENTIAL ON EVERY OCCASSION.
Because The Blower believes the next 51 days will be the most important period in American History for our non-stop campaign against Political Correctness, the Devolution of American Culture, and the Liberal News Media. Congress and Kneepad Liberals in the Press will continue to lie and say really stupid things without a smidgen of journalistic integrity to advance to Liberal Agenda.
Meanwhile, some other current items on The Conservative Agenda will just have to wait, including: Obama's Leadership, The Clinton Legacy, Other Dishonest Democrats, Obama's Secret Service, Biden's Blunders, Obama Supporters In The Press, DemocRATS In Disarray, Polling For Trolls, Veterans, Racial Healing, Amnesty For Future DemocRATS, Baby Killing, and Making Sure Not To Hurt The Feelings Of All Those Murdering Radical Islamic Terrorists Bastards.
This Week's Liberal Liar Award
Radical Islamic Terrorist Update
The ReligionofPeace.com's List of Radical Islamic Terror Attacks during the past 30 days details 165 Islamic attacks in 34 countries, in which 1,294 people were killed and 1,709 injured. 
Now Let's Look At Last Week's Radical Islamic Attacks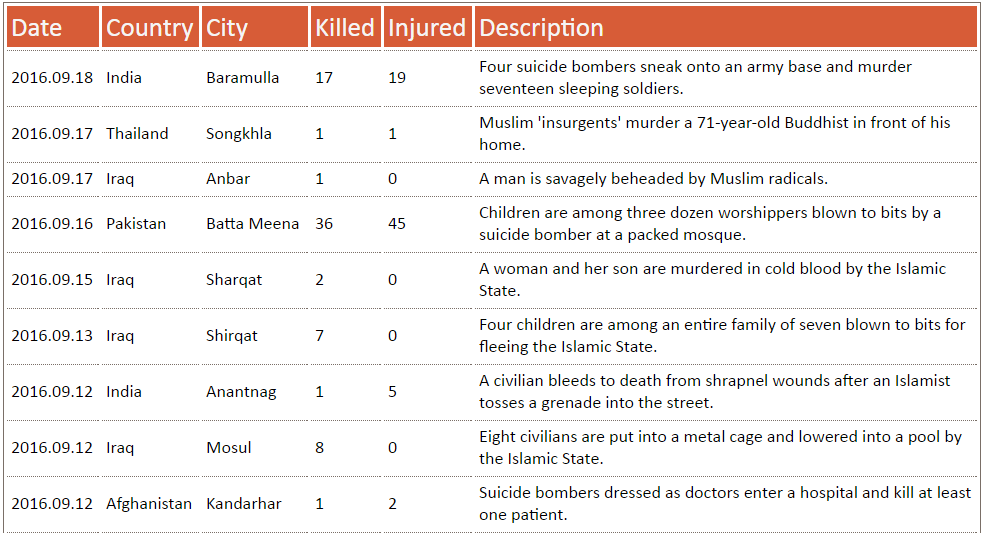 And Only The Stupidest DemocRAT Alive Could Believe It When Obama And Hillary Say We're Winning

Whistleblower War on Political Correctness
 "They may not live at the level of Victor Hugo's 'Les Misérables,'" writes WSJ columnist Daniel Henninger, "but it was only a matter of time before les déplorables—our own writhing mass of unheard Americans—rebelled against the intellectual elites' ancien régime of political correctness."
That's because in America, Being Politically Correct means always having to say you're sorry, according to all those Dumbed-Down, Self-Absorbed, Media-Influenced, Celebrity-Obsessed, Politically-Correct, Uninformed, Short-Attention-Span, Free-Stuff Grabbing, Low-Information Obama Supporters Who Put The Positively Worst President in History In The White House—Twice, and Now Plan To Give Obama a Third Term By Voting For Hillary, and get all of their information from our Obama Supporters in the Press, like the ones on Channel 5, 9, 12, and 19, who would rather ride to downtown Cincinnati on a bus and stand in line for three hours to vote, rather than mailing in absentee ballots.
Now Here's Today's Politically Incorrect Joke: WLW Hate Radio Trash Talking Racist-in-Residence Bill Cunningham told us this one: Q: Why did President Obama get two terms? A: Because every black man gets a longer sentence.
BLACK (on black) LIES (don't) MATTER
The head of a Dallas police organization is suing a collection of Black Lives Matter figureheads and other prominent individuals for allegedly inciting racial violence against American police officers. Dallas Police Department Sergeant Demetrick Pennie, President of the Dallas Fallen Officer Foundation, filed an amended federal complaint September 16 against more than a dozen defendant institutions and individuals to build a class action case on behalf of "police officers and other law enforcement persons of all races and ethnicities including but not limited to Jews, Christians and Caucasians" for "inciting" race riots and related violence. The suit hopes to produce damages and an injunction placed against alleged threats of racially-motived violence going forward.
OHIO OUTLOOK
 Whenever Conservatives see Ohio's Delusional Governor John Kasich on TV (like this morning on "Meet The Depressed")
 We always imagine the Citizens of Rock Ridge sending him a letter.
The Feck Stops Here
 This week. In addition to their One Nation campaign, we're waiting for our Feckless Fishwrappers to begin their new crusade to have gays and lesbians ride the new Trans Trolley free on Thursdays, just like the gay Key West Trolley Tour. That would make Cincinnati an even more fabulous place to live.
         Meanwhile, our Feckless Fishwrappers are continuing to promote all their other favorite Liberal Causes, as well as supporting "Millennials, Public Breast-feeders, Trans-Racists Who Want To Call Themselves Black, Transsexuals Just Looking for a Place to Pee, Over-Sexed Swingers in the Suburbs, Perverted Physicians, and Corpsefuckers at the Morgue, along with PC (If It's Politically Correct, You Can't Object), Tree Hugging, Keeping People From Smoking, Diversity Uber Alles, Unions Blues, Fanatical Feminists, Supporting Sodomy Rites, Global Warming: G-Uncontrol, Liberal Brainwashing In Schools, Voting Rights For People Who Are Too Stupid To Vote, Streetcars, Scalping the Washington Redskins, and Giving Away Free Stuff With Your Money.
But why should any of this surprise you? After all, don't our Feckless Fishwrappers always say:  It's not Baseball, Mom, or Apple Pie that have always made our area great, it's our "Disgraceful Diversity."
Please note our new "Obama Fishwrap Logo." We think it's so much more Politically Incorrect.