---
---
TODAY IS
SUNDAY, SEPTEMBER 03, 2023
TRUMP'S NINE-HUNDRED-AND-FIFTY-SIXTH DAY OUT-OF-OFFICE
AND A.F. BRACO SHOWS US HIS "OUT WITH THE OLD"
A.F. Branco has taken his two greatest passions, (art and politics) and translated them into cartoons that have been popular all over the country, in various news outlets including NewsMax, Fox News, MSNBC, CBS, ABC, and "The Washington Post." He has been recognized by such personalities as Rep. Devin Nunes, Dinesh D'Souza, James Woods, Chris Salcedo, Sarah Palin, Larry Elder, Lars Larson, Rush Limbaugh, President Donald Trump, and Charles Foster Kane, Beloved Publisher Of The Whistleblower.
— TODAY'S BEST CONSERVATIVE AGENDA VIDEO —
This Professor Won't Bend To California's 'Woke' Curriculum


MEANWHILE, BEN GARRISON SHOWS US HIS "UNEVEN PLAYING FIELD"
Now Here's The Best Damn Conservative E-ditorial On The Internet
Football season is kicking off and the Deep State Swamp wants Trump kicked off the field.
Donald Trump is a winning choice as the GOP nominee. The question is, will the opposing team even allow him to compete? It seems like a rigged game. The referees support the Democrats. Biden is allowed to move the goal post. Old Joe had documents in his garage, but did the FBI raid his home or his office near the University of Pennsylvania? Of course not.
Not only that, Trump must also overcome the traitors in his own party. RINOs such as Pence, Christie, and Romney. Mostly, Trump must avoid tackles while navigating an uneven playing field put in place by the DC Swampers. Everything is rigged against Donald Trump becoming President again—and Trump knows those Xs and Os all too well.
Don't miss New Cartoons, Sign up for GRRRNews our newsletter, it's free and you will never miss a cartoon!
The criminal, corrupt, and permanent DC swamp has run every trick play they have at Trump. From the false start of impeachments (one and two,) to the "Hail Mary" plays of indictments (one, two, three and four.) Those who are trying to run down Trump, such as Jack Smith, play dirty.
What is next, throwing more laundry at Trump as he executes his winning play on election day? I can hear Merrick Garland bleating, "Personal Foul…Unnecessary roughness! Trump is ejected from the game!"
GrrrGraphics is 100% funded by Patriots like YOU! Thank you for the support! Make a donation Today
We The People need to closely watch the game and somehow stop the D.C. Swampers from cheating and stealing the game. 
Meanwhile, on to Super Bowl 2024!
— Grrr Team
Follow @grrrgraphics on GAB, TRUTH SOCIAL, PARLER, INSTAGRAM, TELEGRAM 
or join us at The Garrison!
Editorial Cartoons Are A Major Part Of American Culture And A Focused Picture Of How People Are Reacting To The News Of The Day.
 Often they express a silent view of one or more parties or issues. Editorial cartoons are a form of nonverbal communication and are vital to American culture because they help shed light on issues that affect many American values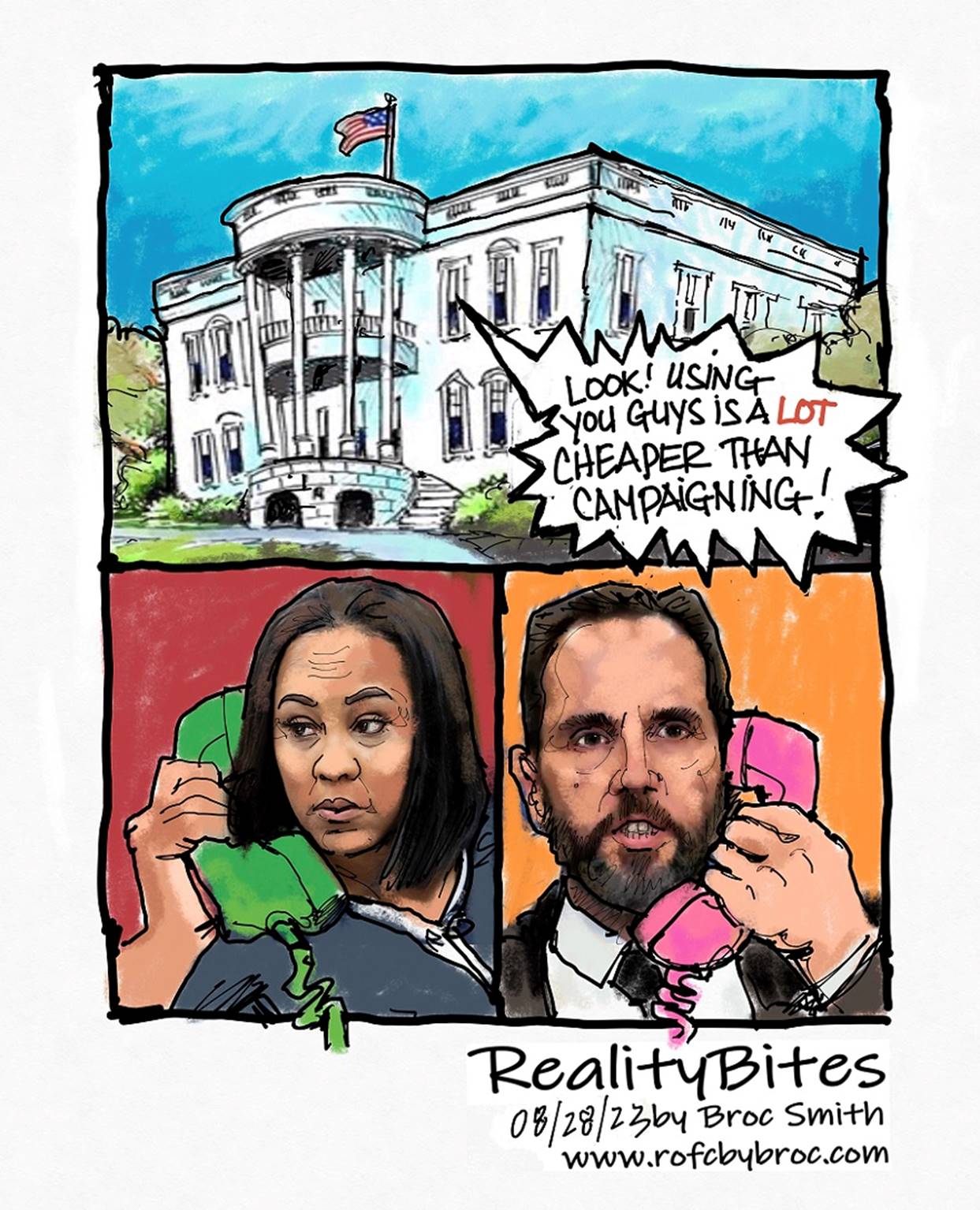 — TODAY'S CONSERVATIVE CARTOONS SLIDESHOW  —
This slideshow requires JavaScript.

HERE'S HOW MUCH WE OWE 
Visit USADebtClock.com to learn more!
The Whistleblower Newswire Is Your Official Publication of Record For The Conservative Agenda
The Blower believes we're still living during the most important period in American History for our non-stop crusade for Election Integrity and against Coordinated Leftist Insurrection and the Devolution of Our American Culture while Congress, the Deep State, and the Radical Media Establishment continue to lie to advance their Coordinated Leftist Agenda.
But first, we must see a Corleone  Political Reckoning on Election Integrity Along With Indictments And Perp Walks For Laws Broken During The Illegal 2020 Presidential Election, without which nothing else really matters.
Beloved Whistleblower Publisher Charles

Foster Kane Says The Conservative Agenda is watching to see if any progress is made during the next 427 days (at press time) before the 2024 elections