---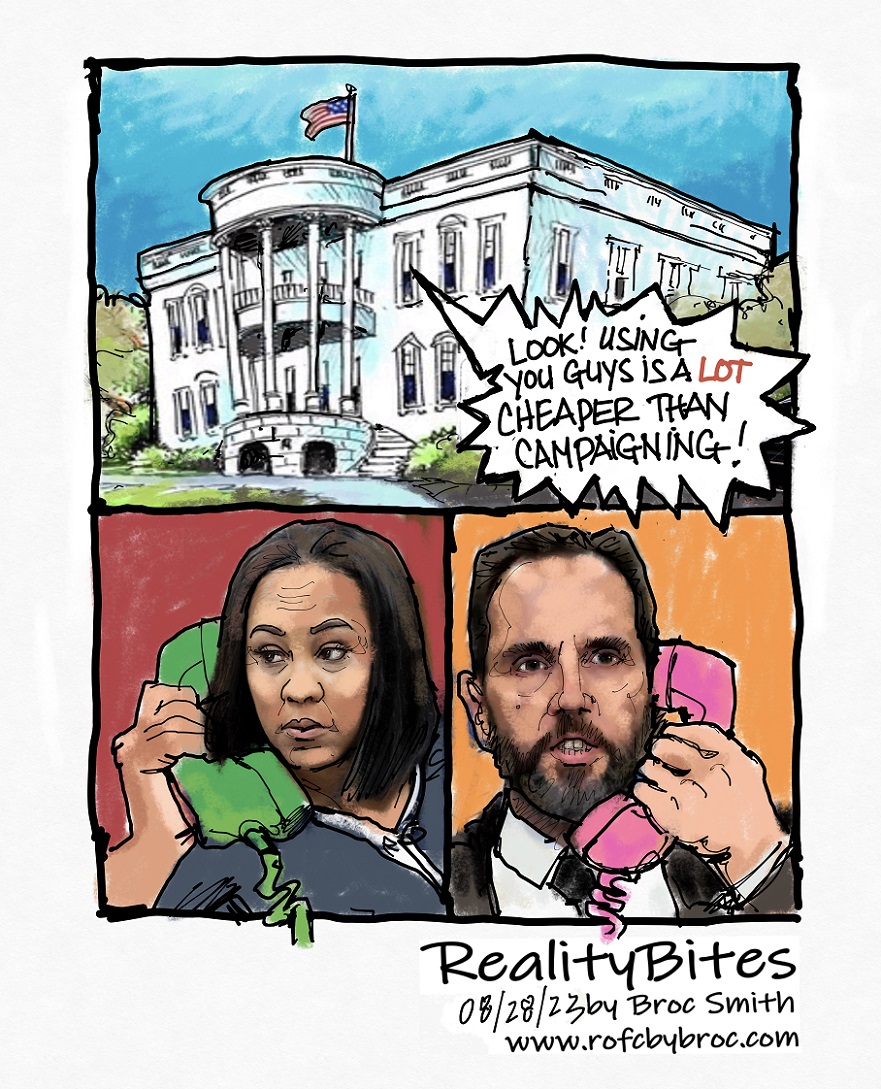 TODAY IS
THURSDAY, AUGUST 31, 2023
TRUMP'S NINE-HUNDRED-AND-FIFTY-THIRD DAY OUT-OF-OFFICE
AND A.F. BRACO SHOWS US HIS "DEMOCRACY DIES IN DARKNESS"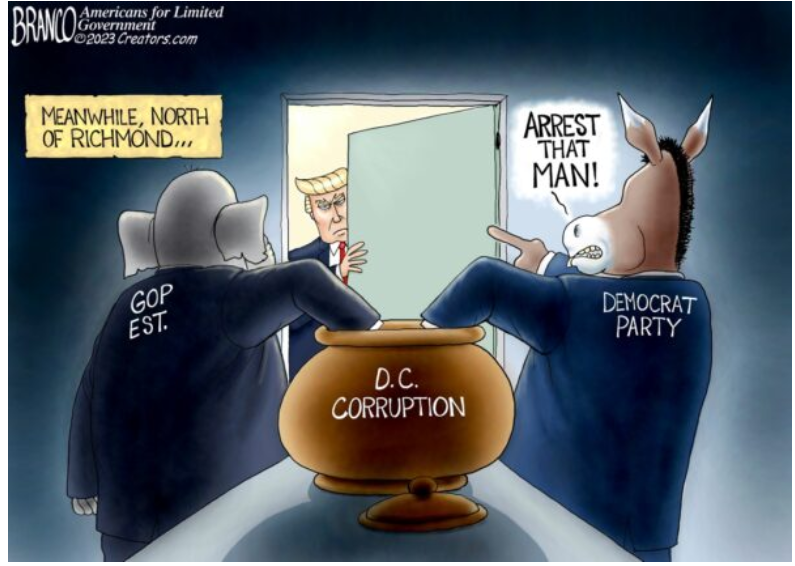 A.F. Branco has taken his two greatest passions, (art and politics) and translated them into cartoons that have been popular all over the country, in various news outlets including NewsMax, Fox News, MSNBC, CBS, ABC, and "The Washington Post." He has been recognized by such personalities as Rep. Devin Nunes, Dinesh D'Souza, James Woods, Chris Salcedo, Sarah Palin, Larry Elder, Lars Larson, Rush Limbaugh, President Donald Trump, and Charles Foster Kane, Beloved Publisher Of The Whistleblower.
— TODAY'S BEST CONSERVATIVE AGENDA VIDEO —



COVIDs Big Comeback




MEANWHILE, BEN GARRISON SHOWS US HIS

"FREE SPEECH GETS X-ED OUT"

Now Here's The Best Damn Conservative E-ditorial On The Internet
Elon Musk bought Twitter (now "X") and promised free speech would soon be allowed back on the platform. We held out hope he would deliver. Our hopes were dashed. 
Elon 'talked the talk' and claimed he was a 'free speech absolutist, but we quickly realized he all talk. He did not 'walk the walk' and kowtowed to his advertisers and governments around the world.
Appointed X CEO by Musk, Linda Yaccarino now manages the day-to-day operations of X. She recently shed some light on the shadow banning operation at Twitter…er, X.
"If you're going to post something that is lawful but it's awful, you get labeled," Yaccarino said. "You get de-amplified, which means it cannot be shared, and it is certainly demonetized."
So much for freedom of speech on X.
Basically, you can tweet whatever you may like, but only you will see it. If it cannot be shared, what's the point of tweeting? On X, you are allowed to freely express your opinion, yet you are shadow banned and without reach to your followers. Such banning unfairly targets conservatives and Trump supporters. Our thoughts concerning the 2020 and 2024 elections, vaccines, and big government, get stifled.
Despite the name change and a new CEO, X is still controlling, throttling, and blocking free speech. The new boss is the same as the old boss. Even though Musk claims that he is for free speech he remains in favor of limited reach and controlled speech because he doesn't want to upset his advertisers. Otherwise he would not have appointed Yaccarino.
Keep Ben Drawing- Support his work with a small donation, click to donate!
Elon showed his true colors when influencers on X disagreed with his idea of removing the 'block' feature. Musk went on a blocking spree and blocked big name influencers such as @RealJamesWoods and @Catturd2. Both accumulated millions of followers. Blocking is a necessary tool to prevent trolls and junk mail spam, but apparently Musk wanted everyone to be subjected to his ads. Musk got huffy and blocked prominent conservatives from his messages as he smugly tweeted, "Pretty fun blocking people who complain that blocking is going away. How does the medicine taste?"
The response you get from X if you're a liberal and want to keep the block feature … vs … the response you get from X if you're a conservative and say the exact same thing. pic.twitter.com/wE2jShkJal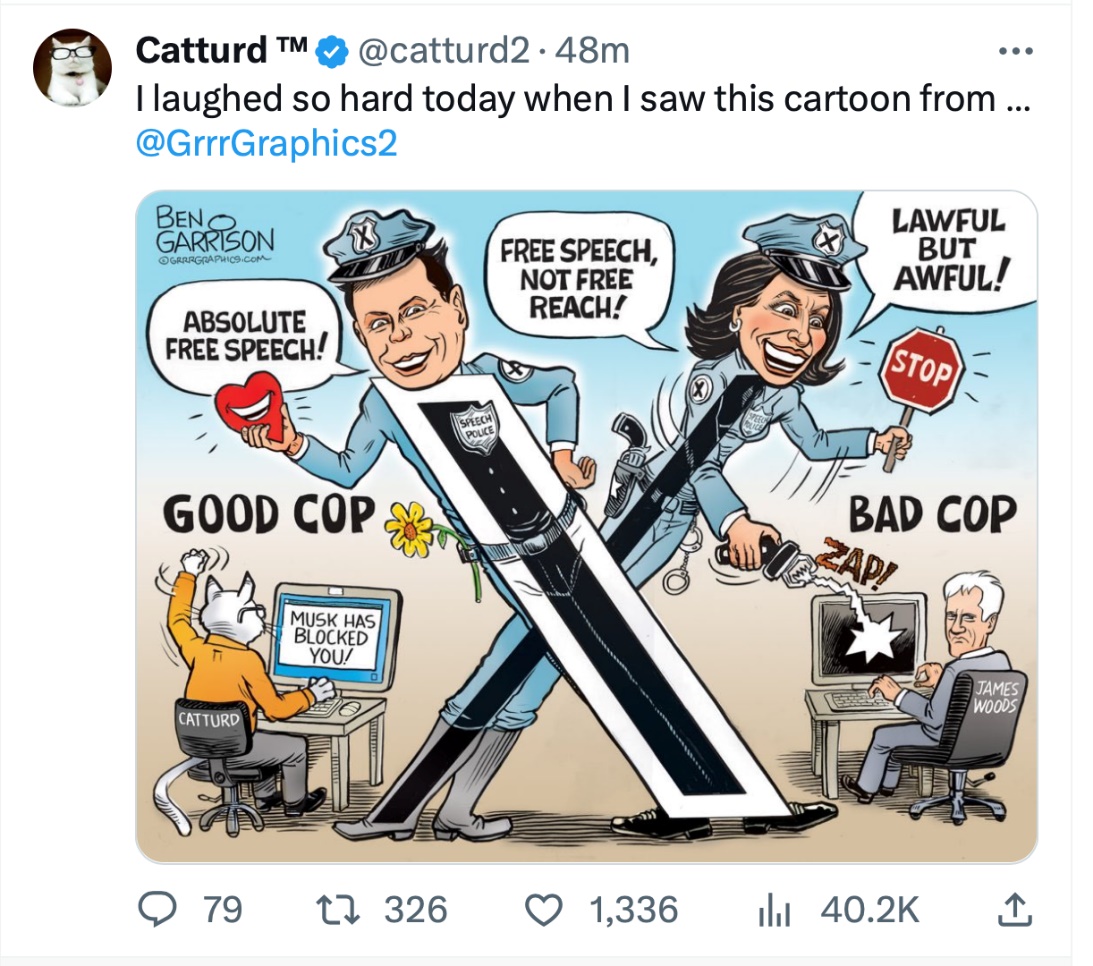 — Catturd ™ (@catturd2) August 21, 2023
X looks like it is going toward the "pay to play" method where your opinions will only reach your followers if you opt into paying Musk $8 bucks a month for twitter blue. Even then your tweets can be de-amplified, which means little to no reach. Nice gig you got going there, Elon.
We're concerned that such censorship will worsen as the 2024 election approaches. Will they ban memes next? Musk refused to reinstate our original @grrrgraphics account (it had a large audience). Will they soon ban our new X account, @grrrgraphics2?
Stay tooned. 
— Grrr Team
Follow @grrrgraphics on GAB, TRUTH SOCIAL, PARLER, INSTAGRAM, TELEGRAM 
or join us at The Garrison!
Editorial Cartoons Are A Major Part Of American Culture And A Focused Picture Of How People Are Reacting To The News Of The Day.
 Often they express a silent view of one or more parties or issues. Editorial cartoons are a form of nonverbal communication and are vital to American culture because they help shed light on issues that affect many American values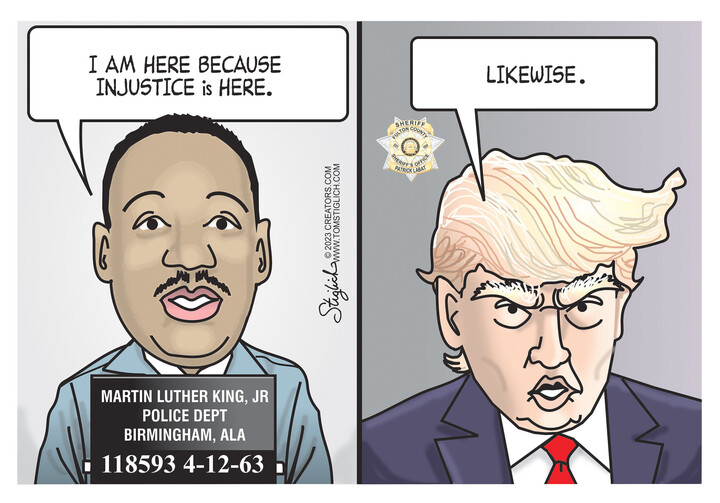 — TODAY'S CONSERVATIVE CARTOONS SLIDESHOW  —
This slideshow requires JavaScript.

HERE'S HOW MUCH WE OWE 
Visit USADebtClock.com to learn more!
The Whistleblower Newswire Is Your Official Publication of Record For The Conservative Agenda
The Blower believes we're still living during the most important period in American History for our non-stop crusade for Election Integrity and against Coordinated Leftist Insurrection and the Devolution of Our American Culture while Congress, the Deep State, and the Radical Media Establishment continue to lie to advance their Coordinated Leftist Agenda.
But first, we must see a Corleone  Political Reckoning on Election Integrity Along With Indictments And Perp Walks For Laws Broken During The Illegal 2020 Presidential Election, without which nothing else really matters.
Beloved Whistleblower Publisher Charles

Foster Kane Says The Conservative Agenda is watching to see if any progress is made during the next 431 days (at press time) before the 2024 elections