---
TODAY IS
WEDNESDAY, JULY 05, 2023
TRUMP'S EIGHT-HUNDRED-AND-NINETY-SIXTH DAY OUT-OF-OFFICE
………..AND A.F. BRACO SHOWS US HIS "HAPPY DEPENDS DAY"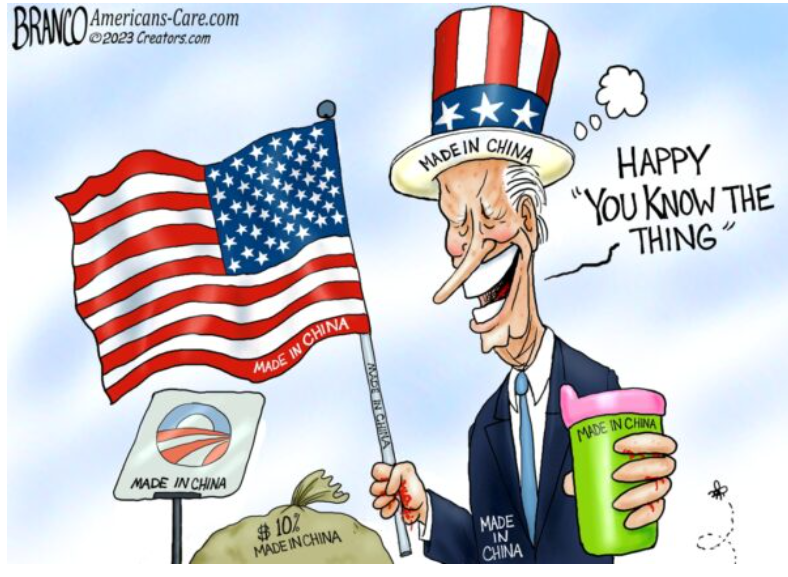 A.F. Branco has taken his two greatest passions, (art and politics) and translated them into cartoons that have been popular all over the country, in various news outlets including NewsMax, Fox News, MSNBC, CBS, ABC, and "The Washington Post." He has been recognized by such personalities as Rep. Devin Nunes, Dinesh D'Souza, James Woods, Chris Salcedo, Sarah Palin, Larry Elder, Lars Larson, Rush Limbaugh, President Donald Trump, and Charles Foster Kane, Beloved Publisher Of The Whistleblower.
— TODAY'S BEST CONSERVATIVE AGENDA VIDEO —
THE PRIDE MONTH THAT WASN'T
MEANWHILE, BEN GARRISON SHOWS US HIS

"

HAPPY 247TH BIRTHDAY, AMERICA!

"
Now Here's The Best Damn Conservative E-ditorial On The Internet
Let us celebrate a very special Independence Day this year with all of our friends and family gathered together.
We are here today because of the foresight and wisdom of our Founding Fathers. The great American experiment starts its 248th year. It will be historic—we will have either have a republic or a communist police state at the end.
We need to keep our Republic. The tyrants will not win. The people are growing more and more awake (not woke).
We want to wish you a very Happy Independence Day from all of us at GrrrGraphics!
LET FREEDOM RING!
— The GrrrTeam
Follow @grrrgraphics on GAB, TRUTH SOCIAL, PARLER, INSTAGRAM, TELEGRAM 
or join us at The Garrison!
Editorial Cartoons Are A Major Part Of American Culture And A Focused Picture Of How People Are Reacting To The News Of The Day.
 Often they express a silent view of one or more parties or issues. Editorial cartoons are a form of nonverbal communication and are vital to American culture because they help shed light on issues that affect many American values
— TODAY'S CONSERVATIVE CARTOONS SLIDESHOW  —
This slideshow requires JavaScript.
— MAKE AMERICA GREAT UPDATE —

The Whistleblower Newswire Is Your Official Publication of Record For The Conservative Agenda
The Blower believes we're still living during the most important period in American History for our non-stop crusade for Election Integrity and against Coordinated Leftist Insurrection and the Devolution of Our American Culture while Congress, the Deep State, and the Radical Media Establishment continue to lie to advance their Coordinated Leftist Agenda.
But first, we must see a Corleone  Political Reckoning on Election Integrity Along With Indictments And Perp Walks For Laws Broken During The Illegal 2020 Presidential Election, without which nothing else really matters.
Beloved Whistleblower Publisher Charles

Foster Kane Says The Conservative Agenda is watching to see if any progress is made during the next 489 days (at press time) before the 2024 elections