TODAY IS
MONDAY, FEBRUARY 13, 2023
TRUMP'S SEVEN-HUNDRED-AND-FIFTY-FOURTH DAY OUT-OF-OFFICE
AND WE STILL HAVEN'T SEEN BILLBOARDS ABOUT STATE REP-TILE TRAITORS BEING CENSURED BY REAL OHIO REPUBLICAN COUNTY PARTIES, EXCEPT HAMILTON.
Your Official Publication of Record For The Conservative Agenda
Tonight's Top News Stories You Won't See On The Front Page Of The Fishwrap
Ohio's Eighth District Republican Congressman Warren Davidson says
President Biden's State of the Union
On Tuesday, President Biden fulfilled his constitutional requirement to "give Congress information on the state of the union." It was a sad night. President Biden blatantly lied about Republican attempts to cut Social Security. President Biden knows there is no Republican plan to cut Social Security, but he decided to scare seniors anyway. Republicans rightly rebuffed President Biden's lies.
In a misleading statement, President Biden said he cut the deficit by $1.7 trillion. In reality, he added $1.4 trillion to the national debt and continues to advocate for spending that would bankrupt our country. President Biden won't solve Americans' problems, but he should at least be honest about them.
The highlight for me was seeing my friend Sergeant Major Douglas Greenway. He served 28 years in the 75th Ranger Regiment and was First Sergeant of HHC/75th when I served as company Executive Officer. There are no finer Americans. Rangers Lead The Way!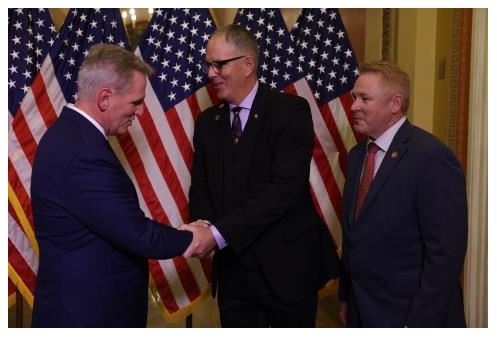 Bird Colonel/ Podiatrist Ohio Second District Republican Congressman "Bronze Star Brad" Wenstrup says,
After two years in office, President Biden addressed Congress and the nation this week. His view of the past two years simply does not match the experience of so many Americans.
The people of southern Ohio, like all Americans, are concerned about their cost of living going way up, government borrowing and overspending, deaths by illicit drugs, the illegal human invasions across our border, our weakened military, and an emboldened, adversarial China. All of these concerns are directly related to President Biden's policies, actions, and in some cases, inactions.
For starters, more Americans than ever believe they are worse off financially than they were before Joe Biden became President. Real wages have seen negative growth for 21 straight months, and families are feeling the pressure as the cost of living has exceeded any raises they may get. Although congressional Democrats are fresh off a multi-trillion dollar spending spree, the President's only answer is to spend more money, money that is often subject to fraud.
As for our national security, President Biden failed to acknowledge his disastrous withdrawal from Afghanistan, leaving American citizens and our Afghan partners behind enemy lines for months and billions of dollars' worth of military equipment in the hands of the Taliban. The military is falling short on its recruiting as the administration continues to practice woke politics, all the while expelling healthy, patriotic troops because of their vaccine status.
The United States needs to project strength to the world, yet Biden allowed a Chinese spy balloon to fly over the country and sensitive military sites for days. Mr. Biden's embarrassing lack of action in the face of China's threats signals weakness to Russia, Iran and other adversaries, while also emboldening them.
We are a strong nation with incredible fortitude and resolve when led with strength and character. Our Republican majority will continue to push policies that create a pro-growth, higher wage, robust economy, promote fiscal sanity, secure independent energy sanity, establish trusted medical sanity, support a defense that deters aggression and provides peace through strength, and provide more certainty for all Americans
In your service,
Brad
Meanwhile, Pelosi's Boy Toy talked to the National Desk at WGXA in Georgia about his first term in Congress in his unstinting efforts to communicate effectively with voters in Greater Cincinnati's First Congressional District.  
Meanwhile, Howard Wilkinson has a not-poorly written update on the Current Crisis at Hamilton County GOP Headquarters.
Our Good Friend Howard would be The Blower's pick for he best political reporter in Hamilton County History if Bob Weston hadn't written that front-page Enquirer Exclusive about how Beloved Publisher Charles Foster Kane exposed then-GOP Hamilton County Commissioner Norman Murdock for operating an illegal Republican group out of the courthouse.
Howard Wilkinson joined the WVXU News Team after 30 years of covering local and state politics for The Cincinnati Enquirer. A native of Dayton, Ohio, Wilkinson has covered every Ohio governor's race since 1974 as well as 12 presidential nominating conventions. His streak continued by covering both the 2012 Republican and Democratic conventions for 91.7 WVXU. Along with politics, Wilkinson also covered the 2001 Cincinnati race riots; the Lucasville Prison riot in 1993; the Air Canada plane crash at the Cincinnati/Northern Kentucky International Airport in 1983; and the 1997 Ohio River flooding. The Cincinnati Reds are his passion. "I've been listening to WVXU and public radio for many years, and I couldn't be more pleased at the opportunity to be part of it," he says.
See stories by Howard Wilkinson
The Whistleblower Newswire Is Your Official Publication of Record For The Conservative Agenda
The Blower believes we're still living during the most important period in American History for our non-stop crusade for Election Integrity and against Coordinated Leftist Insurrection and the Devolution of Our American Culture while Congress, the Deep State, and the Radical Media Establishment continue to lie to advance their Coordinated Leftist Agenda.
But first, we must see a Corleone  Political Reckoning on Election Integrity Along With Indictments And Perp Walks For Laws Broken During The Illegal 2020 Presidential Election and 2022 Mid-Term Elections, without which nothing else really matters.
Beloved Whistleblower Publisher Charles

Foster Kane Says The Conservative Agenda is watching to see if any progress is made during the next 631 days before the 2024 elections.