LISA BENSON SHOWS US "TAKING OUT THE TRASH"
TODAY IS
THURSDAY, JULY 07, 2022
TRUMP'S FIVE-HUNDRED-AND-THIRTY-THIRD DAY OUT-OF-OFFICE
AND HERE'S A. F. BRANCO'S "PROMISES KEPT"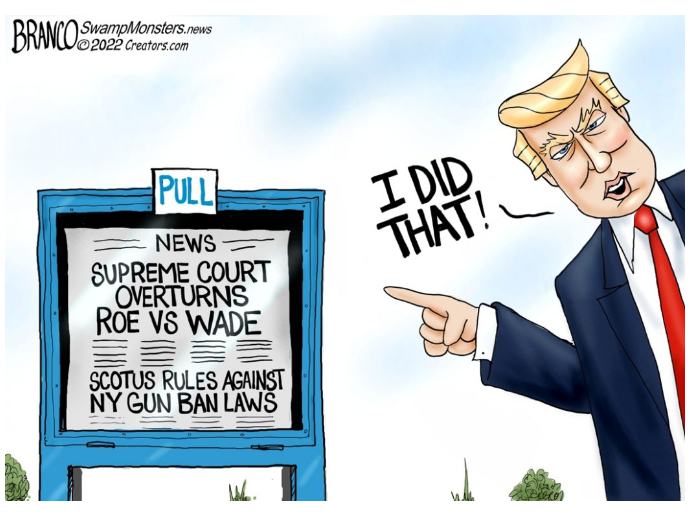 — TODAY'S CONSERVATIVE AGENDA VIDEO —
HOW TO FIX THE WORKER SHORTAGE

MEANWHILE, BEN GARRISON SHOWS US "Snip, snip here, snip, snip there and a couple of tra-la-las…"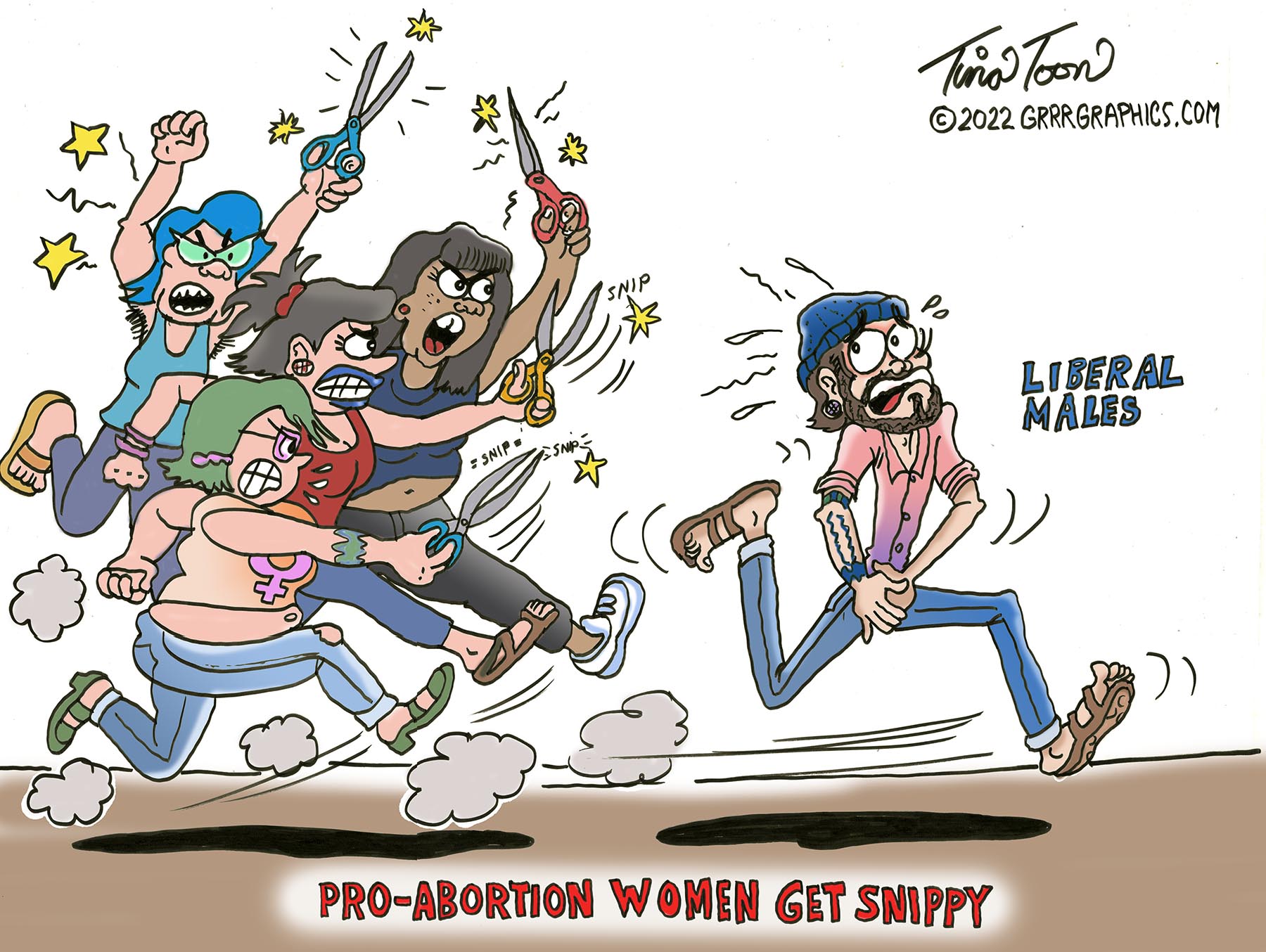 The "ladies" are angry. Radical left "people with a uterus" are upset that they can't get their abortions on demand.
The "ladies" want the "people with penises" to help with their inability to keep their legs closed by getting vasectomies.
This shows that "rare and safe" abortions were actually used as birth control all along. There are many options available for birth control today, which if used properly would prevent the need for a life taking abortion.
As the left's "ladies" roar and reeee into the night about the loss of their abortion "rights," when will they finally realize that it's up to the states whether abortion is legal? If the "ladies" live in a blue state such as California or New York, they can get their abortion up to the moment of birth on demand. If they live in a red state that has banned abortion, they can travel to blue states for a vacation of baby murder. Roe vs. Wade had a weak foundation and it was finally sent back to the states to decide on if it should be legal or not.
This was the correct decision.
What will the future hold?
If the radical left "ladies" continue to abort their offspring and the radical left "men" comply with the requests to get themselves "neutered" the future could be very bright indeed.
Editorial Cartoons Are A Major Part Of American Culture And A Focused Picture Of How People Are Reacting To The News Of The Day.
Often they express a silent view of one or more parties or issues. Editorial cartoons are a form of nonverbal communication and are vital to American culture because they help shed light on issues that affect many American values.
— TODAY'S CONSERVATIVE CARTOONS SLIDESHOW  —
This slideshow requires JavaScript.
THE US NATIONAL DEBT
— MAKE AMERICA GREAT UPDATE —
DAY FOUR DRIVING TO TRUMP'S SAVE AMERICA RALLY IN ANCHORAGE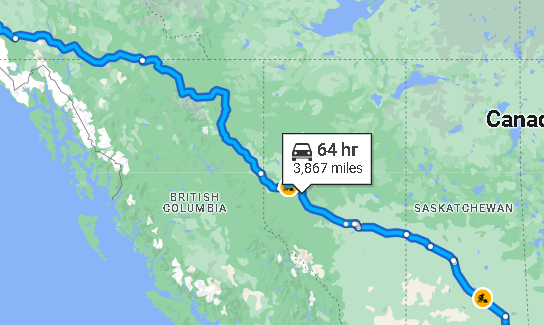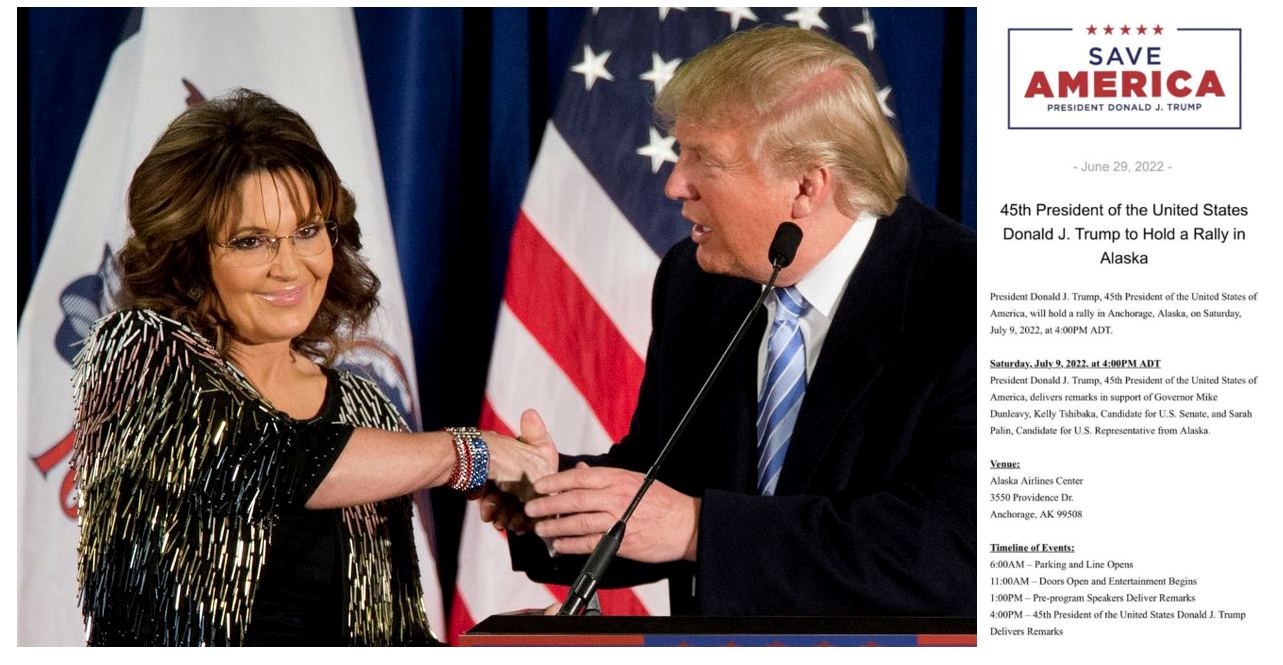 GET TICKETS HERE
The Whistleblower Newswire Is Your Official Publication of Record For The Conservative Agenda
The Blower believes we're still living during the most important period in American History for our non-stop crusade for Election Integrity and against Coordinated Leftist Insurrection and the Devolution of Our American Culture while Congress, the Deep State, and the Radical Media Establishment continue to lie to advance their Coordinated Leftist Agenda.
But first, we must see a Corleone  Political Reckoning on Election Integrity Along With Indictments And Perp Walks For Laws Broken During The Illegal 2020 Presidential Election, without which nothing else really matters.
Beloved Whistleblower Publisher Charles

Foster Kane Says The Conservative Agenda is watching to see if any progress is made during the 124 DAYS BEFORE THIS YEAR'S MID-TERM ELECTIONS ON NOVEMBER 08 unless they're postponed.