TODAY IS
WEDNESDAY, AUGUST 25, 2021
TRUMP'S TWO-HUNDRED-AND-SEVENTEENTH DAY OUT-OF-OFFICE
AND WE'RE BEGINNING NOT TO BELIEVE IN COINCIDENCES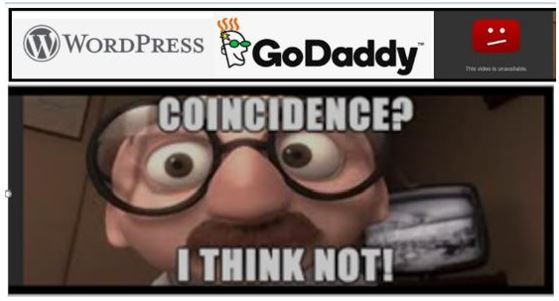 HERE'S WHAT HAPPENED
FRIDAY AT 10 PM, OUR WORDPRESS PROGRAM STOPPED LETTING THE BLOWER UPLOAD DATA AFTER WE POSTED OUR TRUMP RALLY VIDEO FOR TRUMPSTERS TO WATCH ON SATURDAY.
SATURDAY MORNING, GODADDY SAID THEY'D FIX THE PROBLEM WITHIN 72 HOURS, AND THEY CHARGED US MONEY.
SATURDAY NIGHT AFTER THE TRUMP RALLY WE REMOVED THE TRUMP RALLY VIDEO AFTER IT BECAME "UNAVAILABLE."
AND SURPRISINGLY, THE WORDPRESS PROGRAM SUDDENLY BEGAN UPLOADING DATA, ALTHOUGH WE'D NOT YET HEARD FROM GODADDY THAT THE PROBLEM HAD BEEN FIXED.
DOES ANYBODY THINK THAT'S PROBABLY JUST A COINCIDENCE BECAUSE THE BLOWER WAS SHOWING A TRUMP RALLY VIDEO?