TODAY IS

FRIDAY, AUGUST 07, 2020
TRUMP'S 1295th DAY IN OFFICE
WITH STILL NONE OF OBAMA'S POLITICAL PERPS IN THE SLAMMER
At At today's virtual meeting of the Conservative Agenda, Political Insiders were asking Beloved Whistleblower Publisher Charles Foster Kane to comment on The Blower's approval by the Presidential Historical Society for 2016 Elections Research because 2016 & 2017 Trump chronicles were a political precursor for Trump's inept impeachment in 2019 and The Blower's breaking news coverage of events in 2020.
For the past two weeks, we have all agreed Trump has had every right to be enraged that four years after Barack Obama's top henchmen concocted and executed the biggest political scandal of all time, not one person has been held criminally responsible while trials against his associates drag on.
That's why every night, The Blower's TRUMP CHRONICLES: 2016 Campaign highlights our news coverage on that date four years ago during Trump's 2016 Primary Campaign we also see how many unfinished events should've been taken care of years ago. For example, TONIGHT'S TOP TRUMP CHRONICLES: 2016 stories were here:
Your Official Publication of Record For The Conservative Agenda
FRIDAY, AUGUST 12, 2016
Tonight's Really Big Story
GUCCIFER 2.0 LEAKS DOCUMENTS FROM NANCY PELOSI'S PERSONAL COMPUTER!
The story made the Drudge headline
FIVE MORE WE DON'T PAY RANSOM STORIES WE'RE TRACKING TONIGHT INCLUDE
#1 TRUMP CAMPAIGN ON RELEASE OF HILLARY'S TAXES: SHE'S RELEASED "THE ONLY RECORDS NO ONE WANTS TO SEE"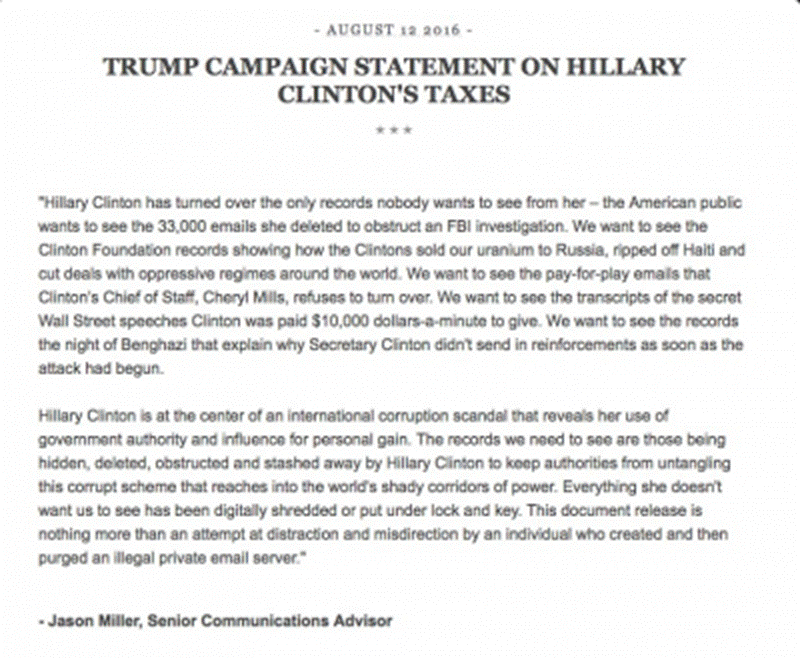 #2 96% OF HILLARY'S CHARITABLE DONATIONS IN 2015 WENT TO CLINTON FAMILY FOUNDATION

#3 Why are Donald Trump's signs being stolen?

#4 Ben Carson: Don't buy the crap the media puts out there

#5 RAND PAUL: HILLARY COMMITTED A FELONY IN LYING TO CONGRESS ABOUT ARMS SHIPMENTS FROM BENGHAZI TO SYRIA

ANDY FURBALL'S SPOILED SPORTS
NFL Rejects Cowboys Police Tribute
Won't Allow Dallas Cowboys to Wear Pro-Police Helmet Decal

TONIGHT'S WHISTLEBLOWER POLL
Tonight, here's why the first 17,648 Whistleblower Readers Poll respondents said Federal Judge Michael Barrett sided with Planned Parenthood:
(A) Wanted to party more with Mr. and Mrs. $tan Chesley: 2%
(B) Didn't think anybody would remember he used to be Hamilton County Republican Chairman: 1%
(C) His Liberal Anchorbabe Wife talked him into it: 1%
(D) Didn't imagine anybody would ever find out about it: 96%
Note: Everything we write doesn't have to be so damn cynical and mean-spirited, it's just so much more fun that way!

OLYMPIC UPDATE
Olympians officially terrified of green 'fart-smelling' water

GREETINGS FROM RADICAL ISLAM
"Moderate" Islamic Indonesia Says There Is "No Room" In Their Country For An LGBT Movement

BLACK LIES MATTER

TONIGHT'S "LIBERAL LIAR" AWARD WINNER

MORE STUPID PC CRAP
State Department Spending $396,000 For Climate Change Competition in Morocco…
'Inclusive' contest will award funding for green energy ideas in North Africa

TONIGHT'S HILL-ARITY
Hillary Falsely Claims Chelsea Has PhD in Public Health

MEDIA MENDACITY
The Blower believes the next 88 days will be the most important period in American History for our non-stop campaign against Political Correctness, the Devolution of American Culture, and the Liberal News Media. Congress and Kneepad Liberals in the Press will continue to lie and say really stupid things without a smidgen of journalistic integrity to advance to Liberal Agenda

Political Poster Of The Day
(Sent In By Subscribers Like You)

PLUS, THESE TWO NEW VIDEOS:
Here's proof that some Liberal Celebrities have actually read the Declaration of Independence. Without this proof, it would be safe to assume they hadn't, by how they never miss a chance to criticize the Founding Fathers and this great country.

Plus

Today's Earlier Editions
And that's the way it was today on the 168th Day until January 20, 2017 when the Next President can only begin to Undo all the damage Obama has done.
*1,187 Until "Dee-Day" If You Live In Anderson Township
More News Later (Or Most Likely Tomorrow Morning) From The Whistleblower Newsroom