TODAY IS
MONDAY, APRIL 17, 2023


TRUMP'S EIGHT-HUNDRED-AND-SEVENTEENTH DAY OUT-OF-OFFICE


AND DISHONEST D-RAT VOTER FRAUD 2023 PIS WELL UNDERWAY
Three Quick Fixes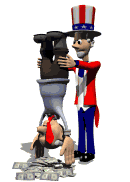 Dishonest D-RATS and Obama and Biden* Supporters in the Press may still be blaming Donald Trump for everything that's ever gone wrong in America since the Battle of Bunker Hill, but TAX DAY actually falls on April 18 this year, giving you three extra days to prepare your annual fiduciary sacrifice to the Internal Revenue Service.

No withholding. No phony refunds. If folks had to write really big checks on TAX DAY, they'd actually know how much they're paying.

Until we have a simple flat tax without all that paperwork, over-paid Congressmen should be forced to fill out every one of their constituents' tax forms for free.

Hold EVERY election on TAX DAY!
         We wonder if Republican Congressmen Steve Chabothead, "Bronze Star Brad," Mike Turner, Thomas Massie, or any of those Latter-Day Anti-Taxers you may have heard speaking several years ago at the Cincinnati TEA Party's big Tax Day Rally on Fountain Square could have ever come up with something as simple as The Blower's Three Quick Fixes. If they did, what a wonderful world it would be.