---
THIS E-DITION IS FOR
SATURDAY, JULY 29, 2023
TRUMP'S NINE-HUNDRED-AND-TWENTIETH DAY OUT-OF-OFFICE
………..AND A.F. BRACO SHOWS US HIS "ART OF THE SCAM"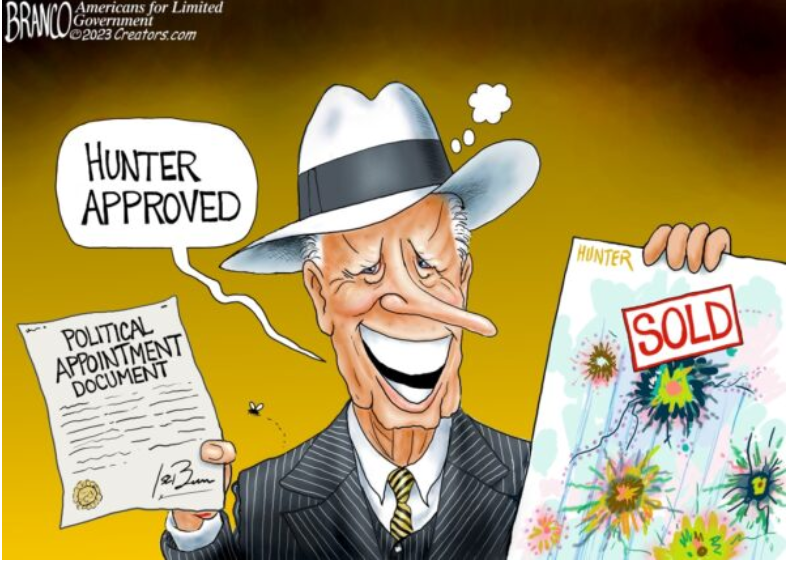 A.F. Branco has taken his two greatest passions, (art and politics) and translated them into cartoons that have been popular all over the country, in various news outlets including NewsMax, Fox News, MSNBC, CBS, ABC, and "The Washington Post." He has been recognized by such personalities as Rep. Devin Nunes, Dinesh D'Souza, James Woods, Chris Salcedo, Sarah Palin, Larry Elder, Lars Larson, Rush Limbaugh, President Donald Trump, and Charles Foster Kane, Beloved Publisher Of The Whistleblower.
— TODAY'S BEST CONSERVATIVE AGENDA VIDEO —
The Iron Law of Woke Projection
MEANWHILE, BEN GARRISON SHOWS US HIS

"

JOE BIDEN'S WEATHER FORECAST, 'IT'S RAINING YEN'

"
Now Here's The Best Damn Conservative E-ditorial On The Internet
Devon Archer, Hunter Biden's former business partner, testified before the House Oversight Committee on Monday. He said Joe Biden was put on the speakerphone 20 times during Hunter's business dinners and conferences with foreign nationals. Hunter's clients were anxious to gain influence over his father. One of the calls occurred during a meeting with a Chinese private equity firm. 
Let's stay in touch! Sign Up for Our GrrrNewsletter today! 
Dan Goldman, a New York representative and Democrat, had the audacity to say the calls were probably benign. He claimed Joe was no doubt discussing family matters or the weather. (During Hunter's business meetings?) At worst, Goldman suggested Hunter was merely using his dad as a lure to create the illusion that his clients could have access to his dad—for a price.
Hunter was and is an incompetent drug fiend—and yet he was closing deals from which he made millions of dollars that were then laundered through a dozen or so shell companies owned by the Bidens. There's no way an incompetent such as Hunter would have been appointed to the board of the Ukrainian energy company Burisma if he was not connected to a powerful brand name—his father.
If Joe Biden had any ethics at all, he would have refused to engage with people during Hunter's conference calls. Maybe he felt he was helping his beloved son, who he claims is the smartest man he knows. More likely Joe was fully engaged in the pay-for-play schemes and even arranged for his son to meet powerful entities in various countries. Money trails have already been confirmed and most in Joe's family have benefitted. Joe also bragged about extorting Ukraine outright in order to get a prosecutor who was investigating Hunter and Burisma to back off. Joe threatened to withhold a billion dollars in US aid until the prosecutor was fired. Biden shamelessly and gleefully bragged that his extortion was a success.
The Biden family are lying grifters and corrupt to the core, but the Democrats still ignore or cover up their crimes. When the heat that was on Joe Biden became too intense they even trotted out testimony about UFOs and alien bodies. Look for such distractions to increase as the walls close in on the Bidens.
— Ben Garrison
Follow @grrrgraphics on GAB, TRUTH SOCIAL, PARLER, INSTAGRAM, TELEGRAM 
or join us at The Garrison!
Editorial Cartoons Are A Major Part Of American Culture And A Focused Picture Of How People Are Reacting To The News Of The Day.
 Often they express a silent view of one or more parties or issues. Editorial cartoons are a form of nonverbal communication and are vital to American culture because they help shed light on issues that affect many American values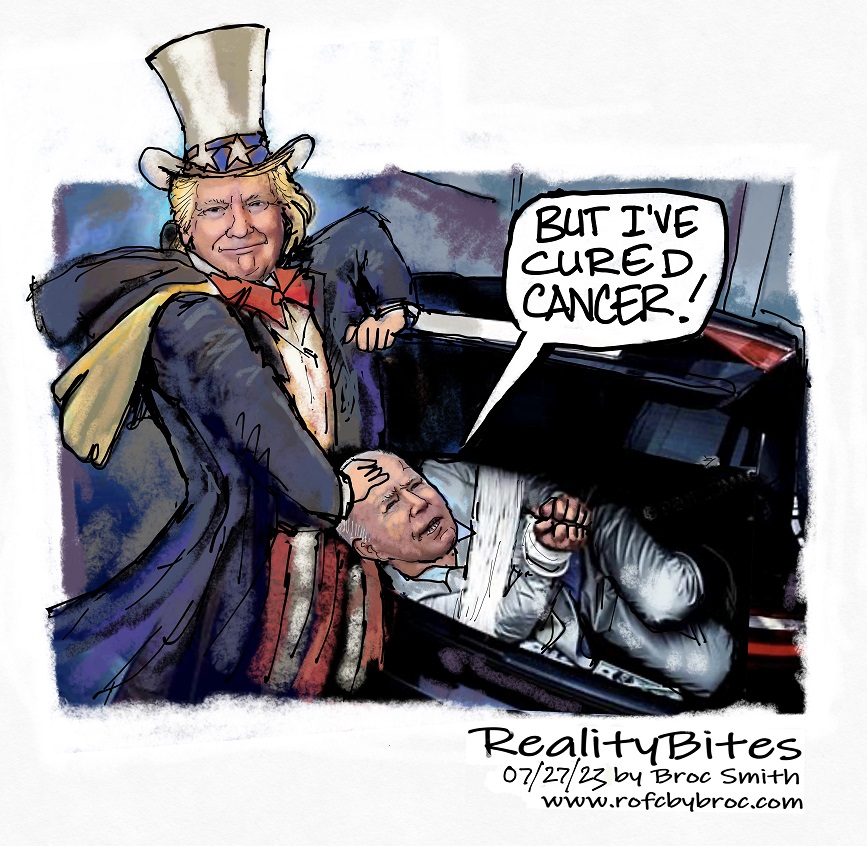 — TODAY'S CONSERVATIVE CARTOONS SLIDESHOW  —
This slideshow requires JavaScript.
HERE'S HOW MUCH WE OWE
Visit USADebtClock.com to learn more!
The Whistleblower Newswire Is Your Official Publication of Record For The Conservative Agenda
The Blower believes we're still living during the most important period in American History for our non-stop crusade for Election Integrity and against Coordinated Leftist Insurrection and the Devolution of Our American Culture while Congress, the Deep State, and the Radical Media Establishment continue to lie to advance their Coordinated Leftist Agenda.
But first, we must see a Corleone  Political Reckoning on Election Integrity Along With Indictments And Perp Walks For Laws Broken During The Illegal 2020 Presidential Election, without which nothing else really matters.
Beloved Whistleblower Publisher Charles

Foster Kane Says The Conservative Agenda is watching to see if any progress is made during the next 460 days (at press time) before the 2024 elections