TODAY IS
MONDAY, JULY 03, 2023
TRUMP'S EIGHT-HUNDRED AND NINETY-FOURTH DAY OUT-OF-OFFICE
AND AND OUR UNKNOWN FOREST HILLS SCHOOL BOARD CANDIDATE WONDERS HOW MANY ANGRY ANDERSONIANS WILL BE WEARING THEIR REDSKINS T-SHIRTS AT THE PARADE TOMORROW.


At Tuesday's Holy Homophobic Islamophobic Redskins-Mascot-Loving Heterosexual Independence Day Parade on the Fourth of July in Anderson, only White, God-Fearing Hetero Citizens of Anderson will be permitted to march in the Patriotic Procession.
The Anderson Apocalypse will once again be taking part in the Anderson Township Independence Day Parade on the Fourth Of July on "PFC James Miller IV and Staff Sergeant Richard T. Pummill Memorial Highway tomorrow with our Angry Andersonian and the Four Horsemen in the lead.
Dueling Drill Teams From Anderson and Mt. Washington American Legion Posts will be rout-stepping the entire parade.
The Woke Forest Hills Board Of Education will be frog-marched behind after voting unanimously for that large and unnecessary tax hike for the poorly run Forest Hills School District.
Anderson's Treasured Trustee Emeritus Andrew S. Pappas' Iconic Pappas Mobile will be following War, Famine, Pestilence, and Death playing some appropriate patriotic music!

Since Bird Colonel/ Podiatrist/ Congressman "Bronze Star Brad" Westrup and his crew have been gerrymandered out of totally Blue Hamilton County, they will be marching in the Patriotic Real Republican Parade in Crimson Clermont County tomorrow.

But Republican Anderson Township Trustees Lexi Lausten and Josh Gerth will be waving to the crowd while their supporter passes out T-shirts, koozies, and crappy campaign literature.

And The Republicans For A Greater Cincinnati's Non-Partisan Float will also be in the Anderson Parade, after its appearance in Montgomery Parade.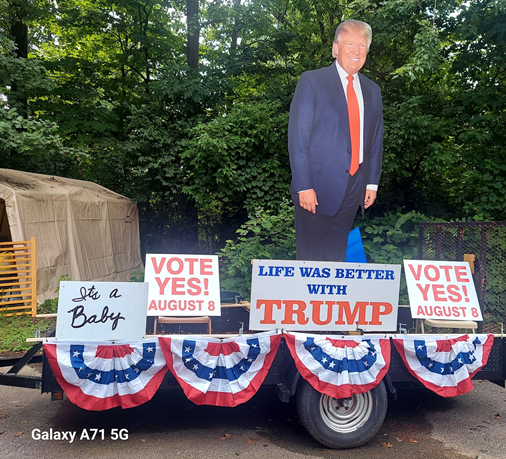 Meanwhile, there may even be a couple of actual Forest Hills School Board candidates walking behind the East Side Republicans carrying really big signs showing their names, so with a mere 126 more days till Election Day on November 07 tomorrow, we all might finally find out their identities.
Other members of the Anderson Apocalypse should contact the Special Events Department at Anderson Township to find out where you belong.

WARNING: FHSD STUDENTS MAY NOT BE ABLE TO READ THIS E-DITION BECAUSE OF ALL THE BIG WORDS