AND A.C. BRANCO SHOWS US: "OBJECTS MAY APPEAR LARGER"
The Mainstream media is overhyping Monkey Pox intentionally creating national panic.

TODAY IS
WEDNESDAY, JUNE 01, 2022
TRUMP'S FOUR-HUNDRED-AND-NINETY-SEVENTH DAY OUT-OF-OFFICE
AND LIBERAL COLLEGES REALLY NEED TO OFFER A COURSE IS REALITY
— TODAY'S CONSERVATIVE AGENDA VIDEO —
PELOSI DENIED COMMUNION, LEFTIES BECOME THEOLOGIANS

MEANWHILE, BEN GARRISON SHOWS "LEGISLATING UNDER THE INFLUENCE (LUI)"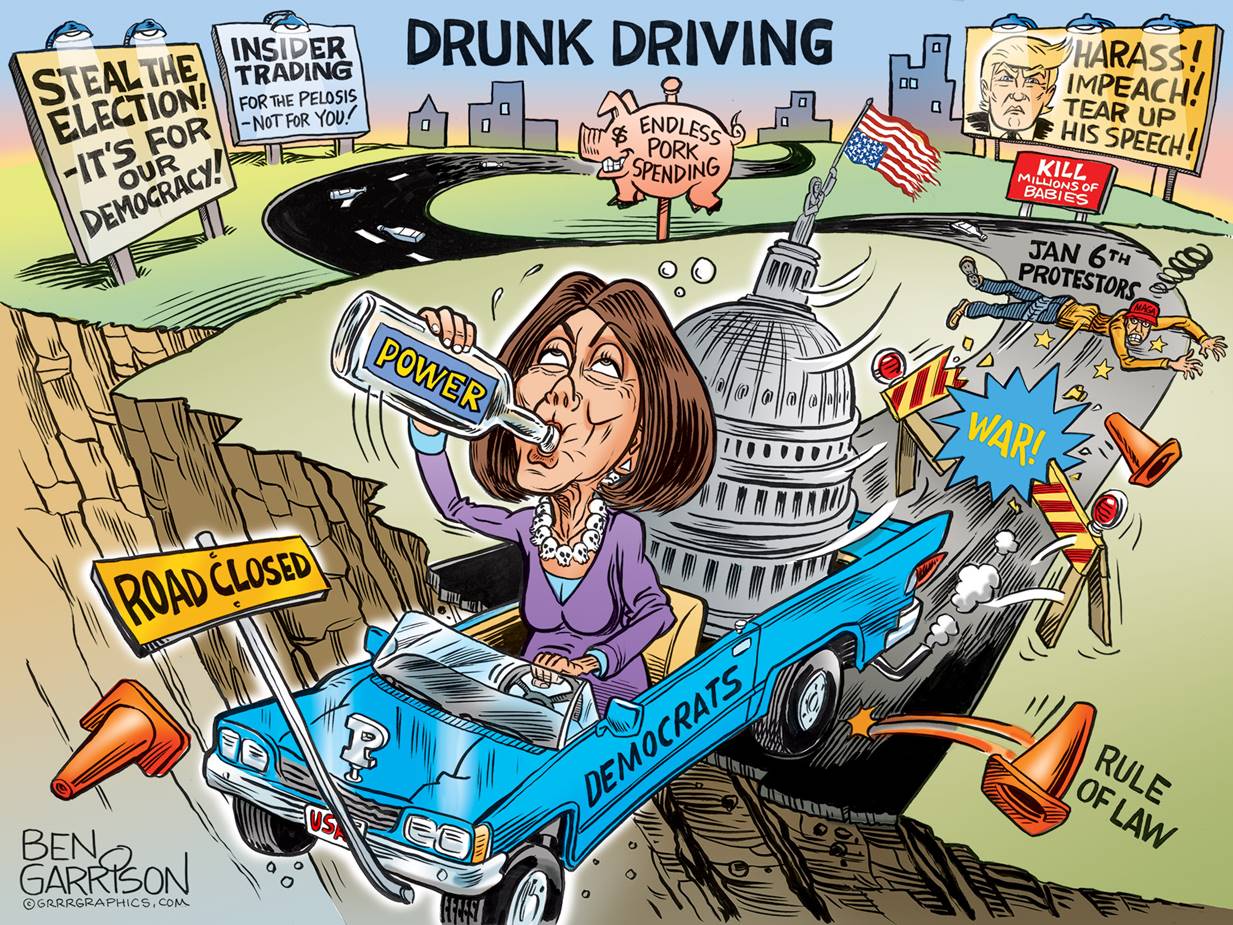 Nancy Pelosi's husband, Paul, was arrested for driving drunk over the holiday weekend. It's now known as driving under the influence (DUI).
Paul Pelosi is 82 years old. Why would he be driving around drunk well past midnight? Usually old folks have to give up excessive alcohol consumption due to health reasons. Besides, he's incredibly rich—why didn't he use a limousine and driver? I suspect he was up to no good.
I expect Pelosi's highly-paid lawyers will get his charges dropped. He is, after all, worth well over $120 million dollars.
We know the rich enjoy a different kind of justice system. Paul Pelosi Jr is their ne'er do well son who may get prosecuted for fraud. I expect the Pelosi's highly-paid lawyers will get the charges dropped. (Hunter Biden gets away with everything, too.) Democrats who hold leading positions in the swamp are immune from justice. They get protected by the FBI and corporate media.
Pelosi is also known for her power drinking. She has been busy drunkenly driving the country over a cliff. Both she and Sleepy Joe are drunk on power. Joe may not be a heavy drinker, but he may as well be judging from his speeches. I heard that Nancy even opened up a bar in the Capitol itself. Why not legislate while drunk? (LUI). Why not start new wars while under the influence? (WUI). Nancy is despicable and her days are numbered. Unless the Democrats steal the midterm elections, Nancy's reign as Speaker of The House will expire in January. It's too bad it can't occur sooner.
The only way the Democrats will be able to hold onto power is if Dementia Joe declares martial law. I can't see that happening without triggering another civil war. The Pelosi family has made a fortune from political office. Nancy enabled her husband to conduct insider trading. Pelosi is not ashamed of having leveraged her knowledge about legislation involving corporations. They used that insider knowledge to get fabulously rich. Anyone else would have been prosecuted, but Nancy has protected status since she's in Congress.
We need term limits. Nancy Pelosi is way over the limit.
— BEN GARRISON
Editorial Cartoons Are A Major Part Of American Culture And A Focused Picture Of How People Are Reacting To The News Of The Day.
Often they express a silent view of one or more parties or issues. Editorial cartoons are a form of nonverbal communication and are vital to American culture because they help shed light on issues that affect many American values.
— TODAY'S CONSERVATIVE CARTOONS SLIDESHOW  —
This slideshow requires JavaScript.
YOUR NATIONAL DEBT
NO SAVE AMERICA RALLIES SCHEDULED

The Whistleblower Newswire Is Your Official Publication of Record For The Conservative Agenda
The Blower believes we're still living during the most important period in American History for our non-stop crusade for Election Integrity and against Coordinated Leftist Insurrection and the Devolution of Our American Culture while Congress, the Deep State, and the Radical Media Establishment continue to lie to advance their Coordinated Leftist Agenda.
But first, we must see a Corleone  Political Reckoning on Election Integrity Along With Indictments And Perp Walks For Laws Broken During The Illegal 2020 Presidential Election, without which nothing else really matters.
Beloved Whistleblower Publisher Charles

Foster Kane Says The Conservative Agenda is watching to see if any progress is made during the 160 DAYS before this year's MID-TERM elections on NOVEMBER 08 unless they're postponed.