Your Official Publication of Record For The Conservative Agenda
WEDNESDAY, JUNE 13, 2018
Trump's 509th Day In Office
Tonight's Top Conservative News Stories You Won't See On The Front Page Of Tomorrow's Fishwrap
(Or On Channels 5, 9, 12, And 19, Either)
— Here's Tonight's Top Whistleblower News Scoop —
Trump Finally Agrees With The Blower
POTUS Declares A New 'Enemy Number One' for The United States
Fake News is "Our Country's Biggest Enemy"
Trump ramps up war with 'fake news' media as he calls CNN and NBC 'our country's biggest enemy' right after North Korea nuke summit 
—Tonight's Top Trump Tweet 
— TONIGHT'S SPYGATE UPDATE—
— TONIGHT'S BEN GARRISON MOMENT —
TO SEE MORE BEN GARRISON ILLUSTRATIONS, CLICK HERE
— TONIGHT'S PHOTO-SHOP EDITORIAL SPOOFS ON CURRENT EVENTS FROM EDWARD CROPPER —
 TO SEE MORE PHOTO SHOP EDITORIAL SPOOFS FROM EDWARD CROPPER, CLICK HERE
— Whistleblower NFL Super Bowl Boycott Countdown Continues —
HOW BAD IS THE D-RATS' CRIME WAVE IN CHICAGO?
CLICK HERE
— Anderson Redskins Uprising —
Biased News Media's Reaction To Last Night's Decision NOT To Change The Name Of The Anderson Redskins Mascot That Would Cost $500,000 The Forest Hills School Doesn't Have Just Because A Few Lunatic Liberal Non-Residents Claimed To Be Really Offended
 Anderson Keeps Keeps
Racist Redskins Team Name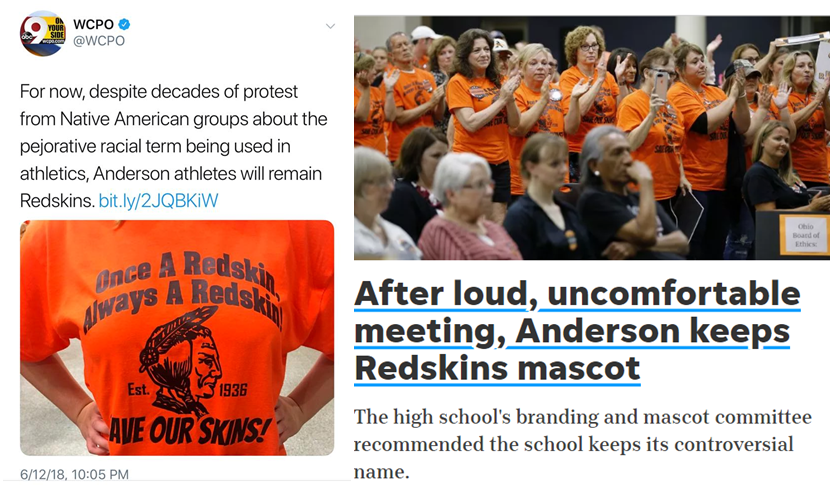 Our Conservative Curmudgeon Stu Mahlin says:
Today, PULP (Progressive, Utopian, Liberal, Propagandist) Stephanie Jones, a lawyer and consultant living in Cincinnati and Washington, D.C. [and] president of Stephanie Jones Strategies …[who] recently served in the Obama administration as deputy chief of staff and senior counselor to the secretary in the U.S. Department of Transportation, wrote, in part:
"…[W]hile the spectacle of the Supreme Court giving its blessing to the state's "use it or lose it" requirement for the exercise of a fundamental constitutional right is deeply troubling, I'm looking at the bright side.  /  Among other things, Monday's decision should put to rest the 'my vote doesn't matter' myth. If our vote doesn't matter, why is such an effort being made to stop us from exercising it?"
Given that the subjects of this "use it or lose it" requirement are people who demonstrably have not voted, just where is the "effort being made to stop [them] from exercising" [their right to vote]?
There isn't any — except for the possibility that "use it or lose it" might get DemocRATs' favorite folks, DEAD folks, off the voter rolls.
What there is, though, is one pissed off PULP who further reveals her jaundiced view of our Constitutional Republic with this:
"If our vote doesn't matter, why did Senate Majority Leader Mitch McConnell shred the Constitution and his integrity to ensure that Neil Gorsuch, an ideologue with a demonstrated hostility to civil rights, was installed on the court to cast deciding votes in cases like this?"
The Blower Is Still Waiting For Our Soros-Funded Boycott For Mocking David Hogg To Begin
— Tonight's Whistleblower Not-Faking News —
"All The News That's Not To Fake"
— TONIGHT'S REAL NEWS FROM SATIRICAL WEB SITES —
 Trump: Kim Showed He Was Serious
SINGAPORE (World News Bureau) – President Trump said he knew within 15 minutes that Kim was serious about making a deal, as confirmed by a leaked photo of the two leaders' one-on-one meeting (below).
TO SEE MORE BIG HAIRY NEWS, CLICK HERE
DNC Passes Rule: Only DemocRATS Can Run As DemocRATS
TO SEE MORE STORIES FROM THE PEOPLE'S CUBE, CLICK HERE
Fox News Slams Jesus For Never Once Standing During National Anthem
TO HEAR MORE BUZZ FROM THE BABYLON BEE, CLICK HERE
World Leaders Hope Singapore Summit Will Lead To North Korea Becoming Normal Impoverished Country They Don't Have To Think About
TO SEE MORE STORIES FROM THE ONION, CLICK HERE 
Tonight's Top Three Items Published In The Original Printed Edition Of The Whistleblower (Not The Newswire) Nearly 27 Years Ago (Edition #55, June 18, 1991)
— Tonight's Top Whistleblower Political Posters 
— HERE'S HOW YOU CAN SUPPORT YOUR FAVORITE FAKE NEWS SITE —
The Whistleblower Newswire Is The Official Publication of Record For The Conservative Agenda


The Blower believes we're still living during the most important period in American History for our non-stop campaign against Political Correctness, the Devolution of American Culture, and the Liberal News Media. Congress and the Liberal Media Establishment will continue to lie and say really stupid things without a smidgen of journalistic integrity in their effort to advance the Liberal Agenda.
Beloved Whistleblower Publisher Charles Foster Kane Says The Conservative Agenda Is Now Working On Donald Trump's Third 100 Days To Make America Great Again. Today Was Day Number 509 And There Are Now Only 873 More Days Until Trump's Re-Election Day on November 3, 2020.