TODAY IS
SUNDAY, JUNE 13, 2021
TRUMP'S ONE-HUNDRED-AND-FORTY-FOURTH DAY OUT-OF-OFFICE
AND IT'S A GOOD THING STATE LEGISLATURES ARE WORKING ON ELECTION INTEGRITY BECAUSE NOTHING GOOD ABOUT IT WILL EVER HAPPEN IN CONGRESS.
Election integrity heats up as states take action

Now Let's Take A Look At The Blower's Comparative Coverage At The Same Point Of The Trumpster's First Year In Office. We Were Reviewing That Day's "Weekend Wrap-Up."
And It Was It Was Just More Coordinated Leftist Insurrection.
SUNDAY, JUNE 11, 2017

HURLEY THE HISTORIAN says John Wayne died on this date in 1979
MAYBE THAT'S WHY OUR QUOTE FOR TODAY COMMITTEE chose The Duke's "Courage is being scared to death but saddling up anyway," but the one we like best was "Life is hard; it's harder if you're stupid."
NOW HERE'S THE LATEST FROM BUNKY TADWELL, THE BARD OF CLEVES: We found this offensive ode in his latest book "Racist Poems to Riot By," found in better bookstores everywhere, except in Cleves.    
Scaring the Suburbanites                                  
The next time you go downtown to get mugged,
Be careful when you meet your first thug.
He might not think you're funny,
If instead of your money,
You offer to give that thug a hug.                        
THIS WEEK, OUR LATE NIGHT TV JOKEWATCHER SAID WE'RE STILL HEARING TOO MUCH LEFT-WING HATE SPEECH FROM OUR LATE NIGHT COMEDIANS: A big heat wave is expected to hit New York City this weekend. They say that we'll be sweating like Trump while he watched the James Comey hearing.
Former FBI Director Comey testified that he met privately with President Trump on February 14th. This is good news for everyone who thought THEY had the worst Valentine's Day ever. James Comey testified that every time he thought President Trump was lying, he wrote it down. Which explains why Comey was just rushed to the hospital for carpal tunnel syndrome.
Everybody here [in the U.K.] is talking about the election. If you're watching this in Britain, you already know who the prime minister is. If you are watching this in America, you already don't care who the prime minister is. We taped this show a day before, so as it stands right now, we don't know what happened in this election. Meanwhile, in America, their election was last year and they still don't know what happened in their election. Regardless of that, we can assume Donald Trump has already congratulated the winner in his traditional fashion by insulting them on Twitter.
During his testimony today, James Comey said that the Trump administration chose to defame him and the FBI with "lies, plain and simple." A claim that was refuted by both Plain and Simple. [shows photo of Eric and Donald Jr] President Trump did not post on Twitter during James Comey's Senate testimony today. Well, he thought he did, but his aide switched his phone with a Speak & Spell.
Happy St. Comey's Day, everybody! Of course, everybody celebrates Comey Day if their own way. We're kind of traditionalists around here. We celebrated by watching TV and writing jokes as fast as we can. Everybody was looking forward to the former FBI director testifying about all the juicy details of his meetings with Donald Trump. Because, remember, Comey wrote everything down. And all his memos are going to be collected in his new children's book: "James and the Guilty Orange."
IN THIS WEEK'S COLUMN FROM PATRONAGE COUNTY TITLED "EXPLOITING THE FLAG" every politician was taking part in the Annual Flag Day Parade, and our three Corrupt County Commissioners were about the best ways to exploit the best ways to exploit the day's events. This op-ed column never appeared at any time in the feisty Mt. Washington Press personally edited by eminently renowned publisher Dennis Nichols.
OUR MEANWHILE, OUR MUCKRAKER says the makeup of the Tensing Retrial Jury is nine white and three guilty votes.
THE LATEST POLLS: Whistleblower Pollster Ron Rasmussen says half of the voters still favor President Trump's temporary travel ban and see it as an anti-terrorist measure, not religious discrimination. Voters also think the U.S. Supreme Court is likely to uphold the ban. (More)
THE SEEDIEST KIDS OF ALL
Although our campaign is not associated with the Failed United Way, your liberal guilt-giving throughout the year still makes it all possible.
SEEDIEST KIDS OF ALL HOT LINE
e-mail your stories about worthy waifs today.   
LIBERAL LUNACY: In Human Events' "365 Ways to Drive a Liberal Crazy," In Human Events' ," #164, Quote Liberal Hero Karl Marx: "There is only one way to kill capitalism—by taxes, taxes, and more taxes."
JOHN GALT says "I started my life with a single absolute: that the world was mine to shape in the image of my highest values and never to be given up to a lesser standard, no matter how long or hard the struggle."
WHISTLEBLOWER SENIOR BUSINESS EDITOR MERRILL FORBES says this week the House passed the CHOICE Act, a comprehensive bill to revise the Dodd-Frank Act and make other financial reforms (see below). The Senate confirmed several sub-cabinet nominations and passed a bill to make personnel reforms at the Department of Veterans Affairs. It also passed a measure to increase sanctions on Iran.
Next Week: The House will vote on a number of bills relating to health care that add to the repeal and replacement of Obamacare that House Republicans dealt with earlier this year, including a measure to expand access to health care tax credits for individuals who have lost their jobs. The Senate will vote on various nominations and possibly vote on a bill expanding sanctions on Russia.
THE FREE GRAIN PARTY still stands as the last refuge of anyone who's willing to help himself from the stores of others. This week, young Brits voted for FREE STUFF. Two in five British people voted for an unrepentant Communist, a man who has consistently sided with the West's enemies, a man who regrets the outcome of the Cold War.
Free Grain Party Members include all DemocRATS, RINO Republicans, some TEA Partiers, quite a few Independents, disgruntled postal workers, senior citizens demanding free prescriptions, those who believe bigger government is the answer to all their problems, everybody who said "what Bill Clinton did was indefensible, but he shouldn't be removed from office," and those who think pork-barrel spending is OK as long as their district gets the money.
Unfortunately, that group probably doesn't include all those Dumbed-Down, Self-Absorbed, Media-Influenced, Celebrity-Obsessed, Politically-Correct, Uninformed, Short-Attention-Span, Free-Stuff Grabbing, Low-Information Obama Supporters Who Put The Positively Worst President in History In The White House—Twice, and Failed Trying To Give Obama a Third Term By Voting For Hillary, and get all of their "fake news" from our Obama Supporters in the Press, like the ones at The Fishwrap and on Channel 5, 9, 12, and 19.
FINALLY, AT TONIGHT'S MEETING OF THE CONSERVATIVE AGENDA, Political Insiders were asking Beloved Whistleblower Publisher Charles Foster Kane about all those Leaks at the White House these days. "I'm surprised Trump hasn't called "Joe The Plumber," Kane said. Samuel Joseph Wurzelbacher became famous after his confrontation with Obama during the 2008 campaign. Plus, according to "Joe The Plumber's" Facebook Page, he likes Trump in part because the New York billionaire dated attractive women. "He's a winner. He's made billions. He's dated, beautiful women. His wife is a model. That's not to sniff at," he said.
Remember: We never print all the bad stuff we know and certain people ought to be damn glad we don't, especially Ohio DemocRAT Party Boss David Pepper when we casually mention his name Tuesday on Flag Day.
AND COMING UP IN "THE WEEK THAT WILL BE":
MONDAY (JUNE 12) we'll be featuring our "Early Flag Day" E-dition, remembering those who have fought and died to protect it.
TUESDAY (JUNE 13) we'll be "Honoring Old Glory," and our "Real E-Mails from Real Subscribers" will tell us if any of the boys are rallying around the Flag.
WEDNESDAY (JUNE 14), The Blower will not only be celebrating Flag Day, but we'll also be signing Donald Trump's Birthday card for Melania to make it his best birthday ever.
THURSDAY (JUNE 15) we'll be featuring another Liberal Media Bias Update, because surely we'll see some by then.
THE FIRST LINE OF FRIDAY'S (JUNE 16) LIMERICK IS "To honor your dad on this Father's Day,"
AND SATURDAY (JUNE 17) is National Hollerin' Contest Day, and we'll try to give the Liberals something to holler about.
Plagiarism Count: Unattributed material was filched from a mere 742 different websites for the production of today's Blower, many of our filches were from our friends at Weasel Zippers.
WEEK IN REVIEW HOTLINE
e-mail your revolutionary recaps today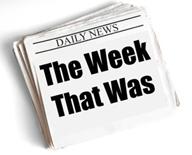 Some political score-keeping items in today's Blower were sent in by our equally political score-keeping subscribers, but let's face it, we could always use a lot more. 
TODAY'S WHISTLEBLOWER BREAKING NEWS VIDEO
Fmr. FBI Asst. Dir. Kallstrom: Comey Made A Fool Of Himself
The Whistleblower has always been 100% commercial-free, unlike members of the mendacious news media. So if you want to buy an ad on the front page, call The Fishwrap.