TODAY IS
WEDNESDAY, SEPTEMBER 30
TRUMP'S 1349th DAY IN OFFICE
Last night's "When Is A Debate Not A Debate" E-dition was approved for 2016 Elections Research by the Presidential Historical Society because of the curious coincidences between Trump's 2020 "Not-A-Debate" with Joe Biden and his 2016 "Not A Debate" With Crooked Hillary. Especially after the Biden Campaign wouldn't agree to a Drug Test, Ear-Piece Inspection, or a  Fair-and Balanced Moderator.
 WASN'T CROOKED HILLARY ALSO WIRED FOR THE 2016 TRUMP DEBATE?
Why doesn't the Trump Campaign ever follow thru on its threats. No pre-debate drug tes? NO DEBATE. No earpiece inspection? NO DEBATE. Or else the Trumpster should've hammered those issues every single moment of his time during the event, until Biden explained them to Trump's satisfaction.

In 2016, Lifezette called NBC's Lester Holt the "The Clinton Surrogate in Moderator's Clothes" when he dropping all pretense of impartiality, targeting Trump with questions, fact checks, interruptions and more. (MORE)
No wonder they called him the The Immoderate Moderator
It was amazing, but that afternoon in the Whistleblower Newsroom, some people actually thought NBC's Lester Holt might use his position as the so-called "moderator" of the first 2016 Presidential Debate to help Crooked Hillary.  But didn't that make Lester the "The Immoderator?"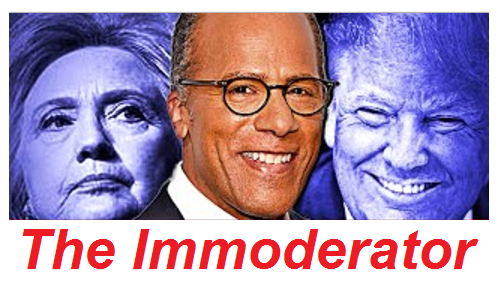 CNN's Brian Stelter said Lester Holt had signaled to his NBC colleagues that he may be entering the fray in tonight's presidential debate as a participant rather than a moderator — thanks to intense left-wing backlash over Matt Lauer's performance at the "Commander in Chief Forum" weeks ago.  (MORE)
It wouldn't be the first time Trump not only debated his actual opponent but then had the so called "Moderator" start debating Trump as if he were running for election too.
Boston Radio Legend Howie Carr said First Presidential Debates are a lot like Super Bowls — most years they don't live up to the pregame hype. How could they? The difference between debates and Super Bowls was that at kickoff, the score was even, 0-0. That night at 9, Hillary started with at least a 14-0 lead, maybe 17-0. That was her built-in mainstream media advantage. Vegas wouldn't touch that one with a 10-foot pole. It was fixed. (MORE)
 The Headline Of The Day showed us "A Tale of Two Lester Holt Interviews."
       That's why The Blower thinks Lester just might've been trying to pull a "Candy Crowley" that night.
If he did, Lester just might've wound up looking something like this. 
Bruce Tinsley Seemed To Agree.
FAST FORWARD TO TUESDAY'S 2020 PRESIDENTIAL NOT-A-DEBATE