THIS E-DITION IS FOR




THURSDAY, JUNE 02, 2022




TRUMP'S FOUR-HUNDRED-AND NINETY-EIGHTH DAY OUT-OF-OFFICE




AND WE'RE WAITING TO HEAR SOME LOCAL POLITICIAN SUGGEST WE ARM THE STUDENTS
NEARLY THIRTY-ONE YEARS AGO …
Edition #53 (published on June 4, 1991) of the original printed edition of The Whistleblower (not the Newswire) was delivered to Persons of Consequence all over town.
The Really Big Story was about the banning of The Whistleblower in the Hamilton County Commissioners Office.  The Top Ten List was the top ten excuses slumlord Stanley Broadnax used to explain why he hadn't fixed up his property for two years, and a story about a kinky insert Hamilton County Commissioner Steve Chabot had inserted in the Blue Chip Review, a publication of the Blue Chip Republican Club.
Page Two with Real Editorials by Publisher Charles Foster Kane about his trip to Kentucky with Whistleblower Gossip Columnist Linda Libel to visit Queen Elizabeth. Real Facts included daring Hamilton County Common Pleas Judge Norman Murdock to run for County Commissioner again, along with a Norman Murdock Sleaze Card, the first in our new series.  
Page Three featured Cheap Shots at Henry Dorfman, DemocRAT Cincinnati Council Candidate Roxanne Qualls, and WLW Radio's Mike McConnell; an ad promoting Whistleblower Publisher Charles Foster Kane's visit to a local radio program; another Real Guest Editorial by Bunky Tadwell (this one about loud sounds coming from Boom Boxes), along with a report on Mayor David Mann's Summit on Education.
 Page Four was for our regular weekly Real Letters From Real Readers column, Another Exclusive Whistleblower Report told about how the local news media missed opportunities to cover Queen Elizabeth's visit to the Tri-State, and how new Hamilton County Party Boss "Clean Gene" Ruehlmann was being welcomed by the party hacks at the Hamilton County Courthouse.
 Page Five featured Ken Camboo's Bluegrass Holler reports on PMS Journalism by veteran Cincinnati Post Reporter Sharon Moloney, not related to ousted Hamilton County Auditor Mike Maloney, how Dr. Floyd Poore was looking for a job after his third-place finish in the DemocRAT Gubernatorial Primary, and how Covington City Commissioner Jim Eggemeier was trying to unload some of the city's property. Meanwhile, then Northern Kentucky Bureau Chief J.R. Hatfield told us about the demonstration of the Covington Business Council's Trolley, that actually turned out to be a success, unlike the Billion Dollar Trolley Folly Boondoggle in Cincinnati. 
And Page Six included Hotline Hang-ups (some of the anonymous calls received on the Whistleblower Hotline, and in Real Gossip by Linda Libel, we heard the latest about folks like Nick Vehr, Clyde Gray, and Marge Schott. How long has it been since any of them have seen their names in print?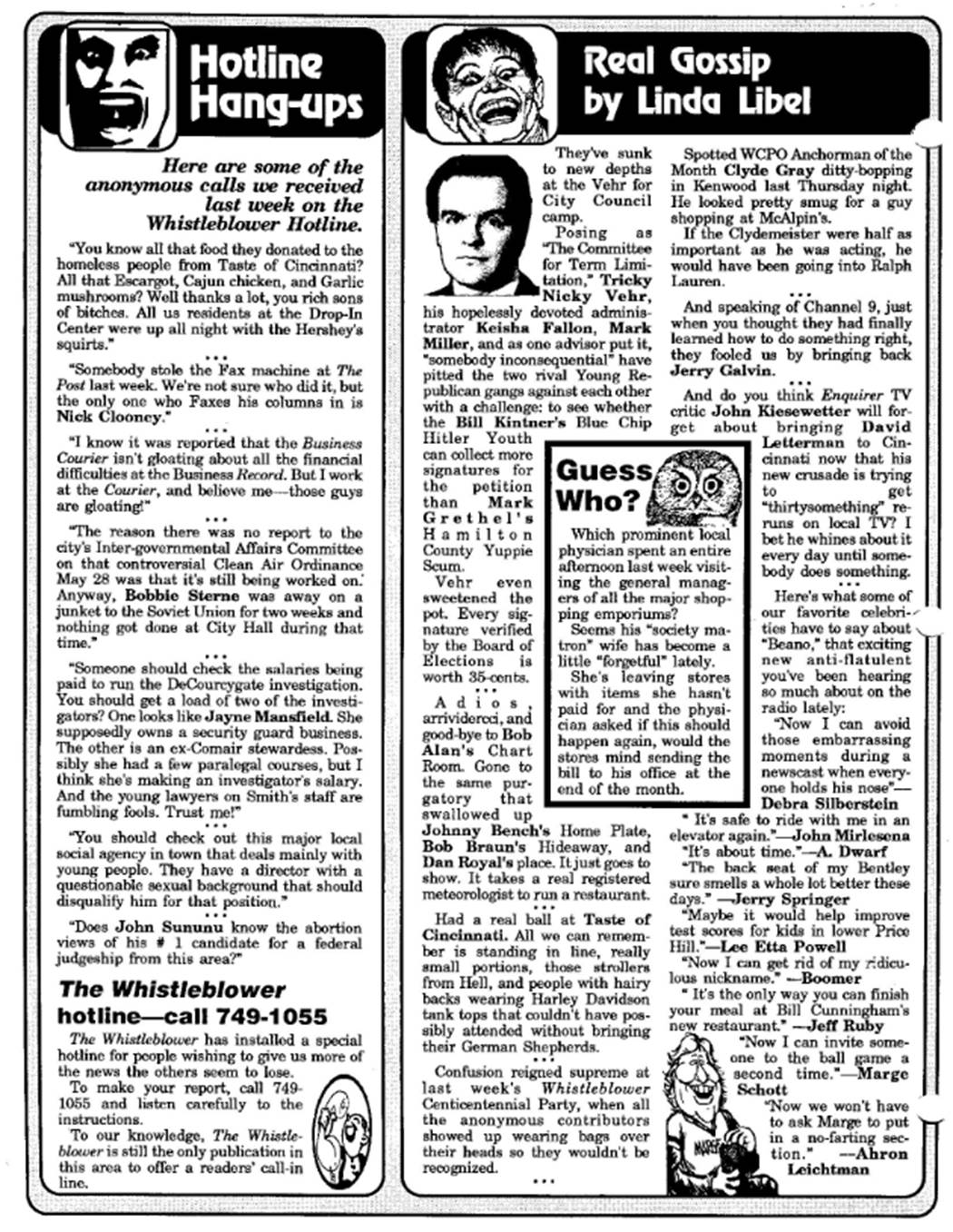 It's really hard to believe how good The Whistleblower was in those days.
You can download that entire edition HERE.