Today's E-dition Has Been Approved For Research On The 2016 Election By The Presidential Historical Society Because So Many Things Reported In The 2016 Blower Are Still Making News Today During This Perilous Political Period On E-DAY+24 Following The 2020 Election.

TODAY IS
SATURDAY, NOVEMBER 27, 2021
TRUMP'S THREE-HUNDRED-AND-ELEVENTH DAY OUT-OF-OFFICE
And We're Documenting 2016's Greatest Presidential Campaign In History At The Same Point During Trump's 2016 Transition Period By Remembering that "BUSIEST SHOPLIFTING DAY OF THE YEAR" E-dition.
   
            Top Ten List
Today it's the Top Ten things The Blower was grateful for this Thanksgiving Day:
10. The First Amendment.
9. Seeing the local RINO Party get exactly what it deserved again on Election Day one more time in 2018.
8. Political correctness still running amok.
7. Politicians and lovely ladies from all over wanting to buy our lunch.
6. Our snitches are everywhere.
5. Lazy, stupid, and dishonest Fishwrappers letting The Blower scoop them every damn day.
4. Folks in Northern Kentucky still stealing all that business from Ohio.
3. The ACLU and the many members of the Whistleblower Legal Dream Team, for keeping us out of trouble for the past twenty-something years; Award-winning Photo Illustrators like Artis Conception and Edward Cropper; and those guys from "Not the Fishwrap" who have always helped us comfort the afflicted and afflict the comfortable.
2. All those folks who keep trying to offer The Blower all that money to advise them on their political campaigns.
…and the Number One thing The Blower was grateful for this Thanksgiving is… All those Gluttons for Punishment who make it easy for us to exercise Our Beloved Whistleblower Motto.

Let's all say it together: "Because wherever there's corruption, we'll be there. Wherever there's injustice, we'll be there. And wherever there's a bunch of big guys beating up on a little guy, we'll be there too…holding the little guy down."

Are You Sure the Term "Black Friday" Isn't Racist?

Every time we hear the term "Black Friday" on TV, we expect to see some Black Racial Racketeer like Jesse Jackson, Al Sharpton, SMLP Smithermouth, or Revrum Lynchmob whipping up the Black Lies Matter crowd or a bunch of union goons in front of Wal-Mart at a "Black Friday Sale" or the PC Police insisting we call it "African American Friday."

"Black Friday" is such a downer.  There's no holiday cheer in that. It doesn't make you want to go out and spend all that money you don't have on family gifts. Maybe we should just stay home and watch old black-face movies on TV.

And let's face it: black folks don't spend the most money on this Friday either; they don't even spend as much money as Mexicans. Look at any news report of people who are stupid enough to camp out for days waiting for some crappy item to go on sale, when somebody is going to break into their house and steal all their stuff anyway. Those folks are like "Ivory" soap— they're 99 and 44/100% white. 

This year's "Black Friday" is a month before Christmas and stores are advertising bargain prices to get people to wait in line all night until the stores open just to spend their money. They say "Black Friday" is the day stores begin to turn a profit each year, since their operations will then be "in the black," having been "in the red" all year up until now. But if they want to make people think about spending money and successful businesses making a profit, maybe they should be calling it "Green Friday." Except that on "Half-Black Fridays" during the Dark Ages of the Obama Administration, "Green Businesses" were all big losers costing We the Over-Taxed Payers billions of dollars of misspent borrowed money.

Hurley the Historian says October 24, 1929 was "Black Thursday," when the stock market lost 11% of its value at the opening bell on very heavy trading. Whistleblower Business Editor Merrill Forbes says Optimism about the end of a tumultuous election year and record highs on Wall Street – a run-up that's been dubbed the "Trump rally" — have helped prime Main Street America's pocketbooks for more robust levels of holiday spending.

Finally, just for fun, Our Good Friend Bobby Leach says let's all listen to Stan Freberg's classic "Green Christmas," just to put things into their proper perspective.

 MORE CONSERVATIVE POLITICAL CARTOONS

ON THANKSGIVING, THE TRUMPSTER'S MENU AT THE SOUTHERN WHITE HOUSE INCLUDED:
According to the Washington Examiner, last year President Trump and dozens of guests at his Mar-a-Lago resort dined on traditional Thanksgiving fare Thursday, but also nibbled on several seafood dishes that reflected Trump's "southern White House" in Florida. The White House menu, according to pool reporters on-site there, was:
"Full salad bar including Caesar, wedge, tomato/mozzarella, and Greek salads, deviled eggs, and duck prosciutto & melon. Chilled seafood display w Florida stone crab, oysters, jumbo shrimp, and clams.
A carving station with turkey and all the trimmings, beef tenderloin, lamb and salmon.
Entrees of Chilean Sea bass, Red Snapper, Braised short ribs. Sides include whipped potatoes, sweet potatoes, vegetables and traditional stuffing."
The pool cruelly left out any mouth-watering description of the several pies available, and listed only "Assorted desserts."
Three years ago, however, THE OBAMA FAMILY'S MENU AT THE WHITE HOUSE included: Hors d'oeuvres included mini BLT's, chicken satay with peanut chili dip, mini crab cakes, pizza bites, fresh veggies and hummus and pigs in the blanket. The dinner buffet included thyme-roasted turkey with garlic jus and cranberry-orange relish, a honey-baked ham with apricot-mustard glaze, prime rib and creamed horseradish with shallot marmalade, and fried chicken wings. Side dishes included classics like cornbread stuffing with a twist of chorizo and roasted peppers, mashed potatoes, green bean casserole, and bread rolls. Other sides of oyster stuffing, braised winter greens, macaroni and cheese, sweet potato gratin, and fresh greens and kale Caesar salad are also on the menu. Finally, dessert consisted of six pies: banana cream, coconut cream, pumpkin, apple, pecan and cherry. (Just like what all those Dumbed-Down, Self-Absorbed, Media-Influenced, Celebrity-Obsessed, Politically-Correct, Uninformed, Short-Attention-Span, Free-Stuff Grabbing, Low-Information Obama Supporters Who Put The Positively Worst President In History In The White House—Twice, And Had Planned To Give Obama A Third Term By Voting For "Crooked Hillary," And Get All Of Their "Fake News" From Our Local Obama Supporters In The Press, Like The Ones At The Fishwrap, and on Channels 5, 9, 12, and 19, were buying with their food cards and standing in line to pick up at the Freebie Store).

Black Friday Violence Stories We're Working On
SEASON'S BEATINGS!
MAN STABS PARENTS DURING THANKSGIVING DINNER
KENTUCKY BRAWL AT THE MALL KICKS OFF VIOLENCE
BRUTAL FIGHTS ACROSS AMERICA
WOMAN STEALS VEGGIE STEAMER FROM CHILD, WRESTLES MOTHER…
CUSTOMERS WEAR EMPLOYEE UNIFORMS TO SNEAK IN TO STORES!  
MAN CAUGHT TRYING TO SNATCH SHOPPER'S CHILD AT WALMART


Whistleblower Web Poll           
This week, here's how the first 17,648 Whistleblower Web Poll respondents said most patriotic Americans would be celebrating on Thanksgiving Day:
(A) Boycotting the NFL on TV: 2%
(B) Watching Liberal Looters on TV: 2%
(C) Getting their peckers pulled at airports: 4%
(D) Enjoying another day off with pay

EXCLUSIVE INTERVIEW
Achmed The Dead Terrorist speaks with President-elect Donald Grump in this EXCLUSIVE post-election interview! Hear what he has to say about the protests and his upcoming time in the White House. Happy Turkey-day!

WEIGHT GAINERS HOT LINE
e-mail your holiday heartburns today.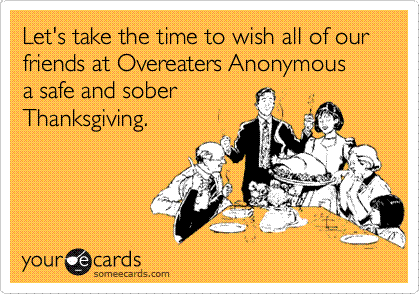 Some cholesterol-free items in today's Blower were sent in by our equally cholesterol-free subscribers.      

Whistleblower Video of the Day
Ronald Reagan's Thanksgiving Day Address 1985

Note: We guarantee iPhone subscribers who don't go home and see links and pictures on their computers are not going to appreciate all of this good stuff today.