Today's E-dition Has Been Approved To Research The Coordinated Leftist Insurrection During Trump's First Year In Office
 Tonight's Coverage Is At The Same Point Of The Trumpster's First  Year In Office. We're Reviewing Our "SEPTEMBER 07 E-DITION. "
It Was It Was Just More Coordinated Leftist Insurrection  
SEPTEMBER 07, 2017
Tonight's Top Conservative News Stories You Won't See On The Front Page Of Tomorrow's Fishwrap
(Or On Channels 5, 9, 12, And 19, Either) 
— MAKING HURRICANES GREAT AGAIN —
— TONIGHT'S REVOLTING TRUTH —
'Compassionate' Leftists Hope Hurricane Irma Destroys Trump's Mar-A-Lago

(And the president is the mean-spirited one?)
The Left paints conservatives as heartless bastards with no concern for anyone but themselves. But then again, conservatives aren't the ones covering our faces and bashing and burning our political foes. Conservatives are those people in trucks, boats, and waders pulling people out of floodwaters. Meanwhile, Leftists hope the next hurricane, Irma, which is heading straight for Florida, makes contact with businesses owned by President Trump. 
Legal Insurrection amassed quite a collection of tweets from anti-Trumpers wishing, and some even praying, that the president might head to Mar-a-Lago this weekend for a round of golf and die in the 185 mph winds. Others wished for the resort to be leveled and considered it a kind of climate karma:
—AP Refers To Illegal Immigrants As 'Undocumented Citizens'—
 The Associated Press shirked its own style guide in a recently published article, using "undocumented citizens" in lieu of their usual "undocumented immigrants." (MORE) 
— TONIGHT'S PHOTO-SHOP EDITORIAL SPOOF ON CURRENT EVENTS FROM EDWARD CROPPER —
Donald Trump on DACA: 'Chuck and Nancy Want to See Something Happen — and so Do I'
TO SEE MORE PHOTO SHOP EDITORIAL SPOOFS FROM EDWARD CROPPER, CLICK HERE 
— TONIGHT'S REPORT FROM BIG HAIRY NEWS —
Trump Strikes White House Deal With Pelosi, Schumer
WASHINGTON (World News Bureau) – In a surprise blow to GOP leaders, President Trump struck a short-term fiscal deal with Democrats Nancy Pelosi and Chuck Schumer at a White House meeting on Wednesday.
The deal, providing nearly $8 billion in Hurricane Harvey relief with a three-month extension of government funding and increase in the debt ceiling, was made by the President over the objections of Speaker Paul Ryan and Senate Majority Leader Mitch McConnell, who were later seen drinking together in a midtown bar.
Rep. Nancy Pelosi (RTRD-Ca) and Sen. Chuck Schumer (RTRD-NY) (API)
TO SEE MORE FROM BIG HAIRY NEWS, CLICK HERE 
— TONIGHT'S REPORT FROM THE PEOPLE'S CUBE —  
Floridians to Hurricane Irma: NYET!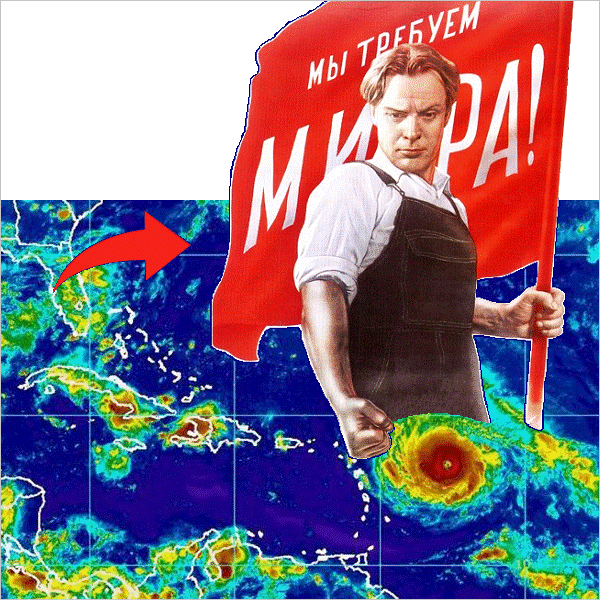 As cataclysmic miasmata, generated over two centuries of barbaric industrial capitalism imposed on Gaia by the White Man, prepare to invade The Sunshine State, the glorious proletariat of Florida takes the affairs in their/xyrs/hirs own hands. 
TO SEE MORE STORIES FROM THE PEOPLE'S CUBE, CLICK HERE
— TONIGHT'S BUZZ FROM THE BABYLON BEE —
Planned Parenthood Sentenced To 8 Million Consecutive Life Sentences
NEW YORK, NY—Abortion giant Planned Parenthood was sentenced Thursday to 8 million life sentences, to be served consecutively, after being found guilty of as many first degree murders since its heinous criminal spree began some 45 years ago.
"We've never seen a crime syndicate this prolific," the presiding judge after delivering the sentence. "At the time of Planned Parenthood's apprehension, they were carrying out nearly a thousand murders per day."
He went on to describe the corrupt organization's dealings in government bribery, racketeering, and money laundering, among dozens of other crimes on top of its murder-for-hire scheme, further stating that Planned Parenthood is "very lucky" that the state of New York abolished the death penalty in 2007.
"It's just a shame, a crying shame they got away with this for so long," he added. "May God have mercy on their soul."
TO HEAR MORE BUZZ FROM THE BABYLON BEE, CLICK HERE
— NOW HERE'S TONIGHT'S FAKE NEWS FUN FROM THE ONION —
Clinton Already Working On Follow-Up Book Casting Blame For Failures Of First 
CHAPPAQUA, NY—Saying it would provide a candid account of her experiences writing an unsuccessful tell-all, sources confirmed Thursday that Hillary Clinton is already working on a follow-up book casting blame for the failures of her previous memoir What Happened. "From my agent negotiating that underwhelming deal with Simon & Schuster, to the graphic designer's lackluster cover art, to my so-called supporters who couldn't be bothered to drop $17.99 for the hardcover copy—everyone had a hand in undermining my last book's success," reads a passage from the introduction to Clinton's What Also Happened, which repeatedly decries her prior book's "indecipherable" font and dedicates an entire chapter to lashing out at her copy editor for making her look like "an idiot third-grader." "I'll never forget how Amazon buried me and how Barnes & Noble completely sabotaged me by displaying my book way in the back in that no man's land by the CDs. Frankly, it's obvious I got screwed on all sides." Accusing them of stealing her spotlight, the book reportedly concludes with a long list of every other celebrity who published a memoir in the past year.
TO SEE MORE STORIES FROM THE ONION, CLICK HERE
— TONIGHT'S FEATURED VIDEO FROM MARK DICE —
(Exposing liberal lunatics, celebrity scum, mainstream media manipulation, and social justice warrior psychos)
New Hillary Website Backfires Big Time – Now Complete Laughing Stock Even to Liberals!
— TONIGHT'S BEN GARRISON MOMENT —
MORE BEN GARRISON ILLUSTRATIONS 
The Whistleblower Newswire Is Your Official Publication of Record For The Conservative Agenda
Beloved Whistleblower Publisher Charles Foster Kane Says The Conservative Agenda Is Now Working On Donald Trump's Third 100 Days To Make America Great Again. Today Is Day Number 232. There Are Now Only 1,152 More Days Until Trump's Re-election Day on November 3, 2020.