Your Official Publication of Record For The Conservative Agenda
FRIDAY, JUNE 22, 2018
Trump's 518th Day In Office
Tonight's Top Conservative News Stories You Won't See On The Front Page Of Tomorrow's Fishwrap
(Or On Channels 5, 9, 12, And 19, Either)
—  Tonight's Top Whistleblower News Story —
 How many lies did the DemocRAT Propaganda Media tell about that crying little Honduran girl on the cover of FAKE NEWS Time magazine who was never separated from her mother?
This Is The Stuff That Memes Are Made Of
And Why Is All This Going On?
—Tonight's Top Trump Tweet  —
— QUOTE OF THE DAY —Jeff Sessions: "No Department Is Perfect"
— TONIGHT'S MEDIA MOMENT —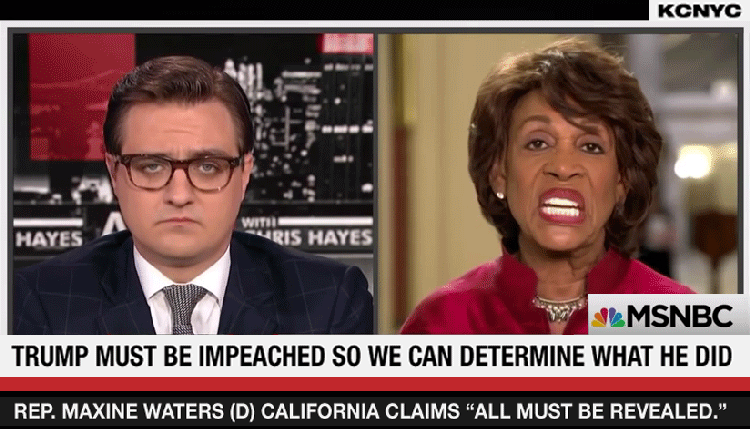 — Illegal Immigration Update —
— TONIGHT'S BEN GARRISON MOMENT —
TO SEE MORE BEN GARRISON ILLUSTRATIONS, CLICK HERE
— TONIGHT'S PHOTO-SHOP EDITORIAL SPOOF ON CURRENT EVENTS FROM EDWARD CROPPER —
TO SEE MORE PHOTO SHOP EDITORIAL SPOOFS FROM EDWARD CROPPER, CLICK HERE
— Whistleblower NFL Boycott Countdown Continues —
As NFL Continues To Rake In Revenue, Star Players Are Asking, 'What About Us?'
— Tonight's Whistleblower Faking News —
"All The News That's Fit To Leak"
And The Blower Is Still Waiting For Our Soros-Funded Boycott For Mocking David Hogg To Begin
—Tonight's Redskins Rumors —
We see the air conditioning project is well underway at Anderson High School.  Should be a lot cooler with those front walls removed.  Natural, too.  The millennials should love it.
Anyone see the Doug Evans trucks working at Anderson High School?  It's just Jim Frooman and his BFF Doug Evans hauling money away from the over-taxed payers.
What do those Liberal Loonies plan to do at Monday night's Board Meeting?
The Forest Hills School District is separating children from their parents for months at a time. "I really don't care.  Do u?"

"OUR REDSKINS NAME MATTERS"
Our Conservative Curmudgeon Stu Mahlin says:
RE:  The Fishwrap's Teen held in ICE detention center:
An AMERICAN would have written:  "About five weeks ago, another Guatemalan teen, taking advantage of the porous U.S. border and absurd U.S. law concerning invaders from non-contiguous countries, climbed an obviously-poorly-designed 15-foot border wall made of block and steel columns and illegally entered the United States of America at Yuma, Arizona. Border Patrol agents arrested him and took him up the road to a holding facility in Phoenix."
Questions:  When will this "Guatemalan teen" pay the taxpayers of the United States for the transportation, food, clothing, shoes, and toilet paper, not to mention all the costs of Border Patrol agents, psychologists and trauma specialists, that his illegal entry into our country has and continues to cost us? 
Solution:  Illegals' costs should be converted into de facto student loans, payable to the government of the United States with interest and with no provision whatsoever for write-off. 
After all, we're continuously told by the PULP (progressive, utopian, liberal propaganda-spewing) Media that illegals come here to work.  If that's really so, they can at least pay us back.  A thank-you note would be nice, too.
— TONIGHT'S REAL NEWS FROM OTHER SATIRICAL WEB SITES —
(Commenting On Today's Top Stories)

TO SEE MORE STORIES FROM THE IRONIC TIMES, CLICK HERE
Hollywood's Version Of Herpes Returns
NEW YORK (Big Hairy News) – Filmmaker Spike Lee is back with another movie and the opportunity to bash white people, conservatives, and naturally, President Trump.
Lee's new film, BlacKkKlansman, will premiere in competition at the Cannes Film Festival on May 14. Reports surrounding the film say it may rank among Lee's best work, leading most Hollywood insiders to anticipate it will bomb spectacularly at the box office.
Spike Lee is featured this month in The Hollywood Reporter (below).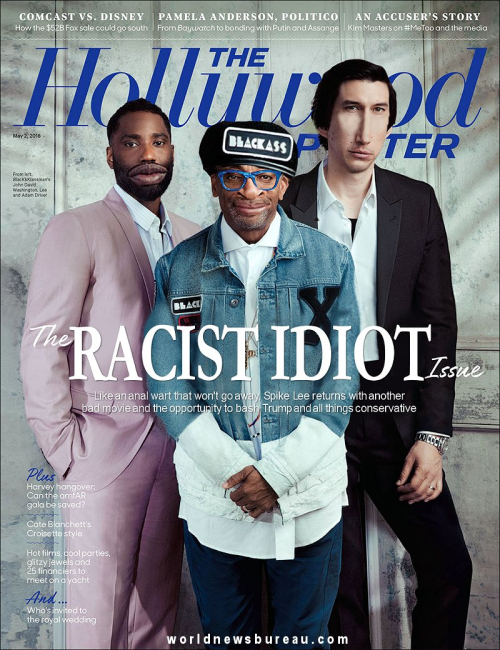 TO SEE MORE BIG HAIRY NEWS, CLICK HERE
Seattle: Free Heroin For Junkies!
MORE STORIES FROM THE PEOPLE'S CUBE, CLICK HERE
Media Slams President For Prematurely Ending Crisis They Were Exploiting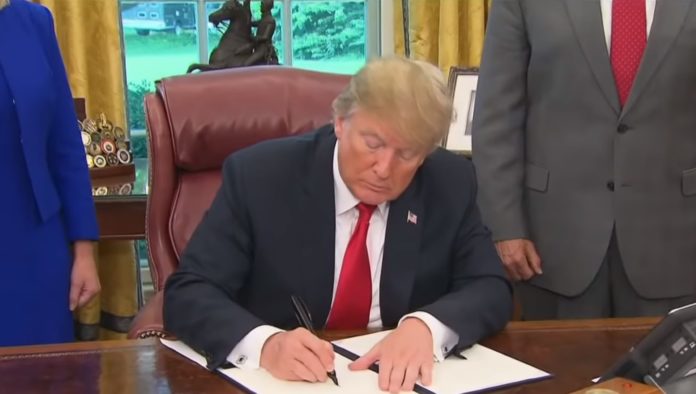 TO HEAR MORE BUZZ FROM THE BABYLON BEE, CLICK HERE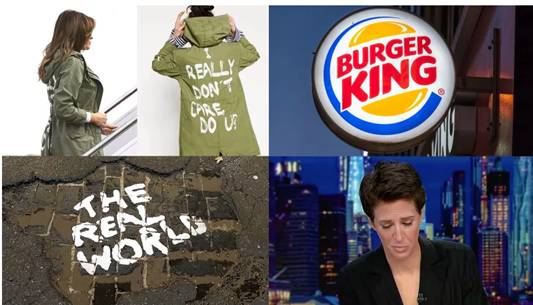 EVERYWHERE—Claiming that they just couldn't stand this bullshit anymore, Americans across the country confirmed Thursday that someone, anyone needs to please, just make it stop. "Please, please, please, we're begging you here, just put an end to it immediately," said sources, noting that it had all gone way, way too far and they would do almost anything for even a few glorious minutes of respite. "We're on our hands and knees, pleading with you to make it all go away once and for all. What's it going to take? Jesus Christ, just stop it! Stop it right now!" At press time, sources confirmed that they knew deep down it was never going to stop.TO SEE MORE STORIES FROM THE ONION, CLICK HERE
— Tonight's Top Three Whistleblower Political Posters —

— HERE'S HOW YOU CAN SUPPORT YOUR FAVORITE FAKE NEWS SITE —
The Whistleblower Newswire Is The Official Publication of Record For The Conservative Agenda
The Blower believes we're still living during the most important period in American History for our non-stop campaign against Political Correctness, the Devolution of American Culture, and the Liberal News Media. Congress and the Liberal Media Establishment will continue to lie and say really stupid things without a smidgen of journalistic integrity in their effort to advance the Liberal Agenda.

Beloved Whistleblower Publisher Charles Foster Kane Says The Conservative Agenda Is Now Completing Working On Donald Trump's Third 100 Days To Make America Great Again. Today Is Day Number 518. There Are Now Only 864 More Days Until Trump's Re-election Day on November 3, 2020.